---
Guys Grab Dolls for the Holidays
New Fashion Dolls Create Excitement for 2006
Most of Stafford's clients for high-end fashion dolls are men.

The Witch isn't dead, but Ashton-Drake's Gene may be, according to retailers who specialize in collectible fashion dolls. The Tonner Doll Company's green-skinned Wicked Witch of the West doll flies off the shelves on her little straw broom, while Gene just sits there gathering dust on her gray eyebrows. Tonner, Integrity Toys and Mattel have the gals of the moment, and smart retailers have ordered extra Tyler Wentworths, Jason Wu-designed Fashion Royals and I Love Lucies for well-behaved adults this Christmas.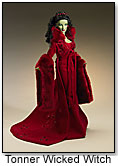 "Collectors have really gone wild over Tonner's 'Wicked,' series," Gigi Williams, co-owner of Gigi's Dolls and Sherry's Bears in Chicago, told TDmonthly Magazine.
"I have the Green Witch in Red Dress on order as well as several basic wicked witches and Miss Gulch," said Ellen Stafford, owner of The Dollhouse in Jonesborough, Tenn. "Anything Wizard of Oz sells," including the Alexander Doll Company's various collections.
For 2006, Tonner's adding new costumes and dress dolls for the Wicked Witch and Glinda. "We're also doing a Fashion Lady of Oz, reproducing some of the Emerald City fashions," Tom Courtney, director of marketing for Tonner, told TDmonthly Magazine.
A clothes line will debut for the popular 22" American Models. And Tyler Wentworth, minuscule fashion designer, is hitting the runway.
"The day before Toy Fair, we're doing a fashion show with live models and a couture line at the Westin Hotel in Manhattan," continued Courtney. "It's a special thank you to our retailers and a charity event for Broadway Cares: Equity Fights AIDS."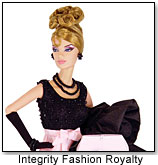 Over at Integrity, they'll be celebrating the Fashion Royalty dolls' fifth anniversary in 2006. "We're planning a huge line for next year," designer Jason Wu told TDmonthly. "There'll be a preview, with a cocktail party" during Toy Fair at Integrity's brand new "W Space" at FAO Schwarz, he said.
Those out of the loop for these hot tickets might want to drop by for The Dollhouse's bimonthly fashion-doll collector's club meeting. Most of Stafford's clients for high-end fashion dolls are men, but her Barbie fans are an even mix.
Adults tend not to buy separate outfits, noted Janet Kysia, manager of A Pink Princess in Boynton Beach, Fla. If another outfit catches their eye, they just buy another doll. At Doll World Surroundings in Columbus, Ga., though most of owner Lucille Eilland's clients are women who like to change the dolls' clothes.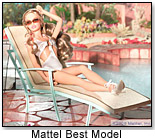 Eilland carries Alex by the Alexander Doll Company. It sells steadily for her but most retailers complained that the doll doesn't move. However, at the Pink Princess, Alex, Cissy and Coquette are all "doing well, and the clothing too."

At Anna's Collectibles in Cherry Hill, N.J., "If there's a dark-skinned [fashion doll], I do very well with that because a lot of my clientele are African Americans." She also sells Helen Kishes.

Theories varied on why Ashton-Drake's Gene had fizzled. "They flooded the market," complained one retailer. Others cited Internet competition and the company's slow response to customer requests.

The same wasn't true of Mattel. "They listen to collectors," raved Susan McDonald, owner of Susan's Shop of Dolls in Middletown, Md. She and other retailers agreed that the Silkstones and I Love Lucy lines were their best sellers.

"I've been in business for 19 years and have seen all the fads come and go," continued McDonald. "But I still love Barbie and most collectors do … They all come back to Barbie."

Here are some of the hottest fashion dolls for 2005, a preview of what's up for 2006 and a few fashion dolls that potential collectors (i.e., kids) want to play with today, according to retailers:









From The Wizard of Oz Collection, Robert Tonner introduces a new character for 2006 to add to the glamorous Witches of Oz Collection. It includes a new Fashion Lady of Oz — Lady Ozmopolitan — who comes dressed in an outfit inspired by the film's Emerald City Hairdresser's costume by designer, Adrian. Other costumes, also inspired by Adrian's Emerald City costumes, will be available. The limited-edition doll will be sold at doll and toy specialty retailers nationwide. Stand and dress are included. Separately available outfits range from $59.99 to $99.99.

.

AD
---






The Tonner Doll Company is proud to introduce the 2006 faces from The Chase Modeling Agency, New York's top choice for fashion models. From the Tyler Wentworth Collection, multi-ethnic 16" Chase Models are made from high-quality vinyl and hard plastic, featuring multiple points of articulation for the most fashionable poses. The dolls have rooted hair of top-quality saran and hand-detailed, painted eyes. A custom display stand is included with each doll. Dolls, outfits and accessories are sold separately. The Chase Modeling Agency Collection of clothing will be sold at doll and toy specialty retailers nationwide. Ensembles start at $49.99, separates at $11.99.

.

AD
---






The magnificent crowning glory to the Tonner fashion dolls are the 22" American Models — portrait dolls of unparalleled luxury. Monte Carlo, new for 2006, is dressed in an Empire-waisted gown topped with French lace and hand-beaded detail. The skirt extends into a chiffon overlay. The limited-edition doll will be sold at doll and toy specialty retailers nationwide. The doll comes dressed with a stand. Separate clothing for this line is also available.

.

AD
---






From the Alice in Wonderland Collection, Tonner's 16" Queen of Hearts is a monarch of style at her coronation, wearing a faux-fur trimmed red and black velvet gown. Other Victorian/fantasy-themed costumes will be available. The limited-edition doll will be sold at doll and toy specialty retailers nationwide and comes with a custom stand. Separately available outfits range in price from $59.99 to $99.99.

.

AD
---






Tyler Wentworth is New York's hottest fashion designer, creating jazzy and glamorous fashions from the House of Wentworth; kid sister, Marley Wentworth, aspires to be an artist too. From the Tonner Doll Company Tyler Wentworth Collection, the 2006 16" Tyler Wentworth and 12" Marley Wentworth are made from high-quality vinyl and hard plastic, featuring multiple points of articulation. The dolls' hair is rooted of top-quality saran, and both styles feature hand-detailed, painted eyes; a custom display stand is included with each doll. Basic Tyler Wentworth dolls start at $59.99; Basic Marley Wentworth dolls start at $39.99; Separately available fashion ensembles start at $29.99.

.

AD
---






Available starting this month, this new line of sleek, retro 12" dolls from Jason Wu will be "extremely limited," the designer told TDmonthly Magazine. That's good and bad news for collectors, who love Wu's dolls, but have a hard time finding them. Retailers have to act fast, too. Wu's dolls are a "very good product, very well made, very well received. They just don't make enough of them," sighed Susan McDonald, owner of Susan's Shop of Dolls in Middletown, Md. When she has a Fashion Royal by Wu, it sells immediately, she said. Other retailers don't even get a chance to carry Integrity. "I do love their dolls, though," said Anna Marateo, owner of Anna's Collectibles in Cherry Hill, N.J. "I collect them." Also available are First Class, Global Babe and Fly Girl.

.

AD
---






Already a legend in India after countless appearances in Bollywood's most recognizable productions, actress Isha makes her first appearance in Paris after one of her movies made it big on the European market. In her 100 percent pure silk, sari-inspired gown with exclusive embroidery design, Jason Wu-designed Isha seduces collectors with her sensational appeal. In addition to its Fashion Royals line, Integrity also makes play fashion dolls for children, as well as multi-ethnic baby and toddler dolls.

.

AD
---






These multiethnic 12" fashion dolls are priced just right for little girls. The Modern Living collection features Janay, Alysa and Giselle. Integrity Toys was founded 10 years ago, "because at the time there was a need to provide dolls of color. We did African American, Hispanic and Asian dolls," Integrity's president, Percy Newsum, told TDmonthly Magazine. Dolls are sold separately.

.

AD
---






I Love Lucy has been charming television viewers since 1951. An all-time favorite episode — The Operetta — has wacky Lucy Ricardo borrowing money from her woman's club treasury. Then the group needs the money to stage an operetta. To save the $100 royalty fee, Lucy writes her own musical — The Pleasant Peasant — a love story about Lily of the Valley (Ethel) and Prince Lancelot (Ricky) whose love is thwarted by the gypsy queen, Camille (Lucy). Lucy rents costumes and scenery using a postdated check, assuming the money will be available in the club account after the show. The show is interrupted by moving men repossessing sets and costumes and Lucy is carried off stage, singing and slapping her tambourine.

.

AD
---






Tano Barbie doll is the fifth and final doll in the Treasures of Africa Collection and named for the Swahili number five. A fabulous fantasy, Tano Barbie doll is equal parts ethnic princess and couture queen. The Bryon Lars-designed beaded and molded top is worn with a striking belt featuring red feathers. Golden embroidery plays on the printed crepe cropped pant. Long, golden earrings, an elaborate beaded necklace with silvery accents, and red-ribboned shoes are the bold accessories. The breathtaking final element is an incredible headpiece, which includes a birdcage complete with red molded bird with feather tail.

.

AD
---






Cool. Fresh. Invigorating. Peppermint calls to mind a complex sweetness that enlivens the senses. The clean aroma and red and white striping evoke happiness and indulgence, candy canes, and a return to childhood. Celebrate the sweet tradition of this wonderful treat scented with the cool aroma of peppermint. This 2006 Barbie doll wears a strapless gown of off-white, accented with the red and off-white striping of peppermint candy, evening gloves, and "rhinestone" stud earrings. This scented doll is a delicious tribute to an invigorating flavor.

.

AD
---






Perfect for entertaining or being entertained, Violette Barbie doll joins the Barbie Fashion Model Collection dressed for a stylish ball. She wears a gown made of printed silk organza over a satin underdress and tulle petticoat with lilac taffeta trim. It's a springtime vision of the ultimate romantic, retro ball gown — finished with violets in her hair. Her beautiful gown is designed exclusively for the Silkstone Barbie doll and is not for use with other Barbie dolls. This is a U.S. dealer exclusive item, available in December 2005 for 2006.

.

AD
---






This doll is still available, but there's a waiting list, Tamas Kish told TDmonthly Magazine, "because she's a signature edition. Helen [Kish] paints and does everything on that doll." New Kish fashion dolls for 2006 are Winter, Spring, Summer and Fall, with a predicted retail price of approximately $250, he added.

.

AD
---






True to her reputation as a fashion doll who understands elegance and grace, Gene is wearing an off-the shoulder white silk evening gown studded with Swarovski crystals to celebrate her 10th anniversary. Gene's lovely face is framed by a striking vamp hair-style and glittering earrings. Draped around her shoulders is a luxurious white "fur" stole. High-heeled shoes and an elegant evening bag complete her ensemble.

.

AD
---






This 13" vinyl doll with blue sleeping eyes is an Oppenheim Toy Portfolio Platinum Award Winner. "When older girls come into the store, they really like the Les Cheries," said Aftynn Gill, owner of Dolls in the Attic in Montclair, N.J. "They come back to buy the outfits."

.

AD
---






This cute little ensemble fits Corolle's Les Cheries 13" fashion dolls. Many other outfits are also available.

.

AD
---






Before he delved into dolls, Robert Tonner was senior designer for Bill Blass's sportswear division. The Tyler Wentworth doll is herself a mini-fashion designer. The clothes that "she" creates are backed by Tonner's strong, classic design sense. For 2006, "There are some wonderful outfit collections and the return of Tyler ready-to-wear boutique," said Tom Courtney, director of marketing for Tonner. The dolls are extremely detailed and wear only the finest garments from the Wentworth collection, but what else would you expect?

.

AD
---






Betsy is dressed perfectly for a party in this sunshine yellow embroidered organza gown. Betsy McCall® debuted on the cover of McCall's Magazine in May 1951, to the delight of mothers and daughters everywhere, for whom reading the adventures of Betsy and her friends, and cutting out their paper clothes brought imaginative fun to playtime. In 1957, Betsy became an 8-inch hard plastic doll, produced by the American Character Doll Company in conjunction with McCall's. In 2000, the Tonner Doll Company reintroduced 8-inch Betsy McCall® as a high quality doll for play and collecting based on the original Tiny Betsy.

.

AD
---
THIS BANNER IS AN AD:
---
---