---
Retailing Tips: Choosing a Trade Show
The Right Event Saves Money and Makes It, Too
Picking trade events that feature newly discovered companies that are right for your toy or gift store requires some legwork. The following seven tips, based on conversationsthat

TD

monthly Magazine had with 98 specialty retailers across the nation, may help you decide what type of event is best for your business:


One Show Isn't Nearly Enough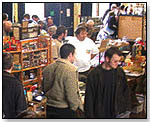 Forty-one of 50 retailers who attend the American International Toy Fair also add other shows to their itineraries to ensure a well-rounded product line. Gift shows and educational product shows are at the top of most retailers' lists.

One Show Is More Than Enough

The American International Toy Fair is the sole trade event for seven retailers who spoke with

TD

monthly. "The No. 1 reason is to see new products in one place and meet up with reps," explained Ray Goodhart, owner of Ages and Stages Toy Box in Golden, Colo.

Big Shows Don't Pay

Between the expenses of travel and lodging, 21 toy-store owners shared with

TD

monthly that Toy Fair just isn't worth it. "I stopped going [to Toy Fair] a few years ago because I can get information directly online with everyone," pointed out John Diciccio, owner of John's Collectible Toys & Gifts in Worcester, Mass., which offers celebrity- and comics-oriented niche products.

Go Local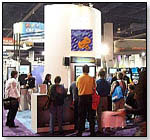 Attending local trade events minimizes the expense of traveling and may increase the chance of finding products for your particular demographic. "Pomona is more low key," John Naisbett, owner of Thinker Things in Del Mar, Calif., said of his local show [WTHRA]. "We are able to get a more quality experience and to get more information from the manufacturers."

Go Small

"When I go to a gift show … I'm looking for that odd company that no one knows about," explained Pamela Buars, owner of The Ark, which has branches in San Francisco and Berkeley, Calif. She generally attends two trade events a year.

Go Where You Can Network

The ASTRA show was mentioned as a favorite by 19 retailers. "I like the small setting," said Shelley Rinaldi, owner of Good Ideas in Waterbury, Conn. "You can build relationships with other dealers." Retailers cited networking as one of the main reasons for attending trade events.

Don't Go At All

"I don't go to shows," Harriet Story, owner of Leaping Lizards in Mineral Point, Wis., told

TD

monthly. "I mostly network with customers and other toy stores."

Whatever your store's needs, you can find out more about upcoming toy and gift industry trade events by clicking here. And to search for new toys on

TD

monthly, please click here.

Writer's Bio:
ALISON MAREK is an award-winning writer, director and cartoonist whose work has been published by Fairchild Publications and DC Comics (Piranha Press), broadcast on Showtime and other cable networks, and viewed worldwide in film festivals. See her short films and print work on www.alisonmarek.com. Watch her nefarious villains in the web series www.MuggsMovers.com. Get inspired by her cartoons "Daily ARFFirmations to Unleash Your Inner Fido" at www.ARFFirmations.com. Phew! And then ...
Read more articles by this author
THIS BANNER IS AN AD:
---
---