Tools:








Fashion Dolls Still Move and Groove
Hot Fashionistas Party With the Classics
Fashion Angels dolls are "anticipated to be really big this year." — MariCela Anguay, Dragonfire Toy Company
With additional reporting by regional correspondents Virginia Davis, Dennis Furlan, Terri Hughes-Lazzell, Krista Lebednik and Brenda Ruggiero
What's Selling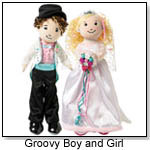 Manhattan Toys' Groovy Girls (ToyDirectory) received the "grooviest" rating in the specialty market by far, mentioned as a projected best holiday seller by 24 out of 51 toy retailers. The dolls are "like a modern day Raggedy Ann. They're very simple to play with," Teri Soelter, owner of Teri's Toybox in Edmonds, Wash., explained to

TD

monthly Magazine.

Not far behind are the multi-award winning "real girl" dolls from OHC Group. "Only Hearts Club has been a tremendous surprise to us in last few years; [we] almost can't keep it in stock," said Mary Walsh, owner of Magical Child in Greenfield, Mass.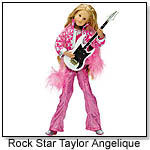 Manager Kim Anderson of Fun Forest in Sumter, S.C., praised the collection as well. "Mothers like them," she said, and they're inexpensive gifts for little girls.

What's New

Classic lines from Alexander Doll Company (Gift Guide) and Corolle (Gift Guide) remain strong, but Fashion Angels (Gift Guide) dolls for preteens are also "anticipated to be really big this year," MariCela Anguay, owner of Dragonfire Toy Company in Woodland, Calif., informed

TD

monthly.

Here are the fashion dolls that retailers and manufacturers think will be "in" this holiday season:







.

AD
---






.

AD
---






.

AD
---






.

AD
---






.

AD
---






Neva Dolls founder and chief designer Stacia McDonough created this raven-haired doll whose name means "beautiful hillside" in the Eskimo language. The latest addition to the Petites Fours Collection, she wears suede and genuine sable in the traditional dress of people from Russia's Yakute region. Handcrafted of Russian porcelain and with hazel eyes made of hand-blown glass, Princess Kimira stands 17" tall. Launch date: Christmas 2006.

.

AD
---






Clara is 13" and has red ponytails that match her little red outfit. A sweater with a ribbon tie, a flounced flowered skirt, ballerina sandals and a pink shoulder bag complete her outfit.

.

AD
---






Mrs. Claus is dressed for winter at the North Pole in a beautiful fur-trimmed red dress. She's often accompanied by a pair of jolly elves, sold separately. Holly has rooted titian red hair, a Christmas green dress with a jingle bell yoke and attached apron, striped stockings and gold elf shoes. Berry features wigged raven hair; a Christmas green outfit with a red vest and jingle bell pants, a red hat, striped stockings and gold elf shoes. Display stands are not included, and Santa's Elves are available for $69.99 each. Launch date: November 2006.

.

AD
---






This collection of high-quality dolls based on Proverbs 31 is designed to provide a Bible-based, Christian alternative to secular toys, and to encourage young girls to pursue biblical womanhood. The dolls stand 19.5" tall, have glass eyes and long rooted hair, and wear a contemporary outfit. Each comes with an accessory kit containing a Bible lesson (Proverbs 31:20) and a list of exciting activities that focus on generosity – one characteristic of a P31 girl. Also included are two cookie-cutters and a recipe that allow girls to make a batch of cookies for someone in need. Launch date: October 25, 2006.

.

AD
---






Pirouette is dressed in a graceful soft pink outfit with a wrap jacket that, like her leg warmers, is made from cozy fleece. Under her jacket, she wears a smart striped t-shirt. Pirouette's cotton skirt is trimmed with a cloud of tulle and ribbons, and her ballet shoes are trimmed with flowers. She wears ribbons to match her t-shirt in her long blonde hair. Lolle is 21.5 inches tall, and her dangling body is stuffed with cotton wool and weighted with pellets. Lolle has a canecalon wig and the vinyl head is hand painted. Launch date: January 9, 2006.

.

AD
---






What Palamino loves most is sitting in the saddle of her favorite horse. She is just the right friend for any big or small horse lover. Her red corduroy britches and quilted vest are perfect for a day at the stables. Under the vest, Palomino wears a t-shirt with our signature Lolle print. Her riding helmet and boots give her an authentic equestrian look. Lolle is 21.5 inches tall, and her dangling body is stuffed with cotton wool and weighted with pellets. Lolle has a canecalon wig and the vinyl head is hand painted. Launch date: January 9, 2006.

.

AD
---






.

AD
---






By award-winning designer Robert Tonner, this collection includes limited edition Wonder Woman, inspired by "Silver Age" art concepts from DC Comics. She is 16" tall with multiple points of articulation for powerful poses, movement and mobility. Tonner Character Figures, based on classic superheroes appearing in DC Comics, feature hand-detailed face painting, rooted hair and authentic costuming inspired by the superhero's life from origin to secret identity. Launch date: December 2006.

.

AD
---






This 12" tall doll features 18 points of articulation, glass eyes and hand-stitched clothing. The doll's hands and fingers bend to meet for prayer and more. Voice chip technology enhances learning and promotes role play with key selections from the Bible. Press the doll's body just above the waist, and a calm voice recites the words of John 20:29; 3:3; 15:5 and 3:16, Mark 12:30, 12:31. Moses, David, Mary and Esther are also available. Launch date: August 2007.

.

AD
---






Enjoy the ultimate vacation destination on the So Hip Cruise Ship with Polly and three of her fab friends, Lila, Lea and Rick. It's the biggest Polly playset ever, with tons of fun-filled activities. Polly and her shipmates can go parasailing, rock climbing, zoom down the ultimate super slide, chill in the hot tub, and of course, there's tons of shopping. Launch date: June 2006.

.

AD
---






.

AD
---
Catalog Request Form
THIS BANNER IS AN AD:
---
---