---
Homeschoolers Glide Into History
Historical Aircraft and Books Get Them Thinking
"It's a picture book, but it's for older kids, too." — Julie Petoia

Five homeschooled families ventured back into history as they built a replica of a Wright glider, jammed with legendary jazz greats, rode into the outlaw West with Billy the Kid, and revisited Troy.

Participants were former art teacher Lynn Costine with Sarah (13 years), Anna (11), Emily (9) and Will (7); Julie Petoia, RN, with Cabot Lee (12), Talia (10), Malynne (9) and Jeremiah, Jacob and Gabriel (5); Susan Ledford, editor of the "Homeschoolers Resources Directory," with Victoria (11) and Joe (7); Alison Shanahan with Elizabeth (12), Emily (10) and Katie (6); and Teresa Wilson with Timothy (14), Andrew (11), Elise (7) and Steven (6).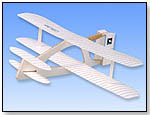 Smithsonian's Wright Flyer by AG INDUSTRIES
Gender: Boys and Girls
Category: Aircraft
Price: $8.00



What It Is:
A pre-cut balsa-wood kit to make an historical aircraft.
What the Moms Thought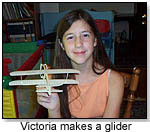 "The history of flight and background information given with it was very handy, to show the importance of this particular plane," said Ledford.

"The insert about the Wright Brothers combined this as a history and science lesson," agreed Wilson.

"It's easy to put together, it's simple and it works," noted Petoia. "It flies pretty well for something so little."

What the Kids Said
"Hey, Dad, it just did a flip!" Victoria Ledford (12) cried out.

Timothy (14) liked the opportunity to build a replica, said his mom.

How to Improve It
"The directions could be written in larger type," noted Wilson. "The children had a difficult time distinguishing the part numbers in the instructions."

"It would help if the diagrams were one step per diagram, rather than multiple steps in each diagram," pointed out Ledford.

Would You Want Another Toy Like This?
"This was a glider that you could put together and fly. ... My daughter would do this again another day," summed up Shanahan.

---
This Jazz Man by HARCOURT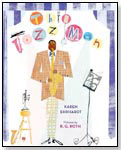 Age: 3 to 7
Gender: Boys and Girls
Category: Books
Price: $16.00, hardcover






What It Is: A new take on the old rhyme, "This Old Man," that features bios on jazz legends.

What the Moms Thought
"This was a creative, new version of a counting book," said Shanahan, who noted that "This Jazz Man," written by Karen Erhardt and illustrated by R.G. Roth, was a great showcase of African-American achievers.

"I loved how the author used the tune to a popular children's song to teach about various instruments and music history," declared Wilson.

What the Kids Said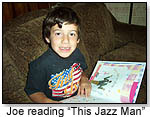 "Joe (7) liked the rhyming," shared Ledford.

"The words sound like music," he said.

"Steven (6) was compelled by the 'rhythm' coming from each instrument. Elise (7) enjoyed singing along and giving each musician a 'hand.' Even the older children delighted in this book," continued Wilson.

How to Improve It
"We love this one as is!" enthused Wilson. "A CD with excerpts of music performed by the featured musicians would be a definite plus!"

Would You Want Another Toy Like This?
The Wilson children were so excited by the book that they plan to check out Jazz CDs from the local library.

---
The Trojan Horse by ABRAMS BOOKS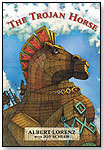 Gender: Girls and Boys
Age: 5 to 9
Price: $17.95, hardcover






What It Is: An illustrated retelling of the capture of Troy, by Albert Lorenz with Joy Schleh.

What the Moms Thought
"We liked the large size, the full-color aspect of the artwork. We enjoyed the busy page design, with maps and other details," said Shanahan.

"Greek myths are timeless classics, and this book is a wonderful way to introduce this myth to young readers," pointed out Ledford.

"It's a picture book, but it's for older kids, too," added Petoia.

What the Kids Said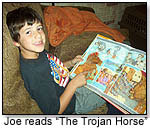 "The kids thought the gods looking down over the people were funny and enjoyed this aspect of the story," continued Shanahan. "Kate (6) was disappointed that there were not any beautiful pictures of Helen."

Elise Wilson (7) especially liked the Amazon women, said her mom. "Andrew, our resident military history buff, extolled this as the 'best war tactic yet.'"

Joe Ledford (7) also liked the war stories, noted Ledford.

How to Improve It
"To appeal to my children, the artwork of the people could be prettier and less cartoonish," advised Shanahan.

Would You Want Another Toy Like This?
"Again, this one is terrific as is!" said a happy Wilson.

---
Billy the Kid by HARCOURT

Category: Books
Gender: Boys and Girls
Age: 12 and Up
Price: $6.95, trade paperback






What It Is: An historical fiction about infamous outlaw Billy the Kid.

What the Moms Thought
"Historical fiction is an excellent way to give children a window into history," pointed out Ledford.

Shanahan's girls both found the book funny and exciting, but would never have picked it up in a bookstore based solely on the cover art, which seemed geared to boys.

What the Kids Said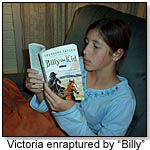 "I had read 'The Cay' by this author [Theodore Taylor] previously and enjoyed it, so I was excited to read this book," said Elizabeth Shanahan (12).

"The story is exciting," noted her sister Emily (10). "It keeps up an interesting pace throughout."

"Everyone loved it," Petoia commented about her brood.

How to Improve It
"The book is well-written and interesting, but I am concerned that the kids will think they know something about the real Billy the Kid after they read it," said Shanahan. "The book looks like something meant for 9-year-old boys, but reads like a book for teens."

"Gory scenes could be toned down and the language improved," summed up Wilson.

Would You Want Another Toy Like This?
"This book showed how that time period actually was," noted Victoria (12). She thinks historical fiction is the most fun way to learn about history.

Writer's Bio:
ALISON MAREK is an award-winning writer, director and cartoonist whose work has been published by Fairchild Publications and DC Comics (Piranha Press), broadcast on Showtime and other cable networks, and viewed worldwide in film festivals. See her short films and print work on www.alisonmarek.com. Watch her nefarious villains in the web series www.MuggsMovers.com. Get inspired by her cartoons "Daily ARFFirmations to Unleash Your Inner Fido" at www.ARFFirmations.com. Phew! And then ...
Read more articles by this author
THIS BANNER IS AN AD:
---
---