---
Make Kite Sales Soar in Specialty Stores
Retailers Tell What's Up … and How to Keep It There
"We moved to a new location and used kites on our awning." — Carolyn Meyer, Blue Turtle Toys

With additional reporting by regional correspondents Terri Hughes-Lazzell and Brenda Ruggiero

"Go fly a kite" can be an insult, but in the toy industry, it may be good advice.

TD

monthly Magazine's national correspondents talked to 15 retailers and found out how to bring sales "up" with kites.

What's New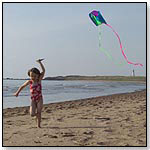 Kites aren't just for flying, Carolyn Meyer, owner of Blue Turtle Toys in Dayton, Ohio, told

TD

monthly: "We moved to a new location and used kites on our awning. We fly them year-round. We carry a nice line from New Tech and Go Fly a Kite Inc. They also make great room décor. … Kites are good for us."

What's Selling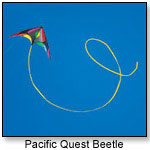 Kites are some of the biggest sellers at Air Fun & Pentwater Toy Box in Pentwater, Mich. According to owners Mike and Susan Castor, "Of the dual-line stunt kites, The Beetle from Pacific Quest has been the most popular since 1999. It's quality, durable, has good flying characteristics, and is the top end of the entry-level flyers. In the single-line kites, the entry kites targeted at kids sell all the time. Premier Kites and New Tech Kites are the best single-line easy flyers because they are easy."

And for something a little different, Grafton Stine, owner of Toys on the Square in Hummelstown, Pa., told

TD

monthly, "Kite-like flying planes, such as Xtreme Wings by XConcepts, are a favorite." They fly like kites, but look like gliders.

What to Make of It

April is National Kite Month, but any time there's a breeze and a sky, kites can do well. So, up in the air junior birdmen — it's time to go fly a kite.

Here are the models that retailers said do well for them: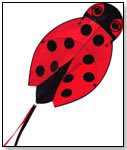 This beautifully appliquéd ladybug is a favorite with all ages. It's a great flyer with a simple and elegant design. Kids can watch it flutter in the breeze from 6 to 20 miles per hour. Measuring 24" by 34", it's made of ripstop nylon and is a single-line kite. Chris Shultz, general manager for NewTech told TDmonthly that these were "excellent sellers with more detail, leaning toward girls." He also pointed out there was a Super Sled Ladybug that is smaller and has a lower price-point ($4.00) that is a great first kite for the 5 and ups.

ToyDirectory Product ID#: 9535

(added 10/3/2006)

.

AD
---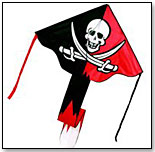 Kids can set sail in the skies with this easy-to-fly Superflyer kite from Go Fly a Kite. Constructed of durable ripstop nylon and a tough fiberglass frame, this kite is built to provide an endless number of fun summer days. The Jolly Roger is one of several different themed appliqués and prints offered on the Superflyer. Complete with flight line on a handle and a stabilizing tail, the Superflyer is a breeze to assemble and aerodynamically the easiest kite to fly.

— "We carry kites on two levels: for those that just want to fly a kite and those that want a challenge. Go Fly a Kite does the best job for all levels," said Jeri Dorsey, buyer for Kaboodle LLC in Carmel, Ind.

— "Our newest kite is the Jolly Roger. Pirate themes are hot and we try to stay with hot themes. It's been one of our top sellers this year," said Jim Christianson, vice president of Go Fly a Kite. "The Superflyer's got everything you need for a great day of flying. It's pretty much guaranteed success for any age, any skill level."

— Kites are strong sellers at

Amazing Toys

in Great Falls, Mont. "Adults will buy one for the kids and one for themselves," Owner David Campbell told

TDmonthly

.

ToyDirectory Product ID#: 8424

(added 6/27/2006)

.

AD
---







Always fun, even in 3 mph winds, the Beetle is an unusually forgiving flier for a stunt kite; it self-recovers from dives better than other kites. Virtually indestructible, it's made of ripstop nylon (and Mylar laminate on the Rainbow) with graphite rods. It measures 4'-9" x 2'-7". It's ready to fly with 80' 75-lb. polyester lines on handles.

ToyDirectory Product ID#: 9536

(added 10/3/2006)

.

AD
---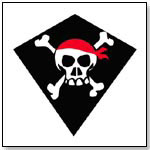 Sometimes big fun comes in small packages. That's the case with the Skull & Crossbones Fun Flyer. Take it outside to fly on a breezy day or use it as an indoor decoration. Either way, it'll put a smile on someone's face with the joy of flight.

ToyDirectory Product ID#: 9537

(added 10/3/2006)

.

AD
---






XTreme Wings Hi-Performance FiberFoam Gliders feature no-brainer assembly. They do stunts in zero wind and come in a green-and-black Skulls design, red-and-black Dragon design, and a Flame motif.

ToyDirectory Product ID#: 9538

(added 10/3/2006)

.

AD
---
Writer's Bio:
Mark Zaslove is an entertainment industry veteran in developing content (writing, directing and producing television and feature films) for the major studios, including Disney, Universal and Warner Bros. A two-time Emmy Award winner for writing and recipient of the Humanitas Prize (for writing uplifting human values in television and movies), Mark is also Head of Content Development for Nice Entertainment.
Read more articles by this author
THIS BANNER IS AN AD:
---
---