---
Baker Wood Marionettes Play On
A Passion for Puppets Has Brought Bob Baker Decades of Success
Some people reach adulthood without knowing what they want to do in life. For Bob Baker, the decision didn't take long at all. He knew for sure by the time he was 7.

"I saw a puppet show when I was 6, and I drove everybody crazy," he told

TD

monthly Magazine. "At 7, the only gift I would accept was a puppet, so everybody gave me puppets."

He found someone to give him lessons, and by the time he was 8, he had put together a full show on a stage. When he was asked to perform at a birthday party, his career was decided.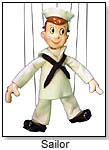 He started making puppets at the age of 10, and continued doing shows until he was called to serve in World War II. When he returned, he opened a small marionette factory and sold mechanical figures for window displays in major department stores and then expanded to television and film. For the past 50 years, Baker's company has produced high-end collectibles for Disney, too.

"We've been making our own line of puppets and continuing to make those that I was making in the early '40s," Baker explained. All of the work is one-of-a-kind: "We do cast the heads, but by the time we get through sanding them and painting them and so forth, they become one-of-a-kind."

Baker describes his puppets as "a very simple little line." They make about 60 different characters, but are currently pushing 12 of the better sellers.

"They're not going to be inexpensive," he warned. "If we made them in China, we could probably sell them for much less, but these are all made in the USA. … We feel that there's just better workmanship in them."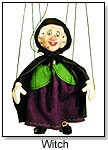 The 12 characters and sets include Pinocchio, Witch, Grandma, Red Riding Hood, Hansel and Gretel, mascot clowns in red and white, King, Queen, Prince and Princess, a ballerina and a skeleton.

Baker explained to

TD

monthly that they've used the concept of a little boy and girl dressing up and playing the characters.

"They're just cute little puppets and they're easy to work," Baker said. "Any child can work them. We do shows all the time here for children in our theater — it's one of the longest continuously operating theaters in the United States — been here 45 years. So we kind of can keep a pulse on children and what they like."

Baker noted that one of his biggest obstacles is people who believe they can't buy a marionette because the strings will get tangled.

"A string puppet will teach children a lot of grace," he pointed out.

During his years in the business, Baker has seen a lot of changes, especially when it comes to marketing.

"Today … you're competing with Wal-Mart," he explained. "They don't want something that can't be sold in a box with cellophane on it. [But] puppets should be always demonstrated … because if they see it work, they buy it immediately."

Here are a few of the characters that'll teach kids a little grace while building their imaginations: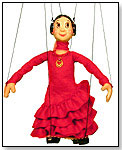 This Se

ñ

orita is ready for foot-stomping fun. Dressed in a scarlet flamenco dress, she features a gold brooch and chiffon scarf.

ToyDirectory Product ID#: 9922

(added 11/3/2006)

.

AD
---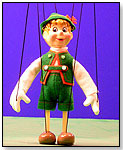 Hansel is dressed like a tasty Tyrolean lad, but if the witch takes a bite: Ouch! She'll get a mouth full of splinters. He's a cheery handcrafted wooden marionette that will give kids hours of forest-hiking fun.

ToyDirectory Product ID#: 9923

(added 11/3/2006)

.

AD
---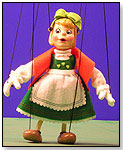 Gretel may have lost her way in the forest, but with a little help from a little kid, she'll be able to wander back to safety. She's dressed in a felt Tyrolean outfit and is handcrafted of wood.

ToyDirectory Product ID#: 9924

(added 11/3/2006)

.

AD
---







This 12" tall, plush bear hand puppet is great for kids and for the aspiring novice puppeteer.

ToyDirectory Product ID#: 9383

(added 9/14/2006)

.

AD
---

Writer's Bio:
Brenda Ruggiero is a freelance writer from western Maryland.
Read more articles by this author
THIS BANNER IS AN AD:
---
---