---
TDmonthly's Book Expert
One Educated Bookworm's Opinion
If you want to know which books to sell in your toy store, find out what the kids have to say. Each month, children's book author Dorothea DePrisco Wang reads new titles to kids and then gives her educated opinion on positioning and sales to

TD

monthly Magazine readers.

This month, she follows a cockroach to the White House, jams with a new-fangled nursery rhyme and explores American history.


Title: This Jazz Man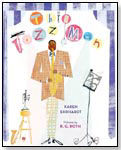 Company: Harcourt
Age Range: 3 to 7
Retail Price: $16.00

What It Is: A hardcover picture book featuring the children's song, "This Old Man" brought to life with a jazz-makeover!

Why You Should Carry It:
"This Jazz Man" by Karen Ehrhardt with pictures by R. G. Roth is wonderful gift for any child and any adult jazz fan. Mixed media collage and printmaking on watercolor paper is the perfect match for this jazz-inspired rendition of "This Old Man." It's different and exciting, with beautiful production. Although I would have chosen a heavier stock paper for this gift, it's so well done that it's lovely as is.

What Kids Think:
Kids liked to repeat the "bippity-bop, poppity-pop, toot-toot! And doodly-doot!" text. It was an entertaining sing-along.

---
Title: Ryan and Jimmy: And the Well in Africa That Brought Them Together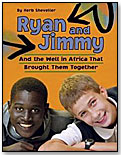 Company: Kids Can Press
Age Range: 9 to12
Retail Price: $16.95

What It Is: A hardcover nonfiction book about one boy's wish to build a well in Africa.
"Ryan and Jimmy" is an uplifting story about Ryan Hreljac, a six-year-old boy who spent a year raising money to build a well in Agweo, Uganda. Ryan's wish was to supply local villagers with safe clean water because he'd heard that they walked a long way each day in search of water, and that the water they did find made them very sick. He decided to do as many chores as he could and saved $70.00, but discovered it would only buy a hand pump for the well. His efforts eventually paid off when a family friend wrote an article about Ryan's efforts and his good will started a ripple effect. Ryan raised $2,000.00 and became pen pals with Jimmy, one of the children who helped build the well.

Why You Should Carry It:
Ryan's well changed the life of the people in the village. How often can one person's actions do that? When a child can inspire adults, the story should be told. It's a wonderful read for a parent and child and a lesson in giving. But more important, it teaches compassion through example. "Ryan and Jimmy" is a wonderful title for teachers, too. Beautiful photos complement the well-told story by Herb Shoveller, former London Free Press editor and great-uncle of Ryan Hreljac.

What Kids Think:
Children were inspired and asked questions about Ryan and his friend Akana Jimmy. The book prompted great topics for discussion, such as: "things all children have in common," "what makes people unite," and "what is compassion?"

---
Title: Wilky the White House Cockroach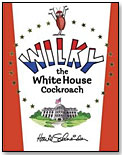 Company: G. P. Putnam's Sons
Age Range: 5 and Up
Retail Price: $16.99

What It Is: A hardcover book about a small cockroach with big dreams.
Wilky is a small cockroach with an escape plan! Wilky lives in the back of Oscar's Pizza Palace in Washington D.C. Wilky stows away inside a pizza box and ends up at the White House. He sends the White House staff and the President into a frenzy as the President exclaims, "Find that Cockroach!"

Why You Should Carry It:
Why not? The story by Howie Schneider (creator of the cartoon "Eek & Meek") is fairly original in its design and execution. One of the funniest parts of this book occurs when an emergency Cabinet meeting is called to handle Wilky's presence. And funnier still is Wilky's presence in the White House kitchen on the same evening that the French President is coming for dinner. As a children's book, this is a good read aloud but the subtext for parents is truly the most entertaining.

What Kids Think:
The kids loved the idea of a bug negotiating with the President (and I liked that quite a bit myself.) On some level they related to Wilky as one of their own: mischievous and full of adventure.

---
Title: Sock Monkey Dreams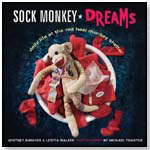 Company: Penguin Group,Viking Studio
Age Range: Adults
Retail Price: $14.95

What It Is: A hardcover book about sock monkeys, the "creatures of comfort that relieve human children from anxiety and dismay and provide companionship."
Authors Whitney Shroyer and Letitia Walker and their photographer, Michael Traister, have created a world where sock monkeys and their relatives discuss their "great thread of being." The book includes detailed scenes of the monkeys in different settings. For instance, they have their own stage for a talk show as well as their own circus.

Why You Should Carry It:
Sock monkeys debuted in the early 1900s, and since 1920 instructions for their creation have been included in packs of Red Heel socks. If this is the kind of doll and kitschy stuff your store does well with, then this book would fit in nicely. It is interesting even if you don't know what a sock monkey is, and the narrative paired with the photos makes it a nice gift book. There's a market for this kind of book, but if you can find merchandise to pair with it, even better.

What Kids Think:
This book was not read to kids.

---
Title: Uno's Garden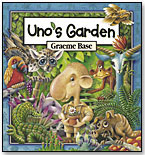 Company: Abrams Books
Age Range: 4 to 8
Retail Price: $19.95

What It Is: A hardcover picture book that prompts discussions about conservation.
Uno decides to make his home in a forest where many beautiful and interesting animals live. In time, a little village grows up around Uno's house. Then a town, then a city and before long, one by one the animals disappear. "Uno's Garden" by Graeme Base is a story about how we all affect the environment around us.

Why You Should Carry It:
There are several reasons to have this title. One is the author. Graeme Base is a four-time New York Times best-selling author. His alphabet book, Animali, received international acclaim when it was first published in 1996. His worldwide sales are more than 2 million copies. He is the author of other successful titles including, "The Eleventh Hour," "The Sign of the Seahorse," "The Discovery of Dragons," "The Waterhole" and "My Grandma Lived in Gooligulch."

The second reason to carry this is the subject matter. If I had to transport myself back into my last job as a book publisher, I would be nervous to present this title to a sales team because they'd doubtless raise concerns about how conservation isn't a "big seller," and, to boot, the author adds in "math" to the equation. I'd ask myself, how do I pitch this to get them excited about selling it? Well, reading is believing, which brings me to the third reason for carrying the title ...

The execution: It's no surprise that Abrams has delivered a well-designed, well-produced picture book. I love to open a new picture book and feel as if I'm transported into its world. It is difficult to find a picture book that marries the illustration, design, editorial and production into a perfect combination. This one does.

What Kids Think:
The young crowd I read to ranged in age from 3 to 5. The 3 year olds only understood the simple concept of the forest and a town being built. The 5 year olds had slight trouble with the math, so we simply discussed Uno and his feelings. They responded to Uno's situation with sympathy, but the story in general was a touch too sophisticated for their age.

---
Title: The American Story: 100 True Tales From American History

Company: Random House
Age Range: 9 to 12
Retail Price: $34.95

What It Is: An illustrated collection of 100 true tales in American history.
This treasury written by Jennifer Armstrong and illustrated by Roger Roth tells the story of America through 100 true tales. Some are of triumph (e.g., Neil Armstrong's first steps on the moon) and some are of tragedy (e.g., the great fires in Chicago).

Why You Should Carry It:
"The American Story" is a great gift book for Fall. I would have loved this book as a child. And it would probably be something my uncle would have purchased for me. The illustrated stories are short, but not lacking detail. Each story is a fun read-aloud. A parent or grandparent can turn to any page in the book and read just one or two stories at a time.

This book received a starred review from SLJ (School Library Journal). Also note that author Jennifer Armstrong has published more than 50 books for children aged 0 to 14 and is best known for her historical fiction. Ms. Armstrong is the winner of the Orbis Pictus Award for Outstanding Nonfiction for "Shipwreck at the Bottom of the World."

The tales are about inventors, athletes, artists and abolitionists … and are organized chronologically. The stories are written for children, with language that is both interesting and exciting.

What Kids Think:
I chose to read two stories to some children who were about 9 years old. They found it interesting; they really enjoyed the illustrations and thought they might like to get this as a gift from their grandparents.

---
Title: Voices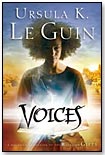 Company: Harcourt
Age Range: 12 and Up
Retail Price: $17.00

What It Is: A hardcover young adult novel set in a fantasy world.
A peaceful society full of scholars has been captured by desert-Alds, and the residents are forbidden to read and write. The main character, Memer, finds her life changed when she meets Orrec, a poet. Memer realizes that she is the last hope for the people of her lost city in this tale by famed novelist Ursula K. LeGuin.

Why You Should Carry It:
To properly review this book, I had to go back and read "Gifts," LeGuin's previous novel (released in 2004). It wasn't completely necessary, but because I was not familiar with LeGuin's work, I felt it my duty.

After some research about the author and her work, and after sitting with "Voices" and "Gifts," I've learned that LeGuin has a talent for creating realistic and believable environments. An aspiring writer in middle grade or high school, can learn from LeGuin's writing style how to become a better writer. LeGuin's characters, although at times violent, are political, conflicted, real, inspiring, vulnerable, brave and lost. The mature elements in some passages are to be noted for parents. However, LeGuin's content and style offers more than fantasy. There are parallels to our world today and, to some extent, to our history as a society.

What Kids Think:
I did not read this book to any child because of the mature content.

---
Title: Buckamoo Girls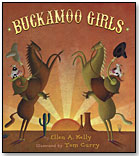 Company: Abrams Books
Age Range: 3 to 8
Retail Price: $15.95

What It Is: A picture book about two cows who imagine they are cowgirls.
"Buckamoo Girls" is a fun, light-hearted and entertaining picture book by Ellen Kelley about two cows, Susanna and Joanna, who dream of camping out, roping steer and roaming the hills as cowgirls. The illustrations by Tom Curry are lively and humorous, and the book is an easy read.

Why You Should Carry It:
"Buckamoo Girls" has a rich, lively cover and is written in fun, bouncy rhyme. It's a good Fall title starring two daydreaming cows. The final scene is hysterical! Susanna and Joanna are making music by the campfire and singing their own version of Buffalo Gals:
"Buckamoo Girls, won't you come out tonight, come out tonight, come out tonight?
Oh, Buckamoo Girls won't you come out tonight, and dance by the light of the mooooooooon?"

Book production on this is wonderful, with the reinforced binding and a matte jacket with UV spot varnish. My kind of book!

Ellen A. Kelley is an author and poet and is also the author of "Lucky Lizard." Tom Curry is a painter and award-winning illustrator who lives in West Texas. He has illustrated six children's books including "The Bootmaker and The Elves" by Susan Lowell.

What Kids Think:
The poetry is a little sophisticated for the 4 year olds. But the 5- to 6-year-old girls loved it — especially the ones who already want to be cowgirls! The toddler boys laughed along at the last spread, when the cows sing by the campfire.

---
Title: Augustine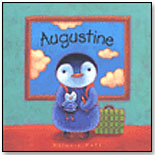 Company: Kids Can Press
Age Range: 4 to 8
Retail Price: $16.95

What It Is: A story about a young penguin who moves from the South Pole to the North Pole because her father was transferred for his job.
Augustine's family moves to the North Pole and she misses her friends, her teacher, her grandmother and grandfather, and her old bedroom. Augustine finds everything to be new and different, but eventually, through her drawings, discovers a way to relate and communicate with her new classmates in this book by Melanie Watt.

Why You Should Carry It:
This book has many uses. First, it is a lovely bedtime book because it centers on a very sweet and kind character who is quietly reassured by her parents that she will eventually be comfortable in her new setting. Augustine is inspired and comforted by her artwork, which helps her to relate to the other children. Second, "Augustine" is a great winter title simply because the main character is a penguin who moves from the South Pole to the North Pole. Last, the book addresses the anxiety of moving and starting in a new school. Therefore, this title could be placed in stores September through February.

The book is beautiful and the illustrations alone calls for consumer product! The anxiety Augustine has about her new home, school and surroundings is comforting to children going through the same process. The book design and construction are excellent. The editorial was straightforward, but soft. Clever lines such as, "I tell my dad I have cold feet and can't go to school," or "But at night I can't fall asleep. I get chills just thinking about my new school," will make parents chuckle.

What Kids Think:
The toddlers who read this with me loved Augustine. Apparently penguins are popular at the moment with toddlers. They all started walking like penguins around the room. At home, my 3-year-old son started talking to Augustine when we read the book at bedtime. He said, "It's OK, Augustine, your mommy and daddy will help you feel better."

---
Title: Holidays Around the World: Celebrate Hanukkah With Light, Latkes and Dreidels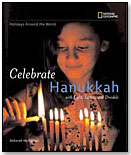 Company: National Geographic
Age Range: All Ages
Retail Price: $15.95

What It Is: A photographic hardcover book that celebrates the joys of Jewish people around the world.
Readers find out why Hanukkah is one of the most joyous holidays on the Jewish calendar in this book by Deborah Heiligman, which celebrates the holiday through photographs and storytelling.

Why You Should Carry It:
"Celebrate Hanukkah" is a nice holiday title that is interesting to both adults and children. It is a real look at Hanukkah and the celebration, the meaning and the message. The back matter is just as interesting as the beautiful photographs. There is a glossary of terms, instructions on how to play dreidel and light a Menorah, and a recipe for potato latkes. This book shows children in Ghana playing with dreidels, and depicts Hanukkah Menorahs in Poland, Israel and all around the world. Children will learn about latkes and other Jewish food.

What Kids Think:
Children not only liked looking at the photos of other children celebrating, but they also enjoyed learning about the traditions and games surrounding the Festival of Lights.

Writer's Bio:
Dorothea DePrisco Wang is the author of more than 40 books for children. Dorothea has 14 years of experience in the publishing industry, beginning her career with Scholastic Inc. She later became executive vice president and publisher of Intervisual Books Inc., where she created and executed 300 titles. She is best known for her titles published by Piggy Toes Press, such as "Eight Silly Monkeys" and "Who Stole the Cookie From the Cookie Jar?"
Read more articles by this author
THIS BANNER IS AN AD:
---
---