---
Retailer Spotlight: Heights Toy Center
How to Make a Toy Store That Kids Don't Wanna Leave
"What's going to be the hottest toy at Christmas? I'm sure I saw it and didn't like it." — Greg Bonner

The Heights Toy Center in Little Rock, Ark., came into Greg Bonner's life in 1967, when he was 5 years old. He wasn't a customer — his parents owned it. Now he does.

The Heights Toy Center has been in business for 70 years and is still going strong. How has Little Rock's oldest toy store thrived in the age of big-box stores such as Toys R Us and Target? Bonner told

TD

monthly Magazine that it takes guts ... and you have to listen to them.

Find the Best Toys ... Even If They're Not Toys

Bonner doesn't find his toys at Toy Fair. He doesn't even attend Toy Fair.


"What's going to be the hottest toy at Christmas? I'm sure I saw it and didn't like it," he said bluntly.

That doesn't mean that Bonner doesn't try to figure out what kids want; he just tries to figure it out before anyone else.

A few years ago, Bonner started carrying luggage and women's purses in small sizes. Now children's luggage and purses are an industry.

Bonner doesn't want to lose kids over age 13, so he makes sure tween girls can find all the "junky jewelry and nail stuff" that they love.

Find a Look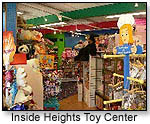 A few years ago he realized that many toy stores are interchangeable, something he wanted to avoid. "We all had Playmobil, we all had Thomas."

The Heights Toy Center's unique look is due in part to the fact that Bonner doesn't buy many displays from manufacturers. Instead he relies on his — and his parents' — own quirky taste.

"My father would go prowl around antique stores and see a hutch and say, 'that's great for dolls.' No one else was doing that," he told TDmonthly.

Create an Alternate Reality

The goal is for kids to feel like they left the real world when they walk through the door, Bonner advised. Toys are to be talked about, demonstrated and played with.

"We've always have one of everything out of the box."

Perhaps not surprisingly, Bonner likes it when kids leave the store screaming in protest.

Make It Theatrical ... Literally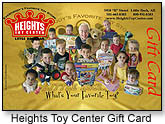 Every Wednesday in the summer is story time at The Heights Toy Center. Afterward, the older kids make arts-and-crafts projects. Story time is free, while arts-and-crafts is "a good deal," Bonner told

TD

monthly.

It is also "hugely successful," he added. (Maybe too successful: Recently, 65 kids showed up when they were planning on 25 to 30!)

The store has a puppet stage — the only one in all of Arkansas — and this Fall they're putting on a full-fledged puppet production of "Hansel and Gretel," with local kids taking part.

Stay Hungry

Bonner takes the extra steps necessary to set the store apart from the competition because he is passionate about the toy business: "I eat, sleep and breathe toys."

That passion should keep kids coming to the Heights Toy Center for even more generations.

Writer's Bio:
Elizabeth Greenspan edits and writes for trade and technical publications. She has interviewed and collaborated with some of the top practitioners in their fields. She lives in Philadelphia and travels extensively for her work.
Read more articles by this author
THIS BANNER IS AN AD:
---
---