---
When High-Flyin' Doesn't Fly
RC Powers Up Hobby Stores, But Toy Stores Prefer Low-Tech
"Rocket Balloons are the most popular right now." — Peggy Sebert, Becky & Me
With additional reporting by regional correspondents Dennis Furlan, Terri Hughes-Lazzel, Krista Lebednik and Brenda Ruggiero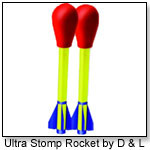 Flying toys never get old. Some get more high-tech (like radio controlled and beyond), but even the simplest balsa wood glider is a revelation.

TD

monthly Magazine's correspondents found that RC helicopters, Rocket Balloons, and Stomp Rocket sales were soaring, while even that simple balsa wood glider has a good market share.


What's New(ish)

Electric airplanes and helicopters are "revolutionary" and a "hot item," stated Lee Moore, owner of Nancy's Hobby in Warren, R.I. His top picks come from Hobby Zone (Gift Guide), and Horizon Hobby's ParkZone and E-flite.

What's Selling

"Rocket Balloons are going crazy. We're sold out," Eric Masoncup, owner of Gepetto's Toy Box in Oak Park, Ill., told

TD

monthly. "The refills actually sell, too!" laughed Carolyn Meyer, owner of Blue Turtle Toys in Dayton, Ohio.

Other high-flyers are D&L Company's Stomp Rockets (Gift Guide) and Marky Sparky Toys' Blast Pads, the two owners agreed.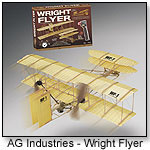 Susan Pruett, manager of Kilmarnock Toy Store in Kilmarnock, Va., pointed to the BeamO: "It's easy for all ages, so big and little can do it together."

And what of the age-old glider, balsa wood or otherwise? Those by Toysmith were mentioned as good sellers by Bettie Lee Moore, owner of Kaboom! in Leesburg, Va., while Gwen Bowden, manager of Doodlehooper 4 Kids in Springfield, Va., cited balsa planes by Guillow.

What's Fading

But not all retailers see an upward trend: "At the beginning of the year, RC aircraft were really popular, and in the last two months, we've not sold one," Nate Secat, sales rep for Winkie's Toys & Hobby in Lititz, Pa., told

TD

monthly. "I would have to say it's mail order — we can't compete with that."

What to Make of It

So, what can we conclude from what our correspondents found? Keep your eye on the flight pattern: Although there's always a niche for low-tech aircraft, competition from discounters could cause turbulence in RC.

Here are the flying toys that kept retailers' spirits high:







Fun for both children and adults, especially at parties, this balloon can be inflated to 3 feet with a dual action pump before let go. Watch it whip, zip and hear it squeal through the air. It won a Creative Child Magazine´s Seal of Excellence Award in 2004.

.

AD
---






.

AD
---






.

AD
---






The Xstream glider is the world's first application of IWA (Internal Wing Aircraft) technology. Each purchase helps to fund on-going research and development of a real man-carrying IWA. This glider soars through air and water in a unique way: when it's launched, air (or water) is directed along the fuselage, over the coanda and is entrained into the duct. The internal wing, or the bottom of the duct, accelerates the flow, creating enhanced lift. A power launcher is included for extra distance.

.

AD
---






.

AD
---






.

AD
---






This ready-to-fly radio-controlled plane features a 3-channel radio system in a Zone 1 airplane, anti-crash Technology in a 3-channel airplane, a 2-piece, mid-set, swept, plug-in wing, and rigid, steel-wire pushrods to more precisely manipulate the control surfaces. "The Firebird Freedom by Hobby Zone is a good starter plane at a good price, and it has new technology," agreed Sheena Demko, manager of Nittany Line Hobbies & Toys in State College, Pa.

.

AD
---






.

AD
---






Dubbed the "Butcher Bird," the Focke-Wulf 190 was the Luftwaffe's most potent piston-engine fighter of WWII. Experience the thrill of flying this warbird legend on a smaller scale with ParkZone's aerobatic RTF reproduction. It's ready to fly, straight out of the box.

.

AD
---






.

AD
---






.

AD
---






In the world of electric radio-controlled helicopters, the Eflite Blade CX 2 radio-controlled heli stands out not just because of its looks, but because it also offers the latest technology available, such as a 2.4 GHz radio, which lets you fly anywhere without channel interference. This helicopter also features an improved gyro and servo control motors. The Blade CX 2 can be flown by almost anyone with some practice and can easily be flown indoors. It comes with a training gear set and qualifies for free shipping. The Blade CX 2 also comes with an instructional DVD and manual and is backed by solid phone tech support. Parts are widely available. Launch date: 2006.

.

AD
---
THIS BANNER IS AN AD:
---
---