---
Electronics of Choice Create and Educate
Specialty Retailers Define a Limited Field of "Electric" Sales
"The pull for electronics is so great, but the specialty market doesn't go there." — Marybeth Kreger, Learning Express

Science kits, models and educational items take precedence in the electronics category, specialty toy retailers told

TD

monthly Magazine. As children and parents scope out the e-trail, products with creative flair and a learning curve, from companies such as OWI (ToyShow), Elenco (ToyShow) and LeapFrog, are making their way to registers.

What's Selling

Five out of eight retailers easily mentioned Elenco Snap Circuits, which have "snapped" into place for the long haul. It's "the best toy ever," said manager Suzanne Runicki of Learning Express in Barrington, R.I.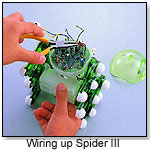 Robot kits by OWI rule the roost at Toyland in Milford, N.H., and are especially appealing to older children, said manager Cheryl Pyles, who stocks several in the line.

For hobby enthusiasts, the new E-flite Blade CP RTF Electric Micro Helicopter is of a "revolutionary" caliber, according to owner Lee Moore of Nancy's Hobby in Warren, R.I. His business is 50 to 60 percent radio-controlled items.

What's Fading (or never was)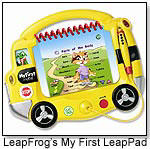 As Marybeth Kreger of Learning Express in North Kingstown, R.I., pointed out, "the pull for electronics is so great," but the "specialty market doesn't go there." Catch a Falling Star in Lexington, Mass., declines licensed products to differentiate from big-box retailers, such as Target and Toys R Us. And owner Deran Muckjian hopes that "kids use their mind" — sans electrons.

Specialty retailers sometimes carry electronics, though, if they're high quality and educational.

LeapFrog products are one such example. The company is "dedicated to helping more small stores capture [a] market share," Kreger told

TD

monthly.

What to Make of It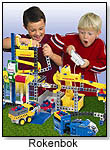 Retailers couldn't agree on whether children or adults are more likely to choose electronics, but Kathleen Tutone, owner of Treehouse Toys in Portsmouth, N.H., summed it up as "even Steven." Regardless of who's selecting, it's wise to consider a product's creative and educational worth.

Here are some electronics (and closely related items) that fill specialty shelves:







.

AD
---






.

AD
---






.

AD
---






With this portable, lightweight system, letters, words and numbers come to life with the touch of a Magic Pen, and interactive learning games, sing-a-longs and word play give kids a full-throttle jump into the exciting world of reading. Children can just snap in a book, pop in a cartridge, and be ready to read and play.

.

AD
---






.

AD
---






This non-solder robot in the OWI Beginner Series has a futuristic style and features a touch/sound sensor that prompts it to change direction when it hears a loud noise or comes in contact with an object. It comes with a condenser microphone, a pre-assembled printed circuit board, and an easy-to-assemble mechanical drive, and requires only basic hand tools and two AA batteries (not included). The product was selected by the Children's Institute for Childhood Resources as one of the "100 Best Children's Products" and "10 Best Software/High Tech Products" for 2001.

.

AD
---






.

AD
---






.

AD
---
THIS BANNER IS AN AD:
---
---