---
Outdoor Toys Soar in Off-Season
Foam Artillery and Ride-ons Sell Despite Snow
"[Wheely Bugs] sell like hot cakes." — Shea Schroll, The Name Dropper

With additional reporting by Dennis Furlan, Julie L. Jones and Ruth Evans Lane

Launchable rockets are soaring this winter, with more than 25 percent of retailers hailing airborne toys as the No. 1 item to watch.

TD

monthly Magazine spoke to a dozen retailers about toys that sizzle despite the chill.

What's Selling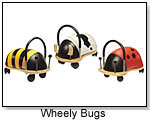 Shannon Nashis, Manager of Creative Kidstuff in Portland, Ore., prefers foam balls to snow balls. She's counting on the Cosmic Thruster by Toysmith, a pumpable gun that shoots friendly warfare, to get kids outside "even during the cold months."

Discover Depot, in Cookville, Tenn., has also "seen a real increase in Virtual Distance Football by Small World Toys," owner Sherrie Cannon told

TD

monthly,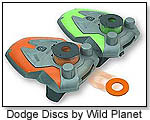 adding that Wild Planet's Dodge Disks are also selling.

The most popular play missile among retailers was the Stomp Rocket by D&L Company (Gift Guide). Robert Noe of Playthings in Louiseville, Ky., said that, unlike many other outdoor toys, it "does well all year."

What's New

Discovery Depot in Cookeville, Tenn., is having a good season with another Toysmith product, Blast-Off, a trick-performing rocket that blasts off more than 100 feet into the sky.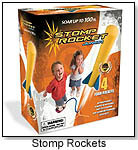 Ride-on toys wheeled in to the No. 2 spot on retailers' lists for winter toys al fresco. Shea Schroll, owner of Montgomery Ala.'s toy store, The Name Dropper, is having great success with a ride-on that's new this year to the U.S.: "… Wheely Bug by Prince Lionheart (ToyDirectory). We got them in and they sell like hot cakes," she raved.

Here are the products that retailers and manufacturers think kids will bundle up for this Holiday season:







.

AD
---






.

AD
---






Active Edge Extreme Virtual Distance Football tells you how far you've thrown the ball. The football has a digital LCD readout on it that displays the distance thrown in yards. Super grip texture and durable foam construction are just like a real football.

.

AD
---






Cosmic Thruster shoots foam balls by pumping the front handle. With a loud pop, the balls will be launched a far distance. The Cosmic Thruster is good for some stress relieving fun at home or around the office.

.

AD
---






.

AD
---






Sit and scoot on Thomas the Train with the Thomas the Tank Engine Train Rideon. This riding toy encourages activity, as the motion-activated engine sounds act as a reward. The 3-in-1 design of the ride on allows toddlers to scoot along, push it around, or be pushed along by an adult (with optional handle). Motion-activated sounds encourages scooting around.

.

AD
---






.

AD
---






This black beauty heirloom is built with quality steel construction. Authentic character includes enamel paint, chrome windshield, steering wheel and hub caps, padded seat, solid rubber tires and adjustable five-position pedals. This toy's safety has been tested and approved, though adult supervision is required.

.

AD
---
THIS BANNER IS AN AD:
---
---