---
RC Picks Up Speed in Hobby Shops
Innovation Keeps This Hobby Zooming
"Children are fascinated by what's real. They can tell what's fake." — Fred Hutchins, Jan's Hobby Shop

With additional reporting by regional correspondents Dennis Furlan and Brenda Ruggiero


Though some toy-store owners report a decline in kids' interest in hobbies, radio-controlled toys are a notable exception in hobby shops. Pre-assembled high-end models get their attention, too.

Fred Hutchins, manager and owner of New York City's award-winning Jan's Hobby Shop told

TD

monthly that the realism of hobby products draws buyers.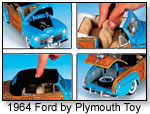 "Children are fascinated by what's real. They can tell what is fake," he commented.

What's New

Bruce Throne, manager of Walt's Hobby in Syracuse, N.Y., finds that "Nitro vehicles [by Traxxas Products and others] are one of the biggest things in the past 20 years." He added that, "Electric helicopters have been in demand."

What's Selling

More than 30 percent of the 19 retailers contacted by

TD

monthly about hobbies mentioned great sales for RC vehicles and more than 40 percent mentioned trains or aircraft as their top sellers.

Hutchins has seen a big boom in Plymouth Toy airplanes and cars: "This has been a primary product for me for the past two and a half years. It's been a godsend."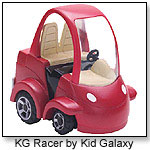 William Romanowski, manager and owner of Magnolia, N.J.'s AAA Hobbies & Crafts has also seen a boom in realistic models of airplanes and cars, but at his business, it is plastic models that seem to be taking off: "Trumpeter plastic…models are new and hot for us."

Kid Galaxy RC vehicles are another sure-seller. Kim Duff, manager of Giggle Toys and More in Bozeman, Mont., pointed out: "Parents like them. It's good price point."

What to Make of It

Romanowski believes the trend toward RC hobbies stems from manufacturers' attempts to be innovative: "People seem to like the products for their variety."

Following are some of the more innovative RC products that can help kids stay up to speed:






These brightly colored and intricate models come with their own 24K gold-plated coin. With engine details, working parts and fine detailing, these models are ideal for adult collectors and younger hobbyists alike. Frank Berk, vice president of Plymouth Toy and Books, told TDmonthly that the Plymouth Scale models are "guaranteed to please" thanks to their "highest quality" manufacturing process.

ToyDirectory Product ID#: 9870

(added 11/2/2006)

.

AD
---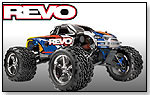 Traxxas has a wide range of nitro cars and trucks for any enthusiast. With powerful engines, stylish design, and a rugged build, these cars offer off-road action, speed and a great look, sure to please any fan. Traxxas produces lines of 1:10-scale monster trucks, stadium trucks, 1:10-scale sedans, monster buggies, racing engines and more. With fine detailing and impressive power, these products are the perfect blend of function and looks. Bill Carter, head of marketing for Traxxas, informed TDmonthly, "Traxxas basically created the market for ready-to-race [radio-controlled] (RC) vehicles back in the late 1980s ... Our TRX engines are known to deliver the highest performance for any small block engines available. And when a consumer gets a Traxxas nitro vehicle, the box includes our much acclaimed Nitro Set Up DVD, which walks them through all the steps of breaking in, tuning, and maintaining a nitro engine and vehicle."

ToyDirectory Product ID#: 9871

(added 11/2/2006)

.

AD
---






This 1:24-scale airplane is just one of the many exciting models created by Trumpeter. This plastic model has all the true-to-life details, including a full-detail engine and workable flaps, that even the most demanding hobbyist would expect. With 231 carefully crafted pieces, this aircraft is sure to be the centerpiece of any collection. The model is carefully based on the HF Mk VI Spitfire, which had been crafted specifically for high-altitude combat. All the details are here, so that any fan can see exactly how these powerful aircraft would have looked.

ToyDirectory Product ID#: 9873

(added 11/2/2006)

.

AD
---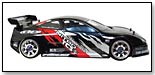 This nitro-methane-powered radio-controlled speedster has taken the incredibly popular Nitro TC3 RTR and upgraded it with a more powerful .15-size engine, Sure Shift 2-speed tranny and revised rear suspension. They've made a few cosmetic changes as well. Like its predecessor, the Nitro TC3 Plus can be upgraded with any of the hundreds of Associated Factory Team parts, making it an ideal starting point for the new nitro sedan racer to grow into.
— Mick Szydlowski, franchise business advisor for Hobbytown USA in Lincoln, Neb., said these things are extremely loud: "With 35 to 40 thousand rpm's, they sound like a Weedwacker times 10."
— Donald Reford, a hobbiest from Portland, Ore., has bought 17 different nitro cars. "They're addictive. Nothing else goes as fast, or roars as loud."
— Nitro RC cars have been the fastest-growing RC category for the past two years.

ToyDirectory Product ID#: 6753

(added 1/30/2006)

.

AD
---




MSRP: $179.99

Age Range: 16 and upGender: Boys





This nitro-fueled rocket of a car can go up to 25 miles per hour, all controlled with a touch of a button. The Nitro XRC Ricochet is Hasbro's return to RC after far too long.

ToyDirectory Product ID#: 8648

(added 7/21/2006)

.

AD
---

Writer's Bio:
A. Antonow is a freelance writer who lives in Canada. She has written for businesses and individual clients alike, developing copy, content, advertising and ghostwritten material.
Read more articles by this author
THIS BANNER IS AN AD:
---
---