---
Lots and Lots for Babies and Tots
Retailers Vary Holiday Selection for Little Ones
"For my clientele, it's toys that are simple: no bells and whistles." — Christina Wallerstein, Playworks

With additional reporting by regional correspondents Virginia Davis, Dennis Furlan, Terri Hughes-Lazzell, Krista Lebednik and Brenda Ruggiero

Toys and other items for infants and toddlers cover an astonishingly large spectrum — from teethers and plush to ride-ons and puzzles. A survey of 51 specialty retailers pinpointed best sellers Melissa & Doug, Manhattan Toy (ToyDirectory) and Haba USA (ToyShow), with Learning Curve and International Playthings right behind.

What's Selling

"I have done quite well over the years with the Lamaze line, from Learning Curve/RC2. Good packaging appeals to people who don't know what they're after all the time," said owner Dan Willis of Communique Toys in Seattle.

Some stores are trying out product lines for the first time, and doing so successfully.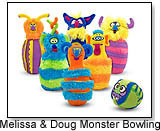 "Baby Einstein (Gift Guide) for infants … is a new line for us, and we have already seen an increase in sales just in the last two weeks," Angel Stahl, owner of Angel's Toy Barn in Greensburg, Pa., told

TD

monthly. "We always sell a high volume of the Thomas Wooden Railway starter sets during the holidays," she added.

Many of these toys, such as Wee Wedgits from Imagability, allow little ones to be creative and develop skills as they play. "They're very open ended, for any age," commented owner Teri Soelter of Teri's Toybox in Edmonds, Wash.

Christina Wallerstein, owner of Playworks in Pasadena, Calif., agreed about the success of open-ended toys for infants and toddlers. "For my clientele, it's toys that are simple: no bells and whistles…things that invite play."

Here's a glimpse at the baby toys retailers and manufacturers said will be their best sellers this Holiday Season:







This classic fill-and-pour toy has a fun, contemporary twist. Whenever toddlers place a bug in or out of the frog's mouth, they hear sounds such as "ribbit," "burp" and "buzz." A door in the frog's belly opens for easy emptying, and moving the bug-shaped pieces helps develop motor skills. The product comes with three soft winged insects and a battery. Launch date: January 2006.

.

AD
---






For tots age 18 months and up, this magnetic build and stack activity garden is "blooming" with things for baby to play with. It includes 11 magnetic shapes.

.

AD
---






.

AD
---






Baby's Favorite Places provides a playful, interactive introduction to first words from around town - spoken and in sign language. Special guest Marlee Matlin introduces little ones to the concept of nonverbal communication, which provide a strong foundation for early literacy and stimulate intellectual development.

.

AD
---






.

AD
---






.

AD
---






.

AD
---






.

AD
---






This new board book series complements the Taggies best-selling soft cover series. Each cover has a snuggly soft insert with pages of singing and storytelling fun.

.

AD
---






.

AD
---






.

AD
---






This stuffed animal monkey is a smiling interactive toy whose stunning purple, yellow and green patterns attract babies' eyes. When the infant or toddler claps the monkey's hands together, the monkey plays the song "If You're Happy and You Know It." Launch date: 2006.

.

AD
---






The Gymini Total Playground Kick & Play is a 2006 Oppenheim Toy Award winner for its versatile structure and 17 developmental activities. The borders of the activity mat can be opened or closed to provide baby with a large play area or a cozy, womb-like environment. The Musical Kick & Play response pad can be set upright as a kickboard or placed flat for baby to touch with her hands. In either position, the pad provides 10 minutes of classical music.

.

AD
---






.

AD
---






Bring the beloved characters from the land of Oz to life with this playset. Dorothy, the Tin Man, the Cowardly Lion, the Scarecrow, the Wizard, and the Wicked Witch of the West are all included, as are the settings for the Yellow Brick Road, Emerald City, and the Wicked Witch Tower.

.

AD
---






.

AD
---






HandySitt Wooden Booster seats are a new, stylish and compact alternative to everyday high chairs. Manufactured in Denmark, the unique combination of beech wood and steel make them durable and innovative. The seats easily fit onto most chairs, making them versatile and allowing the child to sit at the table with the rest of the family. These booster seats fold flat and are fully portable making them ideal for traveling, restaurants and home alike. They are appropriate for kids 7 months to 4 1/2 years.

.

AD
---






.

AD
---






.

AD
---






Auto Mobiles, the first child's travel mobile to adhere to a car's headliner with micro Velcro, was created to provide precious automobile passengers with visual entertainment. Child- and caregiver-safe, Auto Mobiles features a variety of colorful, lively shapes and designs that dangle and delight young passengers from infancy and beyond. Launch date: March 2005.

.

AD
---






This Figure 8 Set includes a stone bridge, water tower and cargo car along with Thomas, Sir Topham Hatt and more. The assembled set measures 42" by 22". It received an iParenting Media Award and an Oppenheim Toy Portfolio Award.

.

AD
---






.

AD
---






.

AD
---






.

AD
---






.

AD
---






This friction-powered ambulance features a push button wheelchair release, a working X-ray machine, and a stretcher. The set includes Mary, her paramedic Nina, a boy patient and his mother, and helps develop hand/eye coordination, action/reaction, social skills and imaginative role play. Launch date: October 2006.

.

AD
---






These soft-play vinyl stacking blocks form a colorful pyramid.

.

AD
---
THIS BANNER IS AN AD:
---
---