---
TDmonthly's Psychology Expert
Send Her Toys and She'll Tell You How They Play
Want an expert's opinion on toys kids will love? Every month, Beth Carroll, Psy.D., a professional psychologist who specializes in child intervention and development, tests products with children of varying ages and shares her recommendations with

TD

monthly Magazine. She rates them on a scale of 1 to 5 TDs (for

TD

monthly!), with 5 being the highest score.

This month, Dr. Carroll samples "beary" good Christmas music, learns the balance of an inflatable horse, and figures out a "cluzzling" game.

Cluzzle by NORTH STAR GAMES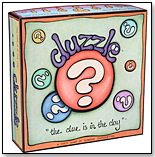 Age: 8 and Up
Gender: Boys and Girls
Price: $29.99






First Impressions
What is a Cluzzle? Is it a game or a puzzle? Actually, it is both! Cluzzle is a unique board game that requires participants to create objects out of clay. Opponents must guess each player's clay object by asking questions during each round. Points are earned by correctly identifying opponents' cluzzles and by creating a cluzzle that at least one other player is able to identify.

Developmental Stage
Clay activities target fine-motor skills and creativity, and provide children with a valuable sensory experience. The added bonus of this game is the guessing component, which encourages children to play the role of detective as they inquire about the identity of opponents' creations. Thus, deductive reasoning skills come into play as well.

Recommendation
I really like this game and so did the children with whom I work. The clay creations sparked a lot of interesting, silly conversation among the kids. And the entertainment continued after the game was over as some of them continued to roll and mold the clay individually.




---
The Berenstain Bears Save Christmas: The Musical by GOOD MOOD RECORDS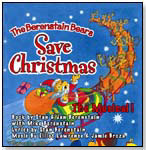 Age: 2 to 8
Gender: Boys and Girls
Price: $11.99




First Impressions
The popular Berenstain Bears capture the Christmas spirit in this whimsical, playful CD. Each song in the musical narrates the tale of a bear named "Rip Off Ralph" who spoils the true meaning of Christmas by trying to make a profit off the bears in his "Christmas Sweepstakes." Disappointed by the greediness that has taken over the bears, Santa quits and attempts to cancel Christmas. Once Rip Off Ralph has an epiphany and is able to recognize the true meaning of Christmas — sharing — the bears rejoice and celebrate.

Developmental Stage
This CD uses the same concept as books on tape — listeners are able to sit back and relax as they are entertained by a captivating story. "The Berenstain Bears Save Christmas: The Musical" stands out from children's CDs because it forces children to use their imagination as they listen. The CD targets auditory attention skills and is appropriate for a wide age range.

Recommendation
The Berenstain Bears are well-known and loved characters. This CD provides a great source of entertainment, and parents will appreciate it as an alternative to TV and videos. It is a perfect stocking stuffer.




---
My Little Yellow Taxi by HARCOURT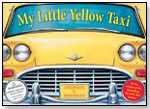 Age: 3 to 7
Gender: Boys and Girls
Price: $19.95




First Impressions
"My Little Yellow Taxi" is an interactive board book that stimulates children's imaginations while they explore various features of a taxi. Each page contains a hands-on activity, and throughout the book children are able to remove cardboard objects, such as a set of keys, road signs, and a miniature taxi, for pretend play.

Developmental Stage
The hands-on feature of this book encourages children to develop fine-motor skills as they remove objects from the book to complete activities. For example, one page contains a tire pressure gauge that can be removed and inserted into a slit on four rotating wheels. The book also targets shape identification, matching skills and imaginative play.

Recommendation
Activities that combine multiple skills sets are valuable learning tools. "My Little Yellow Taxi" does this by integrating fine-motor activities and symbolic play into a reading experience. Although most of the removable parts are sturdy, the detail on one page came off during the first read through. However, the book's overall construction is strong and children seem to love it. One of the little boys with whom I work wanted to read it over and over again despite the availability of other activities.




---
Rody Horse by TOYMARKETING INTERNATIONAL INC.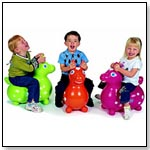 Age: 2 to 4
Gender: Boys and Girls
Price: $42.95




First Impressions
"Giddy up, Rody, Giddy up!" Rody is a brightly colored, inflatable ride-on horse on which children can bounce up and down or ride back and forth. The horse has protruding ears for children to hold on to as they move about.

Developmental Stage
Rody helps children develop a sense of balance and gross-motor skills because they need to use their own leg strength to move on Rody. Also, young children benefit from having a variety of sensory experiences. This toy provides the sort of stimulation that many children seek.

Recommendation
This ride-on toy does not have wheels or pedals like bikes or scooting toys, and children are able to control the intensity and pace of their movement. My only critique is that Rody does not come inflated and thus, parents may need to purchase an air pump




---
Boppy Tummy Play Pad - Girl by THE BOPPY COMPANY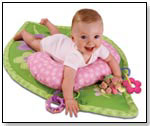 Age: 0 to 1
Gender: Girls (Boys version also available)
Price: $24.99






First Impressions
The Boppy Tummy Play Pad is a crescent-shaped cushion covered in soft colorful fabric. Three infant toys with various textures and sounds and a quilted mat are included. Infants can be perched in the prone position (on their stomachs) for an interactive play experience or placed in a sitting position with the Boppy cushion surrounding them for support.

Developmental Stage
Since pediatricians started recommending that infants sleep on their backs for safety, the latest developmental trend is "tummy time." Because infants are not sleeping on their stomachs, they are no longer developing the muscles in their arms as readily as they did in the past. Thus, parents are being encouraged to provide opportunities for their children to spend time on their stomachs to build the strength needed for crawling and other gross-motor activities. The Boppy Tummy Play Pad targets this goal by encouraging the development of arm strength.

Recommendation
The Boppy Tummy Play Pad provides entertainment for infants while helping them to strengthen their developing muscles. The Boppy and pad are washable and lightweight, and can be easily packed up and taken anywhere to provide a clean, safe play activity for infants.




---
Writer's Bio:
Beth Carroll, Psy.D., is a licensed clinical psychologist who specializes in child intervention and development. She works with children in many capacities, including providing early intervention services to infants and toddlers and conducting play therapy and psycho-educational assessment with children and adolescents. She has also provided private childcare for families for more than 22 years. Her diverse experience working with children has enabled her to see firsthand how playing with toys can be one of the richest sources of learning and communication for kids.
Read more articles by this author
THIS BANNER IS AN AD:
---
---