---
TDmonthly's Expert Mom
Send Her Your Toys ... If You Dare!
She's taught kids. She's raising kids. She knows what's good for them ... and what they like. Every month,

TD

monthly Magazine's Expert Mom shares her views on the latest toys, rating each product with 1 to 5 TDs (for

TD

monthly!), with 5 as the top mark.

In this issue, she finds out why being a BubbleBrain is fun, what new media turns kids into Happy Elves, why toddlers growl at folding chairs, and more.

Name: BubbleBrain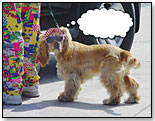 Company: PATCH PRODUCTS INC
Age: 10 and Up
Gender: Boys and Girls
Category: General Games






Mom's Impression:
This game combines the fun of board games with the popularity of impromptu sketch comedy a la "Whose Line Is It Anyway?" Actual game play becomes incidental to the fun of coming up with the funniest lines for the game photos. There are even extra bubble stickers for turning personal photos into game pieces.

What the Kids Did:
My 11-year-old son and I spent some time in hysterics while making up captions for the photos. The game just got funnier the longer we played, as we tried to outdo each other.

Mom's Recommendation:
BubbleBrain requires players to really get creative. Game play gets interesting when players have to match each caption to the player who authored it. This game is perfect for party settings and can be played casually (i.e., without all the rules) and still be a blast. I highly recommend carrying BubbleBrain as an innovative alternative to more traditional (and sometimes boring) group games.

---
Name: Super Fun Animal Folding Chairs


Company: PACIFIC PLAY TENTS INC
Category: Pretend Play
Gender: Boys and Girls






Mom's Impression:
This portable folding chair looks like a miniature version of adult chairs that come with matching carrying cases and are a staple at youth sport fields. This chair, however, is designed with the child in mind. The bright colors are attractive, and the animal face (elephant, lion, panda, or kitty) on the chair's back is fun. Although toddlers can't carry the chair on their own, children age 4 and up would probably be able to manage without help.

What the Kids Did:
My 22-month-old toddler loved the chair at first sight. Finally, a chair his size! Hegrowled at the chair's face (we received the lion) and was especially impressed with the cupholder, which fit his sippy cup perfectly. His little legs were still too short to touch the ground while he was seated, but he was able to adequately climb in and out of the chair himself. My 5-year-old liked the chair as well, and appreciated that it had a carrying case with a shoulder strap, just like the adult-sized chairs I use at soccer practice.

Mom's Recommendation:
These chairs are sturdier and more durable than the other child-sized models of folding portable chairs. The animal face and bright colors make the product fun and attractive (and possibly more likely to be sold), but the real benefits are the high-quality fabric and steel frames used in the chairs' construction. This is another product that would sell itself if a sample was displayed.

---
Name: Anatomics


Company: POOF-SLINKY INC.
Age: 6 and Up
Gender: Boys and Girls
Category: Science & Nature






Mom's Impression:
The box immediately grabs the attention of any little boy who likes dinosaurs. On the back, the three steps of dinosaur building are pictured, from "guts to bones to scales." The step-by-step assembly guide is relatively straightforward, though kids younger than 9 will likely need adult guidance. Unlike most dinosaur kits that simply provide model skeletons, this kit also includes what's inside the skeleton (internal organs) and what's outside (the scaly skin).

What the Kids Did:
My 5-year-old son was most excited to see this box. Like most boys his age, he is intrigued by dinosaurs. Combining dinosaurs with guts and bones creates a toy that epitomizes everything my son loves in a toy. That he was able to help build it made it even cooler in his eyes.

Mom's Recommendation:
This toy really appeals to its target audience. It is as educational as it is cool. I imagine this high-quality product would be an incredible seller.

---
Name: The Happy Elf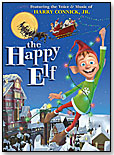 Company: ANCHOR BAY ENTERTAINMENT
Gender: Boys and Girls
Category: Videos & DVDs






Mom's Impression:
The DVD sleeve on "The Happy Elf" sings and lights up. With music by Harry Connick Jr., this tongue-in-cheek movie brings a new twist to Christmas. Though the overall look of the film is similar to classics such as "Rudolph the Red Nosed Reindeer," the story has a sarcastic bite that older kids will appreciate and little kids won't notice.

What the Kids Did:
All four of my kids were happy to have a new Christmas movie. My 12-year-old son especially appreciated the humor that arises when an eternal optimist (Eubie, the Happy Elf) is situated in a town full of abysmal pessimists. He now ranks this movie up with his other holiday favorite, Will Ferrell's "Elf."

Mom's Recommendation:
Although this movie probably won't join the ranks of Christmas classics, it makes a suitable addition to more recent holiday favorites such as "Elf" and "The Nightmare Before Christmas." It is enjoyable entertainment for both kids and adults, and the holiday songs by Harry Connick Jr. are a great selling point. I would recommend carrying this title to provide customers with a smart and new alternative to the same old Christmas selections.

---
Name: B*Tween Productions - Fashion Frenzy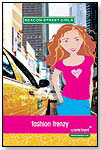 Company: BEACON STREET GIRLS
Age: 8 to 12
Gender: Girls
Category: Books






Mom's Impression:
The Beacon Street Girls book series by Annie Bryant is written with the tween girl in mind, and is this generation's version of the "Sweet Valley High" and "Baby-sitters Club" collections. The BSG series centers around five distinctly different girls, ensuring that any reader will identify with at least one of the main characters. Currently, the series has ten books. The text is easy to read and the subject matter in "Fashion Frenzy" addresses typical friendship issues that are of paramount importance to tween girls.

What the Kids Did:
I passed this book on to my 11-year-old niece. The underlying themes about supporting your friends and the importance of building relationships resonate with her and most girls in her age group. The storyline about being a model and visiting new places is just plain fun and entertaining, too.

Mom's Recommendation:
With few books being written specifically for tween girls, the BSG series addresses a very real need. "Fashion Frenzy" was entertaining while still maintaining a central theme about friendship and doing the right thing. I would recommend carrying several selections from the series, since customers will want to buy more after reading one.

---
Name: BeamO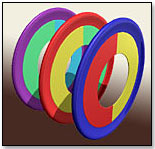 Company: STUFF DESIGNS INC.
Age: 8 and Up
Gender: Boys and Girls
Category: Outdoor Fun






Mom's Impression:
A BeamO looks a little like a hula hoop converted into a Frisbee. Because of its oversized nature, little kids are drawn to it. The BeamO measures 30" in diameter, with a 15" opening in the center. It's large, but lightweight (the manufacturer says it weighs 13 ounces) so that young kids can still play with it. The bright colors are attention grabbing, and it warrants a double take from customers.

What the Kids Did:
My 5-year-old son was immediately captivated by the BeamO. He ran outside to test it before I could even remove the hangtag! My son cannot throw a Frisbee straight, but had no problem playing catch with his dad using the BeamO, which flies quite far with little effort. Unfortunately, without trying out the product it may be difficult for customers to see how well BeamO lives up to its manufacturer's claims.

Mom's Recommendation:
I like the BeamO and would recommend carrying a sample for customers to try. Once kids try it and are successful in flying it, they will ask for it. Parents would be willing to pay the somewhat high price for the BeamO if they see the distinct advantages it has over a traditional Frisbee toy.

Writer's Bio:
Emilie Hill has taught kids of all ages everything from swimming to physics for more than 15 years. She has four children of her own, ranging in age from a toddler to 12 years. In addition, she writes for an online community of moms.
Read more articles by this author
THIS BANNER IS AN AD:
---
---