---
Trains Leave Models on the Slow Track
But Old-Time Hobbies Need Push From Old Folks
"I do extremely well with Kid Galaxy RC." — Bettie Lee Moore, Kaboom

Parents are doing the hobby how-do-you-dos, 10 of 13 specialty toy retailers told

TD

monthly Magazine — with nostalgia exerting a big pull on mom and dad. Trains and science kits still appeal to junior and sis, but the old folks usually buy them first.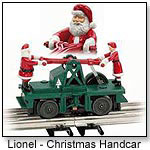 "They're trying to get [kids] away from the electronics," noted Joel Hardy, co-owner of Magpie Toys in Red Lodge, Mont., who sees a rise in Lionel sales around the holidays.

What's New

Science is anything but weird at Lasso the Moon Wonderful Toys, a retailer in Helena, Mont., where there's copious chemistry for hobby-related playthings, such as Lab-in-a-Bag kits from Be Amazing Toys.

"Their science stuff has done very well for me," said owner Amy Barrett.

"Most of our sales are to parents or grandparents," Renee Whitney, vice president of sales told

TD

monthly. "But … once the parents buy one kit, we get a lot of repeat business with the kid saying, 'oh, I loved making the fake snow, let's go find something else.' That's what our retailers are telling us."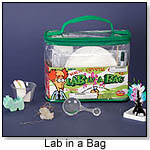 What's Selling

Thomas & Friends still goes choo-choo ca-ching: Planes, trains and automobiles —especially trains — are among the hottest hobbies for kids of all ages.

"With Thomas, kids come in here and just play with the ones we have set up," said Cheryl Richmond, owner of Punkin Doodle in Havre, Mont.

Remote control vehicles and slot cars are also ripping up the road. "I do extremely well with Kid Galaxy RC (ToyShow)," noted Bettie Lee Moore, owner of Kaboom in Leesburg, Va.

Scalextric's RC slot cars are "a great way for dads and sons to play together," added Debbie Wurzburger, owner of The Toy Chest in Pikesville, Md.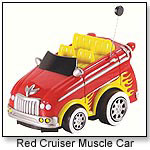 What's Fading

Labor-intensive model sales are down, continued Barrett. "Kids don't seem to have the patience … to put them together," she said.

What to Make of It

Push the parents toward hobbies, and the kids will follow … if assembly's not required.

Here are some of the hobbies that the old folks are bringing to the new kids on the block:







From the specimen jar in which the kit is packaged to the secret formulas for making realistic-looking snot, vomit and body parts, this kit screams fun. Kids will be able to grow their own bacteria right at home. This nasty fun kit includes Slime Goo, Worm Goo, Slime Activator, True Color tablets, Growing Body Parts, Petri dish and lid, nutrient agar, cotton swab, clear cup, mixing cups, super-absorbent crystals and instructions. The jar is 18" high and 9" deep. Launch date: March 2006.

.

AD
---






.

AD
---






.

AD
---






This amazing slot car replica of Kimi Raikonnen's F1 winning McLaren Mercedes 2005 zips so fast, it's almost too quick to see. At 1:32 scale, it's a slot car racer's dream machine. "This phenomenal racing set is suitable for anyone between the ages of 6 to 60. It develops hand-to-eye coordination and brings out the competitive edge in kids," said Russell Sheldon, vice president of Emirates Airlines, the original sponsors of the real racing cars.

.

AD
---






.

AD
---






.

AD
---






Marklin has been the leader in train models for the last 15 years. Their American Prototype line brings America's age of railroads back to life with true-to-life details and exciting innovations. The Starter Set is based on actual New York Central System (NYC) train and comes complete with a diesel locomotive, freight train, transformer, mobile control, track layout, hardware, and detailed book of instructions and tips. With headlights and realistic sound effects, this train is sure to bring any fan back to the time of rail travel. The high-efficiency propulsion and digital control give plenty of control over the train's movements.

.

AD
---






In this G-gauge homage to the classic Lionel train sets, the fully animated Lionel Holiday Tradition Express is ready for a festive adventure. Leading the way, the locomotive features bright Christmas lights, true-to-life train chuffing and steam whistles, and two favorite holiday tunes. Just behind the tender, the animated bell car is powered by two elves who crank the handles, swinging the bells into action. The animated work caboose carries Santa's bag, and Santa stands waving at the rear of the train. With five separate animations, the Lionel Holiday Tradition Express is the train set that families will proudly display for years to come. Launch date: 2006.

.

AD
---






This colorful O-gauge Christmas caboose completes a holiday train display. It features die-cast metal trucks and operating couplers and interior illumination. The caboose measures 7-1/4". Launch date: 2006.

.

AD
---






The "Forney" type steam loco is a favorite among railfans, both for its unique appearance and its unique ability to handle tight curves. This LGB Colorado & Southern Forney is equipped with a massive snow plow and tall "bear trap" smoke stack. The cab doors open to reveal detailed cab controls. A powerful Bühler motor and twin traction tires give it impressive pulling power. It also includes a smoke generator, directional lighting and DCC interface. Launch date: 2006.

.

AD
---






From his childhood in his hometown of Brandenburg, Germany, LGB co-creator Wolfgang Richter remembers the good old days of streetcars, and this LGB model, personally requested by Wolfgang Richter, echoes that era. It's a classic streetcar beautifully decorated in the livery created to celebrate "100-Jahre Straßenbahn in Brandenburg" in 1997 and a roof-mounted sign to celebrate the 125th anniversary of Ernst Paul Lehmann Patentwerk in 2006. Only 200 pieces of this very special model will be made, and each will be signed personally by Wolfgang Richter. Launch date: 2006.

.

AD
---






This special starter set celebrates the 125th anniversary of Ernst Paul Lehmann Patentwerk, the maker of LGB, and offers kids an easy way to enter the World of LGB. A sturdy little steam loco pulls a gondola car with an LGB teddy bear and a colorful passenger coach. Also included are an oval of track, a safety-approved, 1-amp power supply; quick-connect cable and more. Parents can unpack it, assemble it and run it in minutes. Launch date: 2006.

.

AD
---
THIS BANNER IS AN AD:
---
---