---
Hollywood ToyBoy: Cartoon Network
The Funnerer Folks
My ol' pappy used to say, "Nothing creative ever comes out of a committee." And since Hollywood is one big committee ... where does that leave everyone who depends on its toys?

The next few Hollywood ToyBoys will try to answer that. Every month, I'll take a jaded birds-eye view at one of children's television's biggies, and give a totally biased appraisal of the types of shows they're hoisting up the flagpole. If you know the players, the game makes a lot more sense. Bet on it, folks.



LINEAGE LEADS TO CN

"I can't believe how easy Cartoon Network is to work with," gabbed a second-in-command of a boutique production house as he chomped into a handmade tortilla at a Mexican dive. "They okay everything with smiles on their faces and a good attitude ... as if they trusted us. When was the last time that happened?"

Cartoon Network (in a weird Hanna-Barbera way) was an answer to Nickelodeon, which was kind of an answer to everything Disney. They succeeded with "Dexter's Laboratory" and "Powerpuff Girls": fun, irreverent animation.

IN WITH THE ACTION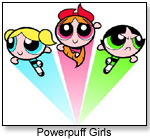 Now there's a whole new group of execs who want to get into live-action ... with a Cartoon Network sensibility.

Remember the Banana Splits? Our Gang? The Three Stooges? CN's not going to have anything like that, but what they make will be fun and physical like those shows. And kid-oriented without trying to be "hip" (everyone else is trying to be hip). CN will be funny.

"They actually laugh out loud," pointed out a very suited actress-friend who crashed the kid-biz. "I make a joke, and they 'get it' — which is a wonder. And it's not just fart jokes."

TOY-MINDED EXECS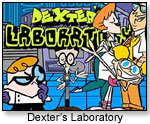 Better yet, all these new CN execs like toys. Go into their offices (well, actually, they don't take kindly to walk-ins), and you will see toys, models, games and play stuff all over. These are not crotchety old bean-counters. They'e adults who, when they can get away with it, still act like kids.

"I went into pitch," mentioned a writer/producer bud between cellular breakup, "and we spent the first 20 minutes reminiscing over our favorite childhood games and trying to figure out if Monopoly or Life were more fun, and if anyone ever played Stratego."

Summation: Cartoon Network is jammed with fun-loving execs who work hard, get out of production's way, and are looking to bring a wild, cartoony-feel to live-action shows. This means a real toy bonanza in the future, as these folks like to play with the very toys the kids do. Look to see some interesting lines of merchandise from them in a year or so when they really ramp up and work the bugs out.

Next month: The Big Cheese – Disney.
Writer's Bio:
Mark Zaslove is an entertainment industry veteran in developing content (writing, directing and producing television and feature films) for the major studios, including Disney, Universal and Warner Bros. A two-time Emmy Award winner for writing and recipient of the Humanitas Prize (for writing uplifting human values in television and movies), Mark is also Head of Content Development for Nice Entertainment.
Read more articles by this author
THIS BANNER IS AN AD:
---
---