---
TDmonthly's Expert Mom
Send Her Your Toys … If You Dare!
Each month, Sibylla Nash, mother and author of parenting and entertainment articles, shares her views on the latest toys with

TD

monthly Magazine readers, rating them with 1 to 5 TDs (for

TD

monthly!); 5 is the top rating.

This month, she grew some herbs, worked in a fashion studio, scribbled for the holidays and more.

Culinary Herb Garden by DUNECRAFT INC.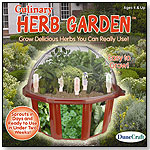 Age: 4 and Up
Gender: Boys and Girls
Category: Science & Nature
MSRP: $24.99



TD

monthly rating:





Mom's Impression: The Culinary Herb Garden is a complete kit with easy-to-follow instructions on how to grow your own herbs in a terrarium. The kit includes seeds for sage, cilantro, basil, parsley and dill, and soil, plant stakes, gravel and drainage pellets. Even if you don't have a green thumb, it's very easy to set up.

Kid's Perspective: Any day that involves mixing dirt and water is a good day for my 5-year-old daughter. She truly enjoyed putting together the terrarium by layering the drainage pellets and adding soil and water. In three days, the basil started to sprout and my daughter proudly showed all who came by our little garden. Even though she's a picky eater and won't be tasting the herbs any time soon, she asked plenty of questions and the kit definitely sparked her curiosity.

Recommendation: A child doesn't need an interest in horticulture to enjoy this activity set. You get your money's worth with this one. It's a great learning experience for parent and child and a fun project to do together. And, you can actually use the herbs for cooking. It's self-contained and takes up very little space. You don't have to water the herbs because the plastic dome keeps the moisture inside. My only complaint is that you don't get very many seeds. The price point on refill seed packets, at $3 per packet, seems a little high.

---
Let's Pretend Hairdresser by SMALL MIRACLES INC.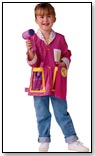 Age: 3 and Up
Gender: Girls
Category: Pretend Play



TD

monthly rating:





Mom's Impression: This outfit includes a hot pink stylist's jacket, a play blow dryer (which needs batteries), a play curling iron and a brush.

Kid's Perspective: While this dress-up outfit didn't inspire any conversations about careers, the pink jacket morphed my daughter into plenty of characters besides a hair stylist and has become a staple in her wardrobe. When she tried to use the round brush in her doll's hair, it became tangled very quickly.

Recommendation: Little girls who like to play dress up will love the hot pink jacket. It's very cute with its large, clear vinyl pockets and Velcro-close front. It seems to be well constructed and won't fall apart after a few play sessions. The tools, while not spectacular by any means, are an added bonus, although the screw on the battery door to the blow dryer is very tiny and I was unable to remove it.

---
Let's Pretend Female Pirate by SMALL MIRACLES INC.


Age: 3 to 8
Gender: Girls
Category: Costumes and Accessories



TD

monthly rating:





Mom's Impression: This costume comes with four pieces: a skull and crossbones head wrap adorned with braids and beads, a red pirate vest with a sewn-on belt and a large buckle, a red-and-black striped skirt and a white "poets" shirt with ruffled cuffs.

Kid's Perspective: My daughter loved running around pretending to be a pirate, in part, because of the popularity of the "Pirates of the Caribbean" franchise. The costume was very easy for her to get on and off. While she's too young to understand the empowering aspect of a female pirate, she enjoyed having the costume targeted for girls because she wouldn't want to wear a boy's costume.

Recommendation: This is a very well-made costume; it's sturdy and durable. It can be used again and again, whether for pretend play or as a Halloween costume. The one drawback is that there is a very strong chemical odor emanating from the 100-percent polyurethane vest, even after being aired out for a few days. Also, the beads from the braids on the headband can come off fairly easily and present a hazard for small children.

---
Artlab Fashion Studio by SMARTLAB TOYS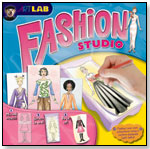 Age: 8 and Up
Gender: Girls
Category: Arts & Crafts
MSRP: $19.99



TD

monthly rating:





Mom's Impression: This studio includes 34 traceable clothing silhouettes, a battery-operated light table, 10 colored pencils and 10 sheets of drawing paper. There's also a fun and instructive 32-page book on fashion by Sara Easterly called "Lights, Camera, Fashion!"

Kid's Perspective: As one who claims to have a passion for fashion, my daughter loved mixing and matching the tops and bottoms to create different outfits. This was her first time using such a kit. She was a little too young to appreciate the book on fashion illustration and preferred to freestyle the designs. The selections are more teen/adult oriented, so chances are that younger children will not have these clothes in their closets But that's part of the fun. It's the type of activity that they will keep and grow into.

Recommendation: This is a great activity for any child who has an interest in drawing and fashion. Kids definitely need to have a steady hand and patience when tracing the silhouettes on the light box. The set encourages patience, yet may cause frustration for those seeking to have their sketches look like what's on the box or in the book. Older girls will find this activity especially enjoyable because it leaves plenty of room for them to insert their own brand of creativity.

---
Peel & Stick by Number by LAURI TOYS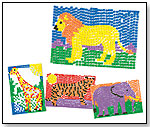 Age: 5 and Up
Gender: Boys and Girls
Category: Creative Activities
MSRP: $9.95



TD

monthly rating:





Mom's Impression: This kit comes with four 10.5" x 7.4" scene boards depicting an elephant, giraffe, lion and tiger, 12 sheets of colored foam squares and one peel-and-stick magnet strip for displaying the art. The directions and legend for the colors are on the back of the box.

Kids Perspect:ive: My 5-year-old daughter initially enjoyed the activity, although it got a little tedious because there were so many squares to peel and stick for each picture. The box comes with more than 3,600 squares — 900 squares for each scene! She enjoyed working on it when we did it together, but when left alone, she didn't finish the picture because it was "too much work."

Recommendation: This is a good activity for long trips in the car or on the plane. The pieces stick, so there's no worry about losing the small parts. It's very simple and a child can do this with very little direction. The foam squares are only 1/4" — perfect for little hands, but not so great for adult-sized fingers.

---
Christmas Scribble Mat by SCRIBBLE MATS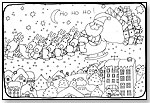 Age: 3 and Up
Gender: Boys and Girls
Category: Arts & Crafts
MSRP: $7.00



TD

monthly rating:





Mom's Impression: The Scribble Mat is a durable and washable 11.5" x 17.5" vinyl placemat. The Christmas mat depicts a scene of Santa Claus and his reindeer flying over houses. It comes with four non-toxic crayons and wipes clean with a dry tissue or cloth.

Kid's Impression: I'm not sure what my daughter liked more initially — coloring the Christmas scene or being able to easily wipe it off when she made a mistake. It kept her occupied at the dinner table while waiting to be served. After a couple of days, she just used it as a placemat and didn't bother to color it anymore. Without any other activities on it (i.e., tic-tac-toe, word find, etc.), it didn't hold her interest.

Recommendation: This is a great activity for younger children (2- to 3-year-olds), especially in restaurants. It's also easy to clean and great for saving the table from dinnertime accidents. The novelty may wear off for older kids, though; they might get bored with just coloring the same scene. Even though it comes in a clear, flat plastic pouch, it doesn't fold well, so you would have to roll it up. It would be awkward to travel with if you're no longer using a diaper bag.

---
Diddl & Diddlina Plush by DEPESCHE USA CORP.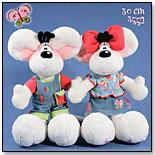 Age: 3 and Up
Gender: Boys And Girls
Category: Plush
MSRP: $22.99



TD

monthly rating:





Mom's Impression: Diddl and Diddlina are jumping mice. These 12" plush character dolls are dressed in colorful summer fashions.

Kid's Impression: Normally, my daughter doesn't play with a lot of stuffed animals, but she really liked this pair and seemed to create storylines based on Diddl and Diddlina as siblings. Because they are extremely soft, they have become her favorite sleeping buddies. The clothes can be a little difficult to take on and off, even though the Velcro on the tops suggests otherwise. Diddl's shorts come off, but the Velcro on the shirt is sewn together at the top; it's easy to cut apart, though. Diddlina's skirt is too tight to remove, and the Velcro on the shirt is also sewn together at the top.

Recommendation: There's something engaging about these two mice, with their oversized feet and ears. The only drawback is that they are white and have a tendency to get dingy very quickly. It doesn't say on the tag whether or not they are machine washable; spot cleaning seems to be best. They're popular in Europe, but I'm unsure as to how that will translate in America since we are largely unfamiliar with the duo. Without the brand recognition, parents might overlook the stuffed animals.

---
Baby Banz Sunglasses and Hat by BABY BANZ
Age: 0 to 2
Gender: Girls
Category: Infant & Toddler



TD

monthly rating:





Mom's Impression: This set consists of pink wraparound sunglasses and a pink hat with a floral design. The sunglasses offer 100 percent protection from UVA and UVB rays. Both have adjustable bands to fit a child's head.

Kid's Impression: Even though the band on the hat is adjustable, the hat seems a little on the small side, even for a 2-year-old. Kids loved the sleek look of the aviator sunglasses.

Recommendation: As busy as toddlers can be, the adjustable bands are great because you don't have to worry about the sunglasses falling off or the hat being too big. Also, the floppy sun hat has an attractive design and a fairly wide brim, which is perfect for those days spent at the beach or park. The quality seemed on par with other hats in the marketplace.

---
Chakra Energy by SPIRALING HEARTS

Age: 6 and Up
Gender: Boys and Girls
Category: Board Games
MSRP: $29.50



TD

monthly rating:





Mom's Impression: Chakra Energy comes with a colorful game board, 42 playing cards with yoga poses of varying degrees of difficulty, 42 energy circle playing pieces, six Chakra energy cards, a timer and an instruction booklet. The goal is to collect all seven energy colors first.

Kid's Perspective: My daughter has taken yoga for a few years and was familiar with many of the poses. She found it enjoyable but not necessarily challenging in a "game" sense. The timer amps up the challenge aspect of it, but this would probably be even more exciting to a child unfamiliar with yoga. She played with a friend who wasn't familiar with yoga and the activity became lopsided. My daughter took on the role of the teacher and her friend was a reluctant pupil and soon grew tired of being corrected.

Recommendation: Chakra Energy is like a New Age Twister except that players do yoga poses, so it's more like competitive yoga. This is not really a game as much as an activity because once you learn the poses, the winner will be the person who goes first. Also, for this activity, it would have been nice to have a definition of Chakra to explain to children — what it means to energize them. It's a great concept but doesn't translate well into a game.

---
iPod Nano Carrying Case – Oinky by FUN FRIENDS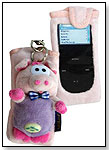 Age: All Ages
Gender: Boys and Girls
Category: Electronics - Accessories
MSRP: $14.99



TD

monthly rating:





Mom's Impression: This cute little piggy is a trendy fashion accessory designed to house an iPod Nano. It has a metal clasp that can easily attach to a belt loop or purse strap.

Kid's Perspective: Oinky is cute and furry enough to cross the age gap between pre-teens and teens. My daughter is too young for an iPod but loved wearing the soft piggy on her belt loop as an accessory. Now she wants an iPod.

Recommendation: This soft case is great for protecting the Nano from scratches and fingerprints, but it won't protect against dropping the Nano accidentally or bumping into something, if it's hanging from a belt loop. It's machine washable and durable, and the tween set might find it most useful because of its cuteness. I'm not sure if it's worth the price, though. It's like paying $15 for a furry sock for your iPod.

Writer's Bio:
Ms. Nash is a freelance writer and author of "Baby Modeling & Beyond: From the Stroller To The Red Carpet." She has a degree in journalism from the University of Southern California. She has a five-year-old daughter who has appeared in a number of commercials and print ads. They both enjoy stimulating games and toys that allow their imaginations to soar.
Read more articles by this author
THIS BANNER IS AN AD:
---
---