---
Toy Sleuth: The Final Frontier
Eyeballs and Zombies Take Toys to the Edge
TD

monthly Magazine's September Toy Sleuth looks high, low and even under rocks this month, gathering glimpses of toys and games that will call up fond memories and watery Armageddon in a single bound. Space flight, microscopes, water guns and buildable straws: What more could a Toy Sleuth ask for?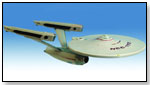 Every Trekie pretty much agrees that the second Star Trek movie — "The Wrath of Khan" — is the best of the bunch. Who can forget Ricardo Montalban as the superhuman Khan, locked in a final showdown with Kirk and the Enterprise? Now, Diamond Select is coming out with a commemorative Wrath of Kahn USS Enterprise, 16" of plastic final frontier, complete with a fancy new paint job. It's also fitted with flashing deep space lights and sound effects from the movie. And according to Michael Leavey, marketing coordinator for Diamond Select, "They don't break." Has Leavey played with one? "Not yet, but I plan to!"

ToyDirectory Product ID#: 14460

(added 8/2/2007)

.

AD
---




Wholesale Price: (Log in to view)





This set includes 16 translucent straw pieces and 20 flexible rubber connectors so that kids can create their own fun straw. It is non-toxic and dishwasher safe. Orange, blue and lime sets are available. Chris Mindel, of distributor ThinkGeek, said of this novel construction kit that "the real limitation seems to be how much the builder can suck. I do think there will eventually be scientific limitations; it is much easier to pump liquids through long pipes than to suck liquids through pipes." Mindel recommends anything with caffeine and fizz — "the buzz is incredible" — and feels the coolest aspect of the Strawz is their ability to mix drinks: "Because you can have the straw dip into multiple cups, you could mix soda and flavorings."

ToyDirectory Product ID#: 12921

(added 5/21/2007)

.

AD
---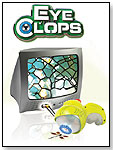 These microscopes not only plug right into the TV, but also look like cool disembodied eyes. Simply plug in the composite video input and the kid-friendly microscope will magnify everything at 200x and display it on the television screen. According to Jakks Pacific Inc. Director of Corporate Communications Anne-Marie Feliciano, the device will allow kids to "share their discoveries with their friends, family and classroom. This product is a winner of numerous awards, including an Oppenheim Toy Portfolio Platinum Award, a Parents Magazine Best Toy Award, a Parenting Magazine Mom-Tested Toy of the Year Award and more.

ToyDirectory Product ID#: 14461

(added 8/2/2007)

.

AD
---






Zombies: yucky, smelly, leprous undead. Shoot 'em, and they keep coming. Chop off an arm, and they keep coming. In this case, take off their whole lower half ... they keep coming! This legless, lifeless battery operated denizen of the dead world says things such as "Hey, slow down, would ya? I can only crawl so fast!" and "I can't feel my legs!" A group of 8- to 10-year-old kids simply seeing the picture of this horror show all wanted one — "I'm gonna put it in my sister's bed!" — and immediately began pretending they, too, were zombies.

ToyDirectory Product ID#: 14463

(added 8/2/2007)

.

AD
---
Writer's Bio:
Mark Zaslove is an entertainment industry veteran in developing content (writing, directing and producing television and feature films) for the major studios, including Disney, Universal and Warner Bros. A two-time Emmy Award winner for writing and recipient of the Humanitas Prize (for writing uplifting human values in television and movies), Mark is also Head of Content Development for Nice Entertainment.
Read more articles by this author
THIS BANNER IS AN AD:
---
---