Tools:








TDmonthly's Toy Videos
TDmonthly Magazine's Toy Videos give you instant access to toy demos so you can evaluate a product before you buy it. If it works, it shows. If not, that shows, too. Seeing is believing, but hearing doesn't hurt, either.


Retailers: Post TDmonthly Toy Videos on Your Website! (See website terms of use here.)
Videography by Rob Poswall. Edited by Alison Marek.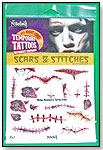 Nitefalll Halloween Collection Temporary Tattoos – Scars & Stitches by Savvi

These FD&C-approved temporary tattoos are simply applied with water and can last for days; they can easily be removed with alcohol or baby oil. Each pack comes with a bonus accessory tattoo card. Other pack varieties include Pierce & Stab, Skin Growth, Open Wounds, Bugs and Pus, Ripped Torn and Long Slashes. Launch date: August 2007. (

Watch Video)




To see archived videos sorted by category, please click here.


You can also watch manufacturer demos from 2007 and 2006 trade shows.


And here are the new videos for this month (NOTE: More videos are coming this week, so check back soon!):







Now girls can give Polly or Lila the ultimate outdoor adventure as they take flight with the Stylin' Flyers sets. Girls simply attach Polly or Lila to the pair of wings, load the wings into the launcher, plot the doll's course and watch her fly. These sets were designed as fun and exciting outdoor toys for girls. Launch date: January 2007.

.

AD
---






In this game for two to four players, a three-dimensional character, Gus, sits comfortably in an easy chair and is fed different food cards. Food such as a chili dog or macaroni and cheese have values that correspond to the amount of times players pump Gus' head. Each pump expands his belly and sooner or later, Gus lets it rip. Healthy food cards and extra pump cards create additional havoc and laughter.

.

AD
---






.

AD
---






These hand-held squeakers come in six fun animal shapes and squeak with the greatest of ease. They feature vivid colors and patterns and delightful soft velour heads and feet. The squeakers fit nicely into a diaper bag or purse, ideal for on-the-go entertainment. Launch date: January 2007.

.

AD
---






Glamorously dressed and authentically detailed, Princesa Quinceanera dolls celebrate the dreams and aspirations of young Hispanic girls. Focusing particularly on their dreams of the Quinceanera, or 15th birthday celebration, each doll comes dressed to the nueves in a full-length ball gown, tiara, necklace and earrings, satin gloves, and bouquet. Launch date: September 2007.

.

AD
---






.

AD
---






This system allows users to create four different pictures with the same six pieces by sliding the pieces into, over and under each other in different ways. This MOZANIAC set forms "Madame Matisse" by Henri Matisse, "Woman in a Large Hat" by Amadeo Modigliani, "Portrait of Dora Maar" by Pablo Picasso and "Self-Portrait With Monkey" by Frida Kahlo.

.

AD
---






.

AD
---






This model of the 2007 FJ Cruiser by Toyota features realistic design and intricate detail. The real square-shouldered sports utility vehicle features an all-steel body that opens with two full-sized doors, two rear-hinged clamshell doors for backseat access and a side-hinged tailgate. It also has a 245-horsepower 4.0-liter V-6 engine. Launch date: April 2007.

.

AD
---






.

AD
---






.

AD
---






A breakthrough in doll technology has produced this lifelike baby doll, weighted to feel like a real baby. Baby So Real features a unique vinyl coloring process (patent pending) that brings the realism of natural human body shadows to the doll's skin texture. She has baby-fine hair and detailed fingernails and toes, and is available in 48 different styles with numerous skin tones, hair colors and textures. According to Laura Liebeck of Grand Communications, Baby So Real is "the most realistic baby doll in the non-collector market, with an endless variety of feature combinations appealing to every little girl." Launch date: June 2007.

.

AD
---






Children find comfort in Santa's lap as he reviews each and every wish list. This majestic doll stands 17.5" high and is cloaked in a beautiful canvas painting. Each doll is over painted by hand for the look and feel of a fine art piece. The solid body structure ensures that this heirloom piece will keep its form for years to come. It's all beautifully packaged in a satin-lined gift box that is perfect for storage and for retail display. There are eight styles in all: two angels, four Santas and the Holy Family. Launch Date: November 2006

.

AD
---






.

AD
---






The wireless, infrared remote control has two joy sticks and 10 buttons for different programmed actions. Spider-Man moves in any direction with preprogrammed actions including 360-degree spins, "S"-shaped turns, web-slinging action with sound effects and character voice. The remote control is also programmable and easy to use, with over 1,000 possible program-action combos. It's available in red and black. Launch date: May 2007.

.

AD
---






.

AD
---






Suitable for ages 18 months and up, this 13" bear sings, dances and glams up the holiday season in her fabric Santa suit with zebra trim. When touch activated, she dances as she sings "Santa Baby." Three AA batteries are included. Launch date: August 2007.

.

AD
---






.

AD
---






Teamhead (hat), plush mascot, and plush mascot keychain.

.

AD
---






Kick up your heels after a long day of exploring with this fun-filled forest lodge set. comes with the lodge, a family of four, farm animals, birds, a tree fort, deer care center and accessories for hours of enjoyment. This product received a 2007 Excellent Product iParenting Media Award.

.

AD
---






.

AD
---






.

AD
---
Catalog Request Form
THIS BANNER IS AN AD:
---
---