---
Play Goes Green
Toys Pick Up on Consumer Preference for "Natural"
"Organic has become a very significant buzz word." — Ken Krysinski, BabyGiftStation.com

With additional reporting by Julie L. Jones

"Going green" is the catchphrase of the new millennium, and more than the auto industry is finding it profitable to "save" our planet. Ecologically minded toys and games are cropping up, putting soy into stuffed pals and letting kids power up their own toys.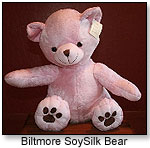 CHASING A CAUSE

The stories behind environmentally friendly toys are sometimes as unique as the methods used to create them. After her family suffered a tremendous loss as the result of a non-genetic cancer, Jill Gaynor, president of Beyond Learning Inc., made an important decision in the development of her game Word Chase!

"I made sure that I produced the game so it was not only safe for the environment but safe for children, too," she told

TD

monthly Magazine. She said it's the only board game printed with soy-based inks on recycled paper. New Fish Lips Paper Designs also uses soy-based inks on its wrapping-paper products.

AS SOFT AS SOY

Soy's place in the green movement also extends to the SOYSILK Pals line by Biltmore World Trade. The company's plush feature SOYSILK-brand fiber made from the residue of soybeans from tofu manufacturing in a 100-percent natural process that is free of petrochemicals.

"Products that are free of fossil fuels or are made from annually renewable resources are the way of tomorrow," assured Designer Jonelle Raffino.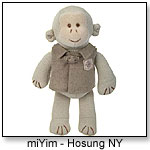 Allison Croce, owner of Purple Caterpillar Creations, an online store devoted to natural parenting essentials and luxuries, offers products she'd use for her own children. "The environmental factor is a huge selling point," she told

TD

monthly. "Many parents that buy SOYSILK Pals stuffed toys come to my store looking for them by name."

"Green" may soon be the prime attribute consumers crave.



"GREENER" AIR



Are you looking to manufacture with less of an environmental impact?



Jonti-Craft's Sproutz line of eco-friendly furniture, originally launched in 2002, has been re-introduced with a new material — a formaldehyde-free board made of 100-percent recycled wood — that can help buildings meet a certain "green" standard by contributing to indoor air quality, Vice President of Marketing Nick Schwarz told

TD

monthly.





Green Toys Inc. is endeavouring to reduce greenhouse gas emissions with playsets constructed of bioplastic made from renewable sources, such as corn.

"We are one of the first companies to use bioplastic outside of the food service industry," Co-founder Laurie Hyman told

TD

monthly. "[So] everyone involved, from resin supplier to tool maker to manufacturer, is learning about the possibilities and limitations of the material."

OFFERING UP ORGANICS

"If someone had a choice between an organic item or a regular manufactured item at relative or near-relative cost, they would probably choose the organic, especially for children," said Ken Krysinski, co-founder of BabyGiftStation.com.

"It's an ingrained lifestyle now," he added, noting his reason for stocking the miYim line of toys by Hosung New York Trading Inc. "Organic has become a very significant buzz word in the minds of conscious parents who are doing everything that they can to provide the safest environment for their children."

"We have our own process called 'pure water wash,'" informed Vice President Petrie Hahn of Hosung. "We looked at how they used to dye Korean fabrics and updated to a modern version. We're using plants and minerals to dye our product," yielding unique colors for each toy.

NO BATTERIES REQUIRED

On July 7, 2007, four of the top-5 best-selling toys on amazon.com required batteries — another weighty concern when it comes to the environment and landfill waste. Enter Zen Design Group and its battery-free line of kid-powered SEE Toys. SEE stands for safety, ecology and economy.


"These toys engage children on a variety of levels to teach them that green living is not only a necessity; it can be fun, too," said President Sun Yu. The toys, scheduled to be on-shelf in late 2007, feature a power crank that kids use to convert their own energy into electricity.

The industry is stepping up to do its part; however, more energy must be put toward educating consumers on available eco-friendly choices. What better way is there to learn than through toys?

Here are some eco-friendly toys from various companies:







.

AD
---






This cute and cuddly 7" bunny is one of the most popular toys in the Adopt-A-Foundling line. It is perfect for the environmentally conscious consumer, with its 100-percent organic cotton shell filled with unbleached cotton clippings. It is safe for children, thanks to embroidered eyes, and is made in the United States.

.

AD
---






All cozy in her colorful jumper, Charlotte has her eyes closed and is ready for bedtime. Her soft hands and feet provide extra comfort, along with that fluffy tummy, to make her a perfect friend for bedtime. The concept of organic refers to the creation of something that originates in nature, a pure product from the environment. Organic products eliminate unnatural herbicides and pesticides, use biodegradable and natural fertilizers, follow crop-rotation standards and soil-management procedures, undergo specific harvesting procedures and have regulated storage procedures.

.

AD
---






.

AD
---






.

AD
---






Modeled after the loveable Labrador, this 10" plush toy is all natural and made with an organic cotton (no pesticides) shell stuffed with unbleached cotton clippings. He's safe to pet, hug or snuggle with. The product is handcrafted in the United States.

.

AD
---






.

AD
---






This 10" Cuddly Teddy Bear helps the environment. Its shell is made with organic cotton (three years of pesticide-free farming makes this certified organic cotton) and stuffed with unbleached cotton clippings. It is safe for any child thanks to the embroidered eyes. Like all Adopt-A-Foundling plush toys, this bear was handcrafted in the Green Mountain state of Virginia and is machine washable.

.

AD
---






Colored sticks are threaded through the basket which serves as the game board and coordinating balls are placed inside. The object of the game is to carefully remove the colored sticks so only the colored balls of your opponent fall through. Made from eco-friendly bamboo and nontoxic paints.

.

AD
---






Bobux Baby Shoes are manufactured in New Zealand. Bobux are made of all natural Eco-Leather, making them safe for babies and our environment. The Elastomatic system ensures Bobux are easy to put on and they stay on. Bobux are recommended by pediatricians, particularly for pre and early walkers, because they protect little feet without hindering their development. The natural leather allows feet to breathe, keeping them cool in the summer and warm in the winter. The suede soles offer maximum flexibility and slip-resistant protection. Bobux is available in about 70 fun styles, and the characters face the baby when worn.

.

AD
---






.

AD
---






In each round of Head1Liners, players privately write a news headline to a shared, mysterious "front-page" photo card. Straightforward journalistic attempts or satirical, funny headlines alike are equally encouraged. Headlines are read in random, anonymous order by the round's editor, and every player votes for a favorite headline (not their own). Writers move one space for each vote received. Later rounds include intentionally surprising theme assignments that often result in hilarious headlines. According to Owner Tony Kvale, Good Natured Games is the only eco-friendly board game publisher manufacturing mainstream game concepts locally within the United States. The company's website offers a free sample round of play. Launch date: November 2006.

.

AD
---
THIS BANNER IS AN AD:
---
---