---
Music With a Message
CDs Get Kids Moving to New Kinds of Tunes
"If we can teach kids to care now, that sense of caring will follow through and support initiatives working toward a cleaner, healthier environment." — Lorraine Pond, Bobolo Productions

There's a lot more to a children's CD than just the music itself. As several musicians recently told

TD

monthly Magazine, it's also about having a story and a cause, and getting kids involved.

TELLING A TALE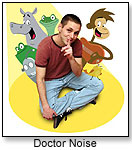 "The Ballad of Phineas McBoof," which chronicles the formation of a band, is full of characters whose stories "encourage kids to follow their muse."

It will soon be joined by a book and is the first album for former high school music teacher Cory Cullinan, aka Doctor Noize, who believes children find more meaning in something when it's attached to a figure they care about.

"Every single character on the CD … is somebody who decided to do his own thing despite the fact that people don't understand," he said.

SINGING PRAISES FOR CONSERVATION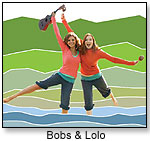 Although Bobs & Lolo of Bobolo Productions don't follow one story in their newest CD, "Musical Adventures," they've realized through performing some 200 live shows a year that "songs really need to have a hook," Lorraine Pond, aka "Lolo," told

TD

monthly. And she wasn't just talking about the music.

For Bobolo, that hook is "connecting kids to the natural world," Pond continued. "Our philosophy is … conservation equals caring. If we can teach kids to care now, that sense of caring will follow through and support initiatives working toward a cleaner, healthier environment."

ONE STYLE'S NOT ENOUGH

To convey that message, the pair uses songs influenced by jazz, rock, blues, pop and swing, Pond said, because children 10 and under "are still developing their tastes and interests, and parents have different interests, too."

Lead singer Audra Tsanos of AudraRox recognizes the value of variety in the band's newly-released "I Can Do It By Myself!" The "power pop" album, as some describe it, features everything from disco to indie rock to jazz.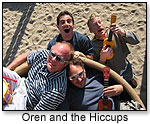 Oren Pfeffermann of Oren and the Hiccups described "Turn Around the Sun," released last fall, as "taking rock-and-roll roots and plugging it into kids' music." It brings back styles from the 1970s and 1980s, as well as an indie-rock spin-off of "Lollipop Tree" from the 1940s, he told

TD

monthly.

The acoustic-based "If You Ever See an Owl," in contrast, reflects the relationship between children's music and American folk music, according to lead Matt Pryor, formerly of The Get Up Kids. "The instrumentation seems to work well for kids," he said.

DANCE TO THE MUSIC

Although Pryor has toured for the last 10 years, he admitted he had to "tweak" performances for children by engaging the audience more, doing some call-and-response singing and giving them opportunities to move.

AudraRox is also planning to facilitate dancing with an album tentatively scheduled for release next spring.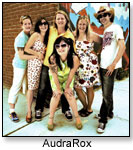 WHAT KIDS WANT

"Being a teacher and seeing a real community of kids… gave me a deep understanding of kids and what they relate to," Tsanos said of her eight years of leading children's music classes in Brooklyn. Two- and 3-year-olds, she said, really understand a song on her album called "Don't Wake the Baby," for example.

Music for Aardvarks Creator David Weinstone especially knows how to reach 3-year-olds, she added: "All the people in my band were parents in my class. We're definitely students of his music."

According to psychologist Martin Seligman's research, connecting with others and having deeper meaning in life make people happy, Pfeffermann said, and that's what his album tries to accomplish by involving listeners in a story and creating meaningful songs.

See these and other albums for children below:







This CD is teeming with irresistible playground pop designed to soothe the savage teething toddler and harried parent alike. The Terrible Twos is the alter ego of The New Amsterdams, a band led by Matthew Pryor, who also fronted the acclaimed rock outfit The Get Up Kids for nearly a decade. The album's 15 tracks are mostly acoustic and were recorded in Pryor's garage with guitarist Dustin Kinsey, bassist Eric McCann and drummer Bill Belzer. Launch date: April 10, 2007.

.

AD
---






.

AD
---






.

AD
---






.

AD
---






Using music, movement and make-believe, Bobs & Lolo celebrate the values of healthy living and aim to inspire an awareness and appreciation for the natural world with their young audiences. "Musical Adventures" includes songs about enjoying the outdoors ("My Bike," "The Great Outdoors," "Little Breeze"), conserving wildlife ("Wish for a Fish") and going green ("Recycle With Me"). This product received a spring 2007 Parents' Choice Silver Honors Award. Launch date: December 2006.

.

AD
---






AudraRox, a Brooklyn-based band fronted by musician and teacher Audra Tsanos, is trying to broaden the spectrum of kids' music with its debut album. It's not just music for kids; it's music for the whole family. This product received a spring 2007 Parents' Choice Award. Launch date: October 2006.

.

AD
---






.

AD
---






"Animal Playground" is a multilingual collection of animal-themed songs from around the world. The CD includes an enhanced original music video produced by Putumayo in Trinidad featuring "No More Monkeys" by Trinidad-born artist Asheba. A 25-city family concert tour in May and June supports the release, and a portion of each CD sale benefits the Wildlife Conservation Society. Launch date: May 22, 2007.

.

AD
---






.

AD
---






.

AD
---






Part of the Lullabies and Lovesongs collection, folk music vocalist Mae Robertson reinterprets several pop masterpieces, including Paul Simon's "St. Judy's Comet," Tom Waits' "Midnight Lullaby" and Bob Dylan's "Forever Young." Robertson's previous Lullaby & Lovesongs CDs have already won international acclaim and national awards. Launch date: August 2007.

.

AD
---






.

AD
---






This 13-track album by two-time Parents' Choice Award-winner Roger Day features rock legends The Crickets, as well as children's performer and radio superstar Billy Jonas. Roger's trademark wit, whimsy and wordplay are evident in songs such as "Rumble in the Jungle," "Roly Poly" and "Turn Off the TV," in a musical world of pachyderms, isopods and nandina berries. "Elefunks" get down low in Borneo, Yaks wander with the Dalai Lama, and there's even a Beatlesesque string quartet. "Roger Day urges kids to reach their potential by using 'body and brain, mind and muscle.' The predominant theme underlying the music's lively verbal gymnastics and colorful imagery is that of aspiration." Launch date: July 2007.

.

AD
---






.

AD
---






.

AD
---






.

AD
---






.

AD
---






.

AD
---






It tickles. It teaches. It rocks. This children's album was developed by a full-time preschool music teacher in Beverly Hills, Calif., from experience with more than 1,500 live performances with children. It features smart and fun songs that nurture music appreciation by helping listeners hear more in what they're hearing. The songs are lyrically and musically sophisticated. This product received a Spring 2007 Parents' Choice Recommended Award. Launch date: February 2007.

.

AD
---






.

AD
---






This fourth release from Joe McDermott is composed of 10 original sing-along songs that feature Joe's friendly vocals and style influenced by American roots. Songs include the rock-and-roll title track plus "Momma's Gonna Have a Baby," "Spider Magic" and "Anything Is Possible." Launch date: June 12, 2007.

.

AD
---






.

AD
---






.

AD
---






This award-winning CD contains a story with music. The story is a take-off of "Mary's Lamb," and the music is a take-off on "Mary Had A Little Lamb." The beginning of the story and music are very familiar, but both soon veer way off course for a fun and humorous adventure. "Mary" received three performances by the San Diego Symphony. Launch date: June 2005.

.

AD
---






Cathy Bollinger, a singer-songwriter and music therapist, has written the school- and home school-friendly tunes on "Ready to Learn!" These multi-sensory songs, ranging from snazzy to jazzy, will help kids succeed in school by reinforcing basic living skills though repetition: listening, following directions, exercising friendly manners, focusing on work, transitioning between activities and lining up. Additionally, two bonus tracks are included as a quick reminder or cue to line up or change activities. Launch date: May 1, 2007.

.

AD
---






Ah-Choo, the award-winning children's entertainer releases his first fun song CD under the title "Ah-Choo." The whole family will enjoy songs such as "Peanut Butter and Jelly" and "I'm a Little Kid But I Have a Cell Phone." Ah-Choo's catchy hooks and captivating hip-hop stylings will mesmerize all ages. Launch date: July 1, 2007.

.

AD
---






.

AD
---






This 14-track CD (manufactured by Craig 'n Co) is based on the popular book by Barney Saltzberg (Candlewick Press), and features the story read by Dustin Hoffman and musical appearances by Jackson Browne, Richard Thompson, Vonda Shepard, Jessica Harper and Peter Himmelman. All artist royalties will benefit the non-profit CONCERN FOUNDATION for Cancer Research, whose mission is to fund cancer research scientists who focus on childhood and young adult cancers. Launch date: May 2007.

.

AD
---






.

AD
---






The voice and melodies on this CD will soothe, relax and delight parents and children. Named after her golden retriever dog, Mulligan (Mully for short), artist Tamara Beatty made every effort to create a CD that families look forward to listening to over and over again. The CD is perfect for relaxation, naps, car rides and snoozing. Kids can even visit the website to meet the real Mully. This product is a winner of the Parent's Choice Approved Award. Launch date: January 2007.

.

AD
---
THIS BANNER IS AN AD:
---
---