---
Retailer Spotlight: Boing! JP's Toy Shop
Beloved Community Store Now Measures Inventory for Success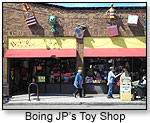 Before Elaine Hackney plunged into opening her own toy store, she tested the waters by asking nearby storeowners to talk about their businesses. She ended up working at their shops one day a week during the holiday season, she told

TD

monthly Magazine, and soon after launched her own business plan that led to the opening of Boing! JP's Toy Shop in Jamaica Plain, Mass., in October 2001.

"My background is in both education and corporate marketing and sales, but I didn't have prior experience in retail," Elaine explained. "I wanted to have a small business in my own community, and I started to pursue being a toy-store owner."

START-UP LESSONS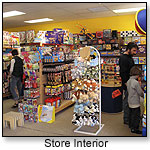 It took about $125,000 to get the store up and running, she said, including everything from inventory to build-out, computers and equipment. The funds came partly from a small business loan, but the rest was equity in her home.

For help in getting started, Elaine went back to the storeowners — by then her good friends — for whom she had worked.

"I hired them as my consultants, and they guided me through the purchasing process, as well as through some of the initial merchandising," she said. "By the time I opened the store, it looked like I'd been doing it for awhile. I avoided a lot of trial and error."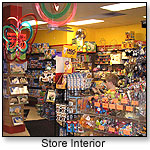 Despite a positive start, Elaine ran into trouble with overbuying during the first few years.

"Not having previous retail experience, I had too much inventory," she noted. "I got myself into an inventory hole financially. That's a hard thing to climb back out of, but we're getting there. I hired a financial specialist, and that has made a tremendous difference for me."

Newcomers to retail should consider that "it's kind of like when you're doing a renovation," she said. "It's best to live in the house for a little while before you start any major renovations, so you know what works for you. Inventory works like that, too — don't overbuy."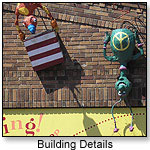 COUNTING ON COMMUNITY

Elaine's goal when she first opened the store was to have a business that became part of the fabric of the community.

"We achieved that in no amount of time — we were so welcomed by the community," she told

TD

monthly. "However, it was a mistake to think that it could only be this community. I didn't realize that I would have to go beyond this community to survive," she said of reaching the many small communities around Boston.

Elaine has learned other lessons, too. When it comes to marketing, she said, window dressing is very important, but print advertising doesn't work very well.


WORKING TO ADD VALUE

Since Elaine works at her store five days a week, allocating time to work on the business, and not just in the business, is difficult.

"I am still struggling to find enough time and focus off the floor," she explained.

Nonetheless, she believes her ability to work on the floor is valuable to customers. "That personalized aspect is huge," she said. "Not everyone has the flexibility to do that if they own a store."

Read more to find out which products have made Boing! JP's Toy Shop a beloved toy store.

Writer's Bio:
Brenda Ruggiero is a freelance writer from western Maryland.
Read more articles by this author
THIS BANNER IS AN AD:
---
---