---
TDmonthly's Psychologist Mom
She'll Put Your Toys on the Couch
Dr. Wright doesn't just look at toys; she analyzes them. In and out of the box, she scrutinizes them for playability, appropriateness and educational value. The latter quality is especially important to this psychologist/mother, who also homeschools her three children.

This month,

TD

monthly Magazine's Psychologist Mom tees up for a game of golf, hops through Washington D.C., gets into the Christmas spirit and more, rating each product with 1 to 5 TD stars (for

TD

monthly!); 5 is the top mark.

Nick Jr. Sprinklers by IMPERIAL TOY LLC


Age: 3 and Up
Gender: Boys and Girls
Category: General Toys



TD

monthly rating:





The Dr.'s Impressions: This is a fun sprinkler for little ones who like Dora.

Kids' Perspective: The little kids, 2 to 4 years old, were hysterical with excitement upon seeing the box and could not wait to hook it up. However, the sprinkler was fairly cheap and the water sprinkles did not hold their interest.

Recommendation: This product has a great design, and, of course, Dora is always a big hit; but the sprinkler does not work very well.

---
Designer Golf by DESIGNER GOLF LLC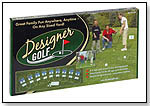 Age: 4 and Up
Gender: Boys and Girls
Category: Outdoor Fun



TD

monthly rating:





The Dr.'s Impressions: This is a pretty complete play golf set. It includes 18 tee markers, nine cup rings, nine pin flags, 12 specially designed neighborhood-friendly golf balls, 25 score cards, four tees, a pencil and a rules sheet.

Kids' Perspective: A few kids ages 5 to 13 played this at the local park. They had fun designing their own 9-hole course and playing. Most had never played golf and now know all the rules.

Recommendation: As long as you have the space, this is a great little kit. I imagine it would be the perfect gift for any family with a golfer in the mix. It offers hours of outdoor fun.

---
Nature of the Beast: City vs. Suburb by EYE-LEVEL ENTERTAINMENT LLP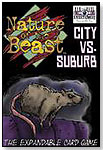 Age: 12 and Up
Gender: Boys and Girls
Category: Card Games
MSRP: $17.95



TD

monthly rating:





The Dr.'s Impressions: This is a two-player card came in which the players battle to take control of an animal army fighting for total domination. It includes two 70-card decks and a 44-page handbook . It takes about one hour to play. It is the classic city mouse vs. country mouse tale, but with a serious, gritty side.

Kids' Perspective: My son and his friend, both 11, could not figure out this game. With my help they did and enjoyed playing very much. They liked that although this game is similar to other collectible games, they did not have to worry about "getting more."

Recommendation: This game is similar to collectible cards without the collectible aspect. Each player develops his deck with attack and support cards to win. Cards hold important information and play requires strategy and a clear understanding of the rules. Once one has the complicated directions down, it is a fun and stimulating game — and you don't have to keep buying more decks.

---
Masquerade Cards by PINX A CARD CO. INC.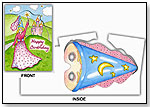 Age: 3 and up
Gender: Boys and Girls
Category: Pretend Play
MSRP: $3.98



TD

monthly rating:





The Dr.'s Impressions: These birthday cards can be used as masks. Each is a tri-fold birthday card with a themed mask inside. After the recipient reads the card, he or she can pop out the mask (pirate, unicorn, fireman or princess) and wear it with the elastic string.

Kids' Perspective: My boys, 8 and 11, thought these were way cool. They said, "Wow, these are going to sell like hotcakes!" They loved opening them and finding a surprise, and actually have suggested them as birthday cards.

Recommendation: This is a fun idea with added value, as it turns the most boring part of a gift (the card) into a great surprise.

---
Computer Magic Pen Painting – The Wild West by LEE PUBLICATIONS

Gender: Boys and Girls
Category: Software
MSRP: $13.49



TD

monthly rating:





The Dr.'s Impressions: This interactive CD features an on-screen picture that a child can help color and create. It includes clip art, text bubbles and other options, including printing out the final work or printing out a picture to color.

Kids' Perspective: My 8-year-old son spent a couple of hours getting to know this program and then never picked it up again. I think it is a fun one-time usage type of program and the excitement wears off pretty quickly.

Recommendation: This might be fun for a younger child just getting into computers or art, but it's not for the artistic at heart. The program would be more stimulating if it allowed for more individual expression or if it had levels of difficulty or even a type of "art lesson." It does, however, introduce little ones to art and the computer, which has its own benefits.

---
Coin Hopping - Washington D.C.™ by COIN HOPPING GAMES LLC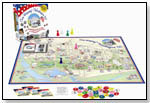 Age: 8 and Up
Gender: Boys and Girls
Category: Board Games
MSRP: $29.95



TD

monthly rating:





The Dr.'s Impressions: Coin Hopping - Washington D.C. is an educational game at its finest. The object of the game is to place citizens in positions of power through the executive, judiciary and legislative branches. Not only does it illustrate the balance of power, but it also encourages political dealings as players try to win votes for new legislation.

Kids' Perspective: My 8- and 11-year-old sons liked playing this game, but it took a while before they caught on. I stopped the game and explained the three branches and the balance of power and then we went back and did much better. It has sparked many a conversation about the upcoming elections as well as an interest in visiting Washington D.C.

Recommendation: I think this is a wonderful game for any child studying the capital or for a family going for a visit. The game board is a map of Washington D.C. and has beautiful illustrations of famous buildings, museums and monuments. Adults and kids alike will enjoy taking this simulated trip through the capital.

---
Capt'n Pike's Cruising North America by CAPT'N PIKE'S CRUISING NORTH AMERICA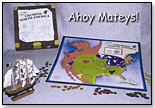 Age: 12 and Up
Gender: Boys and Girls
Category: Board Games
MSRP: $39.99



TD

monthly rating:





The Dr.'s Impressions: This fun, educational, boating-themed board game teaches seamanship and the history of North American boating. It is a trivia game with more than 1,000 questions regarding everything nautical and geographical. Players answer questions as they pilot their vessels on the Mississippi River, Great Lakes or East, West or Gulf Coasts.

Kids' Perspective: I played this game with 12- and 14-year-old boys who did not care that much about boats and boating. The older boy was a little bored and the younger was confused.

Recommendation: This is a good game for teens and adults interested in boating and all things nautical. I like that the game is not dumbed down to the general public. While it does not suit everyone, it fills a valuable niche for children interested in boating and geography.

---
Make-Your-Own Thank-You Notes by MADE BY HANDS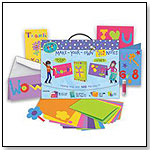 Age: 4 and up
Gender: Boys and Girls
Category: Arts & Crafts
MSRP: $19.99



TD

monthly rating:





The Dr.'s Impressions: This kit includes everything children need to create their own thank-you notes: 15 note cards, 500 brightly colored pop-out shapes, a glue stick and a book that shows other kids' thank-you-note creations.

Kids' Perspective: I had a homeschool group of kids, ages 5 to 11, create and write thank-you notes for a recent field trip. They were very excited with the box and the ingredients; however, they lost interest quickly and used very little of the kit beyond the blank note cards.

Recommendation: This kit might kick start the desire to write a thank-you note, but overall it is overkill. I think it is a less creative alternative to hand-drawn and hand-written thank-you notes. Made By Hands kits, however, could make for a fun activity at a party.

---
Play Clay 6-Pack by PLAY CLAY FACTORY


Age: 2 and Up
Gender: Boys and Girls
Category: Preschool
MSRP: $12.95



TD

monthly rating:





The Dr.'s Impressions: Play Clay Factory claims to have the world's best play dough, and I think they might be right. The colors are bright and vivid, it does not flake or stain, it washes out of carpet with soap and water, it is soft and pliable, it is long lasting and, best of all, each color has its own fruity scent. It can also be baked to preserve it forever or put back in its case for safe keeping.

Kids' Perspective: My two boys, ages 8 and 11, love this clay. They played for hours with the "create a critter" parts and the "cookie cutter" play kit. They said it was the best clay they had ever played with.

Recommendation: For its beautiful colors, wonderful smell and stimulating texture, I recommend this product for any child or adult who likes to mold and shape clay. The Play Clay Factory also offers a variety of other kits to enhance Play Clay time.

---
John Deere Twas the Night Before by GREAT AMERICAN PUZZLE FACTORY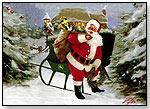 Age: 12 and up
Gender: Boys and Girls
Category: Puzzles & Skill
MSRP: $15.00



TD

monthly rating:





The Dr.'s Impressions: Warm and rich in appearance, this 1000-piece puzzle definitely brings the Christmas spirit to mind — even in summertime.

Kids' Perspective: My 8-year-old son loves puzzles, and although this one was challenging for him, he was able to complete it over a couple of weeks and was very proud of himself. It took a few days for him to stop dreaming of Christmas.

Recommendation: I highly recommend this John Deere Christmas Puzzle for any holiday table. Just lay it out and allow friends and family to do a little at a time — 'til the night before Christmas.

---
b2 mi Jam mini Lixx by BLUE BOX TOYS INC.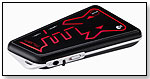 Age: 8 and up
Gender: Boys And Girls
Category: Electronics
MSRP: $20.00



TD

monthly rating:





The Dr.'s Impressions: b2 mi Jam Mini Lixx is a pocket-sized guitar that plays its own music or plays along with your music via ipod or mp3, depending on how you program it. It has built-in rhythms or can stand as an accompaniment to the player's music. Players control both the tempo and volume and have a choice between using headphones or external speakers.

Kids' Perspective: My boys, both of whom play the guitar, thought that this was the best thing since sliced bread. They quickly figured out that they could play chords by putting their fingers on the mini fret board and strumming a chord — just as with their real guitars — or play along to their favorite ipod songs.

Recommendation: This is a fun toy that inspires music creativity. The sound quality is seriously deficient and therefore, I as the mother could only handle so much of it, but the kids can't stop playing with it. They can't decide which is better: making their own music or plugging it into their ipod. The boys, 11 and 8, have already composed their own little rock song with the mi Jam … What more could a mother ask for? I think adults would also like playing with this little gem.

Writer's Bio:
Dr. Tiffany Wright doesn't just look at toys; she analyzes them. In and out of the box, she scrutinizes them for playability, appropriateness and educational value. The latter quality is especially important to this stay-at-home psychologist/mother, who also homeschools her three youngest children. Her daughter attends UCLA. Dr. Wright earned her Ph.D. in personality psychology from University of California, Riverside. She is always on the lookout for toys and games that inspire creativity and impart knowledge while bringing fun and laughter to her home.
Read more articles by this author
THIS BANNER IS AN AD:
---
---