---
This Issue's Highlights
What to Read in September
Really don't have time to read? Now you don't have to!

TD

monthly Magazine's ToyTV brings you a monthly newscast with quick article summaries. Just click on the photo below and watch the video: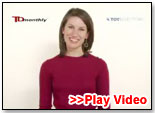 Click on the image above or

click here

to Watch ToyTV News.


But for those who still prefer print, here are a few brief summaries of our top articles in September:



BE "THE PLACE TO BE"

If a store becomes a destination, "a consumer will immediately postpone any purchasing until they check that store," Jon Schallert, marketing consultant and leader of Destination Business BootCamp, explained to

TD

monthly Magazine.

Tim Peiffer has made his Games & Gizmos in Redmond, Wash., a "third place" to be for his customers, behind home and work. By opening at odd hours and loading the floor with gaming tables, he's turned his store into "a place like Cheers, Starbucks, a bowling alley" where people want to hang out, he said.

Read more tips from Schallert and retailers in How to Make Your Store a Destination.




GREEN BRINGS GREENBACKS

If you're in a high-end market where customers demand ecologically minded toys, there are plenty of new companies willing to stock your shelves. From soy-fiber teddy bears by Biltmore World Trade to kid-powered toys from the Zen Design Group, there are earth-friendly toys and games to suit almost any kid's needs. Find out what other companies have picked from this latest trend in Play Goes Green.




THE HOLIDAYS ARE NOW

Ready for the holiday rush? Hired and trained your staff? Ordered all the hot sellers? Or are you not quite sure what to do? Retailers talk about how to coordinate holiday specials with other local store-owners, increase store traffic by offering specials, and try to predict what will be hot by looking at the years sales in Retailing Tips: Prepping for the Holidays.




GET READY TO ORDER

If your customers have certain price points they won't go beyond (or under!),

TD

monthly's special Get Ready to Order articles should help make ordering your last holiday toys just a bit easier. Find toys and games divided by price: $10 and Under, $10 to $20, $20 to $50 and $50 and Up.



GET THESE TOYS!

Do you have Bananagrams? PlasmaCar? If not, you could be missing out on some major sales. Find out what specialty retailers say are their hottest items in Get These Toys!




WATCH THESE TOYS!

Every company thinks its toy is the greatest, but you can't believe it until you see it. TDmonthly's ToyTV lets you look at the toys to buy before you buy them. This month, we show you an Advent Calendar quilt from Kathe Kruse, new plush from Depesche USA, singing, glowing angel dolls from Aglow Angels and much more.




THIS BANNER IS AN AD:
---
---