---
TDmonthly's DVD Expert
Superchick and Hip Hop are Signs of the Times
Signing, animals, hip hop and Internet safety. Varied themes this month? Yup, and that's what makes children's DVDs so interesting: Everyone has a different idea of what works.

Internet Safety by THE SAFE SIDE COMPANY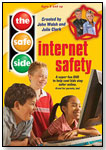 Age: 7 to 11
Gender: Boys and Girls
MSRP: $12.99

"From a distant planet ... a safety planet" comes Safe Side Superchick! This bizarre incarnation of a kids' show host has been dotting the DVD landscape since Julie Clark and John Walsh (each of whom has made child safety an educational and political priority in their lives) decided that helping kids to a safer world was their next multimedia mission.

With a never-say-gloomy outlook a lot like Jenna Elfman's in "Dharma & Greg," Superchick (Angela Shelton), her green screen, a guy in a gorilla suit (the writer), Dad, Super Dude and Clicky (the animated robo-friend) all teach about Internet safety. Superchick (SC) and the DVD move a mile-a-minute in a "Richard Lester meets the Banana Splits" sorta way.

SC gabs about important Internet safety, such as having an adult guide you, not going in chat rooms, unsafe email, etc. But it gets shot-gunned so rapid-fire, it's supersonic.

A group of 8- to 10-year-olds watched the DVD for the first few minutes, and then went back to their regularly scheduled programming. "It was kinda weird," they said.

The dog steals the show, and the editing and post-production work is mind-boggling. Child safety is important, but sometimes less is more.


| | |
| --- | --- |
| Budget | |
| Creativity | |
| Bells & Whistles | |
| Usefulness | |
---
Critter Friends by THE LITTLE PLAYDATES COMPANY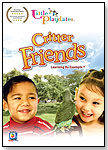 Age: 0 to 3
Gender: Boys and Girls
MSRP: $16.95

How can you go wrong with animals and kids? Add some simple songs that aren't too distracting (but have a solid beat), socialization techniques in disguise (words on screen) and more animals, and you have a fun DVD.

With goats, llamas, lots of kids sitting, skipping and watching the animals, this DVD is a video petting zoo for the youngest of viewers. It's cute, and there's a particularly bizarre looking bad-hair-day bunny, too. There are 12 song segments, a half-hour's worth of animals and a repeat mode so the tiniest of viewers can watch it again.

Better camerawork would help oodles, as would some smoother editing. But I give it two paws up, if only for the animals!


| | |
| --- | --- |
| Budget | |
| Creativity | |
| Bells & Whistles | |
| Usefulness | |
---
It's Hip Hop, Baby! by HIP HOP BABY LLC

Age: 0 to 3
Gender: Boys and Girls
MSRP: $15.95

Hip hop for babies? What an odd idea … but why not?

First, get a cool set that looks like it came from the old American Bandstand, but roomier. Then, combine kids' stuff with a very less-than-rap beat.

It's shot simply: It cuts to kids at a playground doing the Simon Says — turn around, don't fall down, etc. — and it works. Granted, it could have been Salsa, the waltz … anything, as it's not really heavy rap. Still, it gets kids moving and is put together in a way that works. The children aren't Hollywood stars, but they aren't distracting, either. Good shots of animals, too.

It's pretty fun to watch, and young kids do get enthralled. This DVD does what it's supposed to do: get kids to get up and move.


| | |
| --- | --- |
| Budget | |
| Creativity | |
| Bells & Whistles | |
| Usefulness | |
---
We Sign – Santa's Favorite Christmas Songs by PRODUCTION ASSOCIATES INC.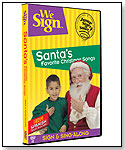 Age: All Ages
Gender: Boys and Girls
MSRP: $14.95

Youngsters pick up language quicker than adults, and signing is no different. This DVD has a sign-friendly host who "walks" the viewers through each song, giving them the gist of it in sign. Then comes the real song version (simple and hokey), with the host signing away with the viewer.

It's not shot in the highest quality, and has no real frills except a simply decorated set (of which we see a little too much in some shots ... including the edges).

But it's got everything from "Jingle Bells" to "The Twelve Days of Christmas." All the hits and even Santa, although he's non-signing, which was a bit of a contradiction. Shouldn't Santa know how to sign? He'd better get this DVD and give it a watch.

Basically, this DVD is for the younger bunch and anyone who wants to learn some simple signing for the winter season. It beats commercialism, so give it a look.


| | |
| --- | --- |
| Budget | |
| Creativity | |
| Bells & Whistles | |
| Usefulness | |
Writer's Bio:
Mark Zaslove is an entertainment industry veteran in developing content (writing, directing and producing television and feature films) for the major studios, including Disney, Universal and Warner Bros. A two-time Emmy Award winner for writing and recipient of the Humanitas Prize (for writing uplifting human values in television and movies), Mark is also Head of Content Development for Nice Entertainment.
Read more articles by this author
THIS BANNER IS AN AD:
---
---