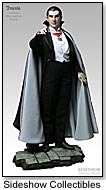 Sideshow Previews Limited Edition ¼ Scale Lugosi Dracula

Sideshow Collectibles (ToyDirectory, ToyShow) announces the introduction of another classic figure to their new limited edition 1/4 scale figure line up for 2004 - Dracula. This rendition of Lugosi´s Dracula, from Tod Browning´s black and white classic Dracula, is the third 1/4 scale classic horror icon from Sideshow, which already hosts the recently released ´Nosferateu´ Vampyre, and the upcoming Karloff Frankenstein figure. Dracula, featuring the likeness of Bela Lugosi, comes completely posed with highly detailed, theatrically accurate clothing, and a hand painted likeness that brings Lugosi´s hypnotic gaze to life. Scheduled for release in April 2004, this figure will retail for $225.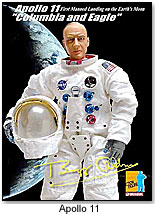 Apollo 11 Lunar Landing Series Launches
New from Dragon Models USA is the Apollo 11 Collectible Space Series, featuring 3" poseable astronauts, Saturn V rocket pieces that can be assembled to create an 11" tall Saturn V Rocket, and Columbia and Eagle space launchers.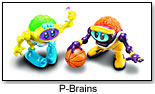 Uncle Milton Hatches a New Breed of Playthings
Meet the P-Brains from Uncle Milton, collectible characters that stand just three inches. These little guys feature interchangeable electronic brains to let kids take on the role of "mad scientist" for the day. Designed for collecting, the P-Brains come in unlikely pairs, such as a soldier and a baby. Switch their brains to get a whiny soldier and a disciplined baby. Each pair comes with a "bonus" brain for an added cerebral switcharoo. P-Brains pairs include Cheerleader/Basketball Player, Princess/Pirate and Policeman/Skateboarder.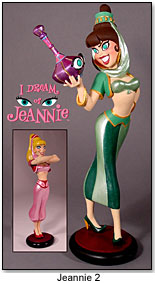 Electric Tiki Launches Line of Licensed Collectibles
Electric Tiki has announced the third maquette in its Married with Children line. "Tooned-Up" Kelly Bundy joins Al and Peggy to be displayed among prized knick-knacks. Kelly comes tightly attired in your choice of red dress with Ankh pendant or blue dress with cross pendant, designed by Tracy Mark Lee, sculpted by Schu. This special edition is strictly limited to initial orders. Kelly is individually numbered, fully painted and ready to display. Includes Certificate of Authenticity and comes in a decorated box that Kelly can stare blankly at for hours! Created by professional animators for the "toon" inclined.
Also new is the second maquette in the "I Dream of Jeannie" line. Just as Samantha Stephens of Bewitched had her evil doppleganger Serena, Jeannie had one as well in the form of a sister. "Jeannie 2" (as she has come to be known) was the anti-Jeannie. Her frequent visits wreaked havoc on her good-natured sister´s already complicated lifestyle. Complete with dark hair (she is the evil twin, after all) and green outfit, Jeannie 2 comes with her own "Jeannie in a Bottle". Includes Certificate of Authenticity and decorated box.