The Kentucky Derby On A Small Scale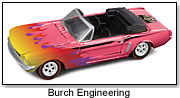 The Kentucky Derby 130 1:64 Scale - ´64-1/2 Mustang Convertibles by Burch Engineering are the fifth in a series of die cast vehicles made for the Kentucky Derby to celebrate the 40th anniversary of the Ford Mustang. Each 100% die-cast metal Mustang features real rubber redline tires, serial number printed on the chassis, hood that opens, the official Kentucky Derby 130 logo, and KD 130 printed on the license plates. Each is also packaged on a blister card with custom artwork and an official Kentucky Derby holographic sticker.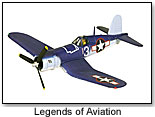 Corgi Classics Debuts New Product Line
Corgi Classics, Inc. (ToyDirectory), makers of high-quality, die-cast models, debuts a wide range of die-cast replicas across several of their brands. The all-new Tactical Strike Collection celebrates modern-day military heroes in replicas of the actual vehicles they have used or are currently using in battle. Additionally, Corgi commemorates significant historical milestones with additions to their celebrated Showcase Collection, featuring authentically-detailed replicas in Emergency, 100 Years of Flight and Fighting Machines. Corgi has also introduced new items across two popular licenses: Batman and the History Channel.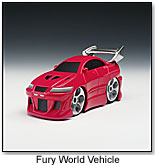 The Fast and the Curious
The Fast and the Furious and 2 Fast 2 Furious lines from RC2 Corporation incorporate the excitement of the high-performance tuner car world in a variety of products designed to appeal to serious adult collectors, teen movie fans and street racing aficionados. Included in the line are The Fast and the Furious Die-Cast Replicas; The Fast and the Furious Fury World Vehicles, featuring tuner body effects such as oversized tires, mufflers, spoilers and paint jobs; and The Fast and the Furious Speed Shop Assortment, customizable vehicles that include accessories such as tires, spoilers, hood exhaust systems, sets and more.