If Wayne Levy hadn't stubbed his toe on a bedpost, he might not be the head of a toy company today. "That's what got me interested in foam," says Levy. "I started on a product called 'bed bumpers' but found out someone else was already doing it." In the meantime, he had struck up a friendship with current partner Johnson Kong, who happened to have an engineer friend who was working on a new, child-safe foam. Thus, CoolBlox (ToyShow) was born.
"We just couldn't believe there was nothing else out there like it," says Levy. "CoolBlox let kids build child-size structures with enclosed roofs, so they can leave the refrigerator box in the dumpster where it belongs."
Unlike most toy companies today, CoolBlox is an entirely North American operation, with their proprietary "Zotefoam" made in the U.S. and the block cutting done near Toronto. Levy likes the proximity because it affords strict quality control. "There are no chemicals used in Zotefoam. No odors. It's very safe for kids." And best of all, he says, "The blocks don't hurt when you step on them."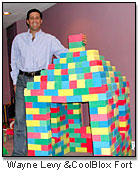 Building a Better Fort
My friend and now current partner came to me one day to tell me about his idea to build a safe and soft clubhouse for his kids. He was tired of them stealing the pillows, blankets and chairs to make their own. Since [such a toy] didn´t exist, we set out to create our own. Two years later, CoolBlox made its debut at the American International Toy Fair. I am President [of the company] and have been since we incorporated about one year ago.
We have been working with a professional engineer and different materials and designs for the past two years. We found the highest quality proprietary material (Zotefoam) and have patented our designs. We also got all toy testing results certified during this time.
The Kids Say, Alright!

The neighbourhood kids loved our toy right from the start. They kept coming down to our testing lab (my basement) and saying, "Wow, cool, where can we buy it?" This is when we knew we had a hit on our hands.
CoolBlox is the only soft building block system we have seen where a kid can build enclosed 3D structures. Our signature Clubhouse Set could be turned into a robot, plane, puppet theatre, aircraft carrier, chair, castle, fort or anything else that one can imagine. CoolBlox promotes team work, helps develop and strengthen motor skills, creates physical activity and even teaches kids to read blue prints.
Mid-Price and Many Awards
Our 52-piece Starter Set has been selling really well. The reason, I believe, is twofold. One is the price point: it retails from $69.99 to $79.99. The second reason might be winning prestigious Dr. Toy awards, including "10 Best Toys for 2003", "iParenting Media Hot Award" and "Top 100 Children´s Products," as well as a Silver medal from Parent´s Guide to Children´s Media, Inc.
The Family Fort

Our target market is [kids] ages 4 and up. We see CoolBlox as a bridge between Lego and K´NEX. However, CoolBlox is a toy that can be played with as a family. Our products will be available in many catalogs which cater to the school market this year, as well as many top Web retailers.
We plan to roll out more themed kits in the future. We feel that we have created a timeless toy that will last for generations, and we plan to be the pre-eminent soft toy building block system for kids. Our new line will be "Mini-Blox," a smaller version of CoolBlox, which will debut at Toy Fair 2004.