There's a New Mouse in Town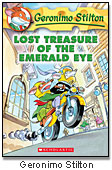 In February 2004, Scholastic is rolling out their newest chapter book series, Geronimo Stilton. Each book includes colorful illustrations of Geronimo, a mouse journalist with a penchant for adventures. His exciting escapades, centered on "Mouse Island," captivate young readers with action and humor.
The series has already seen success in Italy, where promoters like to point out it has exceeded Harry Potter in unit sales. The clever mouse wields great kid appeal, but also attracts adults with subtle satirical comments on Italian society. Italian publisher Edizione Piemme spokesman, Valeria Marietti, told BBC News that the mouse speaks to "the fear of war, of death, of solitude, of growing up."
Will He Bite?
Will Geronimo's popularity translate into success in the U.S.? According to Kenn Viselman, the marketing and licensing expert who was involved in the immigration of Teletubbies to the United States, the answer is, "Not always. It is actually very rare."
Viselman claims that without a different marketing approach to bridge the translation and cultural differences, European properties have a slim chance for success in North America. "Scholastic is planning a 100,000 first-print run, and that shows a healthy confidence in this series," said Viselman.
"Pinocchio is the last Italian book that I can recall having any impact in the U.S., and that is largely because of Disney, I´m afraid," said children's literature consultant and author, Carol Hurst. However, Geronimo Stilton has already been translated into 36 languages, making media licensing quite probable. According to BBC News, plans in Italy for a Geronimo Stilton cartoon are in the works for summer, 2004.
Scholastic's publicity manager Elizabeth Eulberg stated, "We think it will be very big."
Viselman concurred. "Their [Scholastic] history suggests they will turn a successful book into television/media properties first. It is reasonable to think they will launch the book, then launch the media, then begin the broad product licensing campaign. That has been the process in the past."
Big Cheese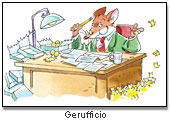 Eulberg said the series release will be supported by a $350,000 marketing campaign. In-store promotional material includes a pre-launch display stand that contains a teaser bookmark positioned at more than 3,000 accounts. Major distribution sites will receive copies of the Rodent´s Gazettes and a free Junior Reporter´s Kit with purchase of a book. Each month, Scholastic will sponsor a giveaway to accompany the new book in the series.
Pondering the potential for retailers, Viselman added, "The real advice for retailers is to be brave. Don't rely too heavily on the media. What you know you have is a product children relate to. Often retailers will wait for the media to guide their plans by watching ratings. That is how bookshelves across the country end up looking the same."
Viselman believes that retailers have more power than they know. This project will begin with 100,000 print copies of each of the four original titles. Scholastic will introduce another title each month, returning to a past tradition of monthly publishing.
The national advertising and promotion plans include bookstore appearances by Geronimo Stilton. Whether he's the author or the mouse himself is part of the mystery.