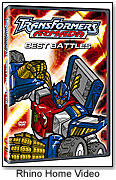 The Newest Generation of Transformers Come to Life in New DVD´s
Rhino Home Video (ToyDirectory) is scheduled to launch two Transformers Armada DVD's in February. Each Volume contains four episodes from the hit series airing daily on the Cartoon Network. Best Battles features the greatest battles of the Transformers from the Armada series; Flashbacks delves into the history of the Transformers.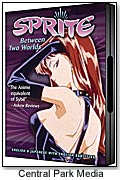 Central Park Media Releases New Anime DVD's
Central Park Media is releasing twelve anime DVDs, including Ayane's High Kick, Genocyber: The Collection, Labyrinth of Flames, Legend of Lemnear, Photon: The Idiot Adventures, and Sprite: Between Two Worlds. This collection of titles feature a variety of genres from some of the best-known names in Japanese animation including Rintaro, Katsuhiro Otomo, and CLAMP.
They have also announced the release of Alien Nine: Emulators available February 4, 2004 and Just A Girl Book: 1 available February 11, 2004. Alien Nine: Emulators is a brand new chapter in the series that has captured manga fans with its bizarre premise, bold character designs, and unpredictable plot. Shoujo maven Tomoko Taniguchi's art and story telling convey human emotion, beauty, and warmth. Her most recent work, Just A Girl Book: 1, is no exception.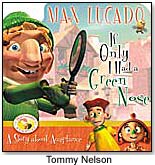 Lucado's Best-Selling Children's Book Becomes Video/DVD
Max Lucado's best-selling Wemmicks series has found a new home in Tommy Nelson. The latest video/DVD release and the first in the series for Nelson is If Only I Had A Green Nose. Also a best-selling book from Crossway Publishers, the If Only I Had A Green Nose video/DVD features Punchinello falling victim to the latest fad in the wooden world as he tries to fit in. The Wemmicks series of books and videos has sold over 2.3 million copies since 1997. You Are Special and You Are Mine are the best-selling flagships of the line that feature Wemmicks adventures that teach moral lessons.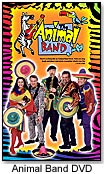 The Animal Band DVD/VHS Hits Shelves
They've performed at the White House, had their own PBS special and sold out the Grand Ole Opry five years in a row. Now, kids can enjoy The Animal Band live in a 45-minute concert film on DVD/VHS produced by Animal Band Ent. Co., featuring state-of-the-art special effects and digital animations. Special features include an additional song, a photo gallery and coloring pages.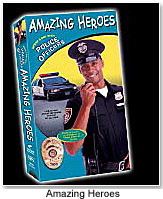 Here Comes Amazing Heroes
From one of the creators of the "Homer´s Workshop" and the "There Goes A..." video series comes a new live action series on DVD and VHS called Amazing Heroes distributed by First Look Home Entertainment. These programs take children with firefighters, police officers, rescue workers to see how they save lives, work and live as amazing heroes in the community. The first three titles produced by Dream Big Productions will be joined later in 2004 by additional adventures that include airline pilots, astronauts and military heroes.

Gordon Gets His Own Show
One of Thomas the Tank Engine's fastest and most powerful friends is the star of Best of Gordon, the newest Thomas & Friends™ direct-to-video and DVD release from Anchor Bay Entertainment (ToyDirectory). This new Best of Gordon collector's edition features everyone's favorite express engine Gordon and his friends in nine captivating adventures with storytellers Alec Baldwin and George Carlin. In Best of Gordon, fans will discover the mystery of Gordon's gremlin, see how Gordon helps Thomas out of a "sticky situation," and learn that sometimes even the strongest engines needs a little help from their friends. Produced by HIT Entertainment, Best of Gordon is recommended for ages 2-6.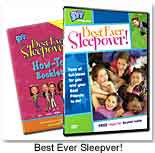 Wholesome Fun for the Pre-Teen Set
Parents need no longer fret over what videos or DVD´s to rent for their pre-teen daughters. Blue Skies Productions has solved that problem with the release of their new direct-to-video and DVD series, MYBFF (My Best Friend Forever), which celebrates the fun and special bonds between best friends. Best Ever Sleepover!, the initial title in the launch, will surely have pre-teen girls embracing its fun activities and simple messages about friendship. After watching the video, they´ll be eager to try out for themselves the fun games, tricks and recipes with their own best friends. The video includes a "How-To Guide" filled with step-by-step instructions and lists of supplies needed for each activity.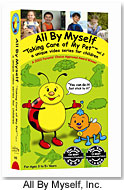 All By Myself Inc. Encourages Kids To Do Things By Themselves With Video Series
All By Myself: Taking Care of My Pet is the newest title in the All By Myself video series created by three moms from Silicon Valley. Winner of two major awards from Dr. Toy, the video was named one of the "Top 100 Best Children's Products for 2003" and one of the "Top Ten Socially Responsible Products" of the year from the highly esteemed, San Francisco based organization.
Designed to encourage kids to do things by themselves and have fun in the process, All By Myself videos lead younger children into an amazing world of independence and self-discovery. Recommended for ages 2-6, the 30-minute All By Myself: Taking Care of My Pet, is available on video now for a suggested retail price of $14.95.

All Manga, All the Time

From Osamu Tezuka, the late "god of manga" and creator of Metropolis and Astroboy, comes the mysterious Black Jack: Infection, being released on DVD by Central Park Media on February 10, 2004. At the same time, Central Park Media also brings even more mystery and supernatural action to DVD with Spirit Warrior: Festival of the Ogres Revival, Legend of the Dragon Kings: White Dragon, and Beautiful Target.
All DVDs have a street date of February 10, 2004 and will have audio tracks in English & Japanese with English subtitles.