Paul Hildebrandt, president of Zometool, Inc., compares using construction kits to learning a new language; it's easier when you start young. "Putting the technology, a new way of seeing the world into the hands of kids--the artists, scientists and technicians of tomorrow--lets them grow up with it and develop it."
Scientists of Tomorrow
Based on Johannes Kepler's theory that five "perfect" Platonic solids are at the heart of subatomic matter, Kepler's Obsession by Zometool ($39.95) lets children and adults create their own 3-D universe using tetrahedron, cube, octahedron, dodecahedron and icosahedron shapes.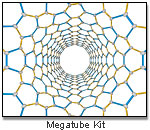 The Nanotube Kit ($39.95) gives children access to technology that's revolutionizing material science, forming the basis of more efficient information processing, batteries and even hydrogen-powered electric cars. The Megatube Kit ($129.95) replicates the same nanotube technology experience for adults and scientists, but larger.

The steel balls and fully magnetic bars in Progressive Trading's (ToyDirectory, ToyShow) MAGZ-X building sets enable kids to build practically anything in vivid colors. These sturdy sets come with 42 pieces ($14.95), 74 pieces ($24.95), or 106 pieces ($34.95).

From PlastWood (ToyShow), Supermag can be used to teach math, physics and chemistry. The most popular kits are the 50-piece set ($19.95) and 102-piece set ($40.00). Due to input from mathematicians, engineers and physicists, multiple-length rods will be available for expanded construction possibilities in spring 2004.
Atollo Construction Sets provide colorful sockets and hinges to build designs with flexible joints and surfaces. Kits come in four sizes: 24 pieces ($4.99), 48 pieces ($7.99), 120 pieces ($12.99), and 240 pieces ($19.99). Each kit includes a special disassembly tool to help kids dismantle their creations.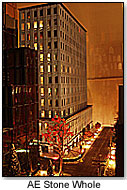 Buildings, Speed Racers and Super Bikes
American Toy & Invention Corporation's Advanced Engineering Kit ($59.95) let's kids or adults construct a building of Red Brick, Gothic Stone or Black Glass exterior—then demolish it. Builders can construct a seven-story skyscraper or purchase additional floors or kits to develop an entire city, with toy cars, trees and people bringing it to life. A timing plate provides central implosion action, quickly and safely demolishing each building, only to be rebuilt again. Accessory Timing Plates ($5.95) are available for side-to-side implosion or front-half split implosion.
Included in each box is the Become a Real Inventor Contest. Once a year, the best idea for an additional building part is chosen from those submitted by consumers. The lucky contestant that designs a winner receives ten percent of the profits for their own products added to the company's line for a year after its release.
Darda's SuperBike Raceway includes the new extreme Ultra Speed Super-Bike ($26). Steep vertical inclines, loops, swerves and speeds up to 600-scale mph make this kit a fast-lane adventure.