Finally, dog owners can understand what their canine companions are trying to tell them.
While doing research on dolphin communication, Dr. Matsumi Suzuki of the Japanese Acoustic Laboratory also spent time analyzing dog barks and video footage of canine behavior. He then used a special analyzer to translate the recorded bark samples into digital voice-prints.
The result is Takara Corporation's Bow-Lingual, which records, analyzes and translates a dog's bark into six categorized emotions—happiness, sadness, frustration, on-guard, assertiveness and neediness—through a wireless microphone the dog wears around its neck. Fido's emotions then manifest as both words and facial animations on two separate screens of a hand-held interpreter.
Dog owners can program specific profile information on gender, breed and size (Bow-Lingual contains data on 80 breeds in its database) in order to get a more accurate read on their dog's current state of mind. Mutts need not feel ostracized; Bow-Lingual also features a "Mix/Other Breeds" category, determined by the combination of body size and snout length.
Bow-Lingual also measures your dog´s happiness with a Man's Best Friend (MBF) score, monitors its health with quick medical "check-ups" and gives working dog owners piece of mind with the unique "Home Alone Mode."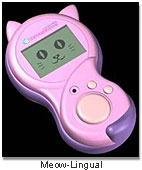 "This feature allows you to leave home and record your dog's barks for up to 12 hours, so that you can tell what your dog was feeling while you were away," said Otani Tomoya, marketing manager of Takara Corporation.
All this for $120 and four AAA batteries.
The massive popularity of Bow-Lingual spawned the Meow-Lingual in Japan, which similarly translates meows into emotions, but without the collar.
"Cats don't like collars, so [Meow-Lingual] is a handheld translator," said Tomoya.