Construction sets have come a long way since ABC blocks. Today's kits do more than stand on their own; they crawl, roll, glow and provide a building stage for creative play.
Start On the Path to Robotic Wonders
OWI´s (ToyDirectory, ToyShow) Weasel Kit ($24.95, ages 10 and up) gives tomorrow´s robotic engineers a jump on the future. With "see" and "feel" sensors guided by two motors, this duo-sensational vehicle can navigate mazes and follow a black line. The mechanical-minded builder will marvel at the photo-transistors and sonic tracking system. With kits for beginners all the way up to advanced soldering kits, U.S.-based OWI has created a niche all their own.

Simon Says Crawl!
LEGO's mechanized kits continue to become more sophisticated. Part of the Inventors Set line, Record & Play ($49.99; batteries required) with its 342 pieces allows builders to "record" a movement they invent and then repeat the precise motion by pressing "play." Slightly younger kids will enjoy Maximum Wheels ($19.99), a Designer Set with 290 pieces for building vehicles ranging from small racers to big rescue rigs.
Make Believe, Not War

MEGA BLOKS Block Buddies (ToyDirectory) ($9.99) makes the grade with Pets & Pals, Farm & Jungle, and Disney´s Winnie the Pooh, Princesses and Lion King Sets. Tiny n´ Tuff ($14.99) adds wheels to the preschool line with chubby vehicles on Maxi block platforms.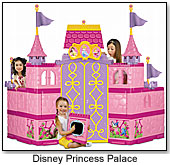 Kid-size MEGA PLAY, for ages 3 and up, continues its reign as the flagship of MEGA BLOKS playsets, including My Own Home ($79.99) that takes kids from a mansion to a cottage and Disney Princess Palace ($99.99) with hearts and flowers from the apron of Princess Cinderella herself. For fun from the Middle Ages, HABA´s Ghost Tower and Knight´s Castle (ToyDirectory) ($70) has all the pieces for make-believe adventures.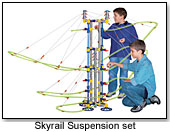 Keep Those Marbles Rollin´
Parents pondering how to mix physics with fun will like the 310-piece Skyrail Suspension set ($69.99) by Torino, Italy-based Quercetti Intelligent Toys. Built to suit the imaginations of kids ages 8 and up, this crowd-pleaser sends marbles down winding curves and friction-free slopes, inching up inclines and over suspenseful plateaus. The glow-in-the-dark marble rails measure 36 feet end to end, which makes the Skyrail Suspension the longest such toy on Earth.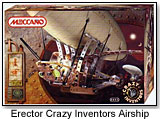 Neither Bird nor Plane
The Erector Crazy Inventors Airship ($90) comes from BRIO´s (ToyDirectory) Meccano subsidiary. This mechanized marvel includes 357 parts made of wood and metal for futuristic or retro designs, rotors with a 6V motor (batteries required) and instructions for three models. Meccano recommends the airship for ages 8 to 88.