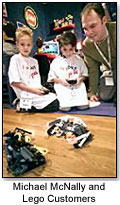 The name LEGO is synonymous with building toys. In an evolving and expanding category, seventy-year-old LEGO stays strong.
Yet most companies like LEGO don't remain industry leaders for decades without the ability to act and react to the market. "Especially in the , today's toy market is more dynamic than ever, which makes it vital for the LEGO Company to be able to react rapidly and reliably to the needs of all our customers and consumers," said Poul Plougmann, chief operating officer of LEGO.
For retailers trying to figure out what this will mean for them, Michael McNally, senior brand relations manager for LEGO Systems, Inc. has shared his insights with TDmonthly.
TDmonthly: Is the building set category growing or has it plateaued? And, within that category, are the traditional sets or the more technological sets the growing portion?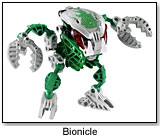 McNally: The construction toy category is one that has grown in the last several years, both in volume and in number of manufacturers. There are numerous types of construction toys—bulk, preschool, licensed, themed character-based sets, robotics, etc.—all of which are driving growth in the category. LEGO Star Wars and LEGO Harry Potter both have been extremely strong properties for the company, and our own non-licensed IP, BIONICLE has become one of the fastest growing and most popular boys´ properties in the industry. Year after year, growth in the category is driven more by innovation in play pattern than by a particular segment, like preschool or robotics.
TDM: What trends in the building set category should retailers be looking for over the next five to ten years? Will the products change? Will the customers change? What preparations and directions should they be involved in now?
McNally: We increasingly are seeing innovative interpretations of
construction toys, whereby the traditional stack and build mold of
building toys is being stretched to take the shape of collectible action figures, like with BIONICLE, or constructible radio controlled vehicles, like our new LEGO Racers model available at Radio Shack. The lines of what does and does not constitute a building toy are being blurred to create innovative products that combine elements of several play experiences.
Products definitely are changing to meet a new consumer who, frankly, has more options for spending extra money than before. Toys sales now compete with video games, clothing, going to the movies, etc. Everyone in the toy industry, not just in the construction category, is facing this reality and therefore, the need for more innovation and more attention to consumer lifestyles and needs will continue to drive what you could call "hybrid" toys, like constructible action figures or programmable robots made from LEGO bricks.
TDM: What impact has recent initiatives to expand the young girl
customer base, i.e. Clickits, had on Lego, and what are future initiatives or future audiences that might be targeted?
McNally: By translating the core LEGO values of creativity, imagination and fun into a quality arts & crafts product line for girls with CLIKITS, we have proven that construction brands don´t have to be limited to construction toys. CLIKITS is performing very well since it´s launch in June, and continues to grow in popularity among girls. As the preferred fashion designer kits of Limited Too, we´ve gained distribution for the CLIKITS line in all 530 of Limited Too´s stores - a specialty retail venue where toys typically aren´t sold. The more we can lead category innovation and redefine what construction toys can be to boys, to girls, to teens and to parents, the more exciting the category will become.