Since 1995, Taurus Toy Corporation´s Block-N-Roll (ToyShow) has won 14 major awards, including the "Oppenheimer Toy Portfolio Award" and "Dr. Toy Best Vacation Children's Product Award."
With the company since its inception, Sales and Marketing Manager Susan Paul is responsible for a multitude of tasks, from discovering new toys to creating innovative and effective ways to market them.
"Taurus Toy is a small company that is 100 percent customer oriented, which is what makes us unique," said Susan.
"A customer will call and need something special, and we will go out of our way to provide them with whatever they need to make their children happy," she adds. For example, if a child wants to create a certain jump or wind their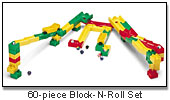 marble maze around several difficult turns, the folks at Taurus will come up with the right pieces to make it happen.
Currently, the biggest seller at Taurus Toy is the 60-piece Block-N-Roll Set, which retails for $24 on the company's website. Another construction product,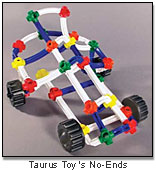 No-Ends, is used to create anything from a child-sized space ship to a hand-pushed car.
In addition to the website where pieces can be ordered individually or in small packs, Taurus Toy products are available in specialty stores and, recently, in national department stores such as Marshalls and T.J. Maxx. School catalogs like Kaplan School Supplies and Scholars Choice also carry Taurus products. In addition, the company offers retailers a free display, either motorized or manual, so that customers can see the products first-hand, and will drop-ship anywhere in the country for no charge.
Other promotional methods include telemarketing campaigns and an email blitz that goes out to roughly 46,000 stores. Susan also works with locations to sponsor complimentary play days to help promote their products.
Susan Paul maintains that while Taurus Toy is doing serious business, "When you work for a toy company some of it is fun, anyway!"