The construction toy category is never a stagnant market. The creativity these sets inspire seems to bring out the same trait in manufacturers and retailers. Young Builders, a successful retailer of building construction sets, began by selling only toy magnets on their ToyMagnets.com website.
Hitting shelves this past fall was Hasbro's new brand, BTR, (Built to Rule), which takes the already successful action figures, G.I. Joe and Transformers, and adds construction brick sets. Young builders can build their own vehicles, add specialty gear and put their full-size action figures right to work in their creations.

Plastwood (ToyShow) entered the U.S. market two years ago after explosive growth in Europe. "Plastwood wants to be catapulted into the category of a magnetic Lego," said Director of Sales Deborah Robinson. Plastwood is a family owned Italian company with a goal to reach $200million in annual sales by the end of 2004.
Plastwood introduced the innovative Geomag building kit but soon found it was being widely copied. "Ninety percent of the copies come from China," said Robinson. Plastwood responded by creating a new kit. The company has replaced Geomag with Supermag, which comes with both small and large rods and more add-on capabilities.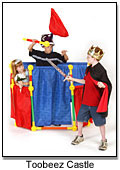 Another Newcomer Hits the Shelf!
Atollo (ToyDirectory), winner of the "Outstanding Toy Manufacturer Recognition of Excellence Award" given by the Institute for Childhood Resources, is a simple construction set that consists of only two pieces. The pieces are compatible with many other construction sets, increasing the building possibilities.
Michael McFadden, vice president of sales, said Atollo expected to be in 1,000 specialty stores by the end of 2003 and expect to double that in 2004. "This is available in specialty only. It is not available in the mass market. We deliver the keystone margin of fifty percent that specialty stores need."

Another newcomer, Toobeez, is launching their national retail campaign at the Toy Fair in February. Owner and manufacturer, Joseph Donahue, believes he has found a new niche: giant construction toys. Like Atollo, they are targeting specialty stores. Toobeez is offering their $129.00 suggested retail kits at a forty to fifty percent margin.
Toobeez, marketed as "The Ultimate Giant Construction Building Toy," is the flagship product of Connectable Color Tubes (ToyDirectory), a privately held company based in Pennsylvania. Tube sizes range from nearly three feet to 11 inches and are one-and-a-half inches in diameter, making them easy for children to handle and maneuver without presenting choking hazards.
What Makes a Newcomer Succeed?
Robinson said the broad audience that Supermag attracts is key to its success. Supermag is a product that preschoolers can play with, elementary students can create with, secondary students can collect and adults can become addicted to.
Long-time players such as Lego recently added robotic sets and collectible sets to increase the age span of their customers. They have also expanded their consumer base to include girls with the introduction of Clickits in 2003.