That rumble you hear at the 2004 Toy Fair is coming from the Radio-Control section. This year there´s something extraordinary and realistic for every budget, on land or water.
Whishing in a Winter Wonderland
Interactive Toy Concepts (ToyDirectory) and F.A.S.T. Inc. can barely keep up with demand for its 1/12 scale Blade Striker-X Snowmobile ($69), but the Toronto company is fast at work signing licensing agreements with leading snowmobile makers to expand the lineup. The Striker-X features RAD-X suspension, a muscular motor and aerodynamic styling just like the real Blade, known as the Ferrari of snowmobiles. The powerful engine spins the rubber drive track to record speeds. Kids age 5 or above can use the two-stick, two-channel radio to blast the Blade into turbo drive on fresh powder or plush carpet. (Switch to skis with built-in wheels for indoor excitement.)
Wave the Checkered Flag!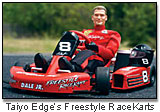 NASCAR fanatics as young as age 6 can drive stock car champs Dale Earnhardt Jr. & Sr. and Jeff Gordon wild at the radio controls of Taiyo Edge's Freestyle RaceKarts ($50). The 1/6 scale 125cc RaceKart replicas are aerodynamic with precision steering.
Realism on the Racetrack
It's hard to overlook the highly-detailed Williams F1 Formula Racer ($199, ages 8 and up) from Nikko America (ToyDirectory). This radio-controlled rouser reaches speeds up to 24 mph, sports digital steering, differential gears, the smoothest suspension system on the market and Hewlett Packard-sponsored styling.
Making Waves

Serious RC boat racers will appreciate the 2-channel AM control of Megatech´s Wicked Angel (ToyDirectory) ($329). Its 2.7cc Nitro Marine engine aboard the friction inhibited hull pushes the speedometer up to 35 mph. Young powerboat pros with adult supervision will be amazed by how fluidly this devil turns corners.
Attitude with Aptitude

How many boys wish they could design their own Formula 1 racer? LEGO challenges them to bring their fantasy to reality. At $129.99, the Supersonic RC Racer is a relatively affordable entry in the very competitive RC class. As a LEGO toy, this modular-designed speedster provides 423 pieces of timeless fun for contemporary, vintage and futuristic imaginations, ages 10 and above. The set includes instructions for building three RC models. The triple-channel controller shares the freewheeling thrills with up to three drivers, and the slick wheels deliver matchless agility and voluble velocity. (Track and batteries not included.)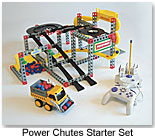 Construction with an RC Brain Center

Rokenbok´s latest RC toys blaze new ground by merging RC with elements of construction toys. Power Chutes 2 features an RC Loader and chute system, allowing drivers to ascend a winding road and deliver a payload of balls from the quarry, then watch as the chute automatically sorts and stores them by color.

Includes a Radio Control Center, Hand-held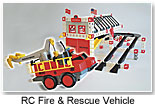 Control Pad, Radio-Controlled Loader, Plan Sheet and over 167 Building Pieces.

The RC Fire & Rescue Vehicle comes with a rescue claw and arm to flip overturned vehicles. Painted a glossy fire-engine red, the Fire and Rescue vehicle includes six Roadway Pieces, a Super Slide, Red Swing Doors, Doorway Lamps and numerous beams for construction.

Rok N´ Roadways includes a one-way bridge and "super slide." Drivers can transport cargo, move vehicles and get over any terrain with built-in safety guides, making ROK 'N Roadways great for younger drivers.

Includes over 101 Building pieces.

Happy 100 Harley!

New Bright Industries has designed a special bike for kids who missed Harley-Davidson´s 100th Anniversary festivities. The 28-inch Harley-Davidson Fat Boy ($129.99, ages 8 and up) features rich detail and many metal parts. This hog is available in red and black and comes with a 9.6V NiMH rechargeable power pack and four AA batteries. This bike will run right out of the box with authentic sounds, working lights and other functioning gadgets.
PC & RC
Tamiya, a manufacturer of realistic radio-controlled cars with a devoted following, introduces the QD Trail Master ($167, ages 8 and up), a tough rock climber with 30mm clearance. The Trail Master rolls on 4-linkage suspension and features a wheel transmitter. Discerning monster truck fans will appreciate the Trail Master's details, including a super tubular space frame. Up to six QD trucks can run on six separate bands. With the decals already on and 9.6V & 9V batteries and charger included, this monster is ready to go. (Charger included)