If a child can dream it, why not build it? With today's variety of imaginative building and construction sets, there's no limit to what budding builders and architects can invent.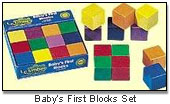 Baby Builders
For little fingers, bigger shapes are a necessity. Haba USA (ToyDirectory) meets the need with durable Baby's First Blocks set ($12.95, ages 1-3), consisting of 12 cubes in six basic colors that provide a safe way for a baby to learn stacking skills.

Ji-Gan-Tiks (Poof-Slinky, $14.99, ages 18 mos. and up) is a set of large interlocking play pieces that challenge inquisitive minds but are easy for small hands to manipulate. Form-A-Tions ($11.99, ages 18 mos. and up) are also great for babies just starting to build.

For toddlers, the Construction Set in A Box from Melissa & Doug's/Lights Camera Interaction ($19.95, ages 3 and up) is a self-contained building set composed of 60 wooden pieces in engaging shapes and bright colors.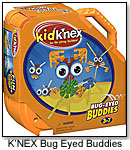 Young children can create kooky creatures with the K'NEX Bug Eyed Buddies ($9.99, ages 3 and up). This set of large easy-snap pieces (including bug eyes) is designed with the youngest creators in mind.
Captivating Constructions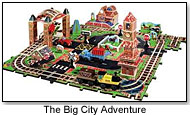 Imaginary adventures can be built from the ground up with one of Melissa & Doug's Thematic Building Sets. Castle Blocks ($29.95, ages 3 and up) is a 46-piece wooden set that includes medieval characters and pieces with detailed graphics. The Big City Adventure ($99.95, ages 3 and up) contains 110 interchangeable wooden pieces and an adapter piece.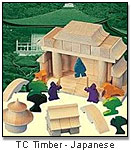 Haba USA's Japanese House Blocks ($39.95, ages 3 and up) is a 63-piece wooden building set that recaptures the finest in far eastern architecture, while the Russian House Blocks ($39.95, ages 3 and up) provide 55 wooden pieces that any Czar would be proud of.

Outwards, Upwards, and Any Which Way They Can
Wedgits™ from ImagAbility are the innovative building blocks with unlimited vertical and horizontal stacking capabilities. The Wedgits™ Starter Set ($18.95, ages 2 and up) is a toddler-safe introductory set with 15 pieces. Wedgits™ To Go ($39.95, ages 3 and up), with 35 pieces contained in their own plastic carry case, lets children build anything anywhere.
Geo Mag kits, with strong magnetic pieces, come in a variety of sizes and abilities. The Super Mag 24 ($12, ages 5 and up) is a an affordable starter set, while the Super Mag Glow 244 ($125.00) allows the experienced builder to see their creations glow in the dark!

Pop Toobs from Slinky® Building Toys ($7.74, ages 6 and up) are sets of bendable tubes that make fun sounds when stretched. These versatile pieces can be linked or stacked to create a variety of shapes.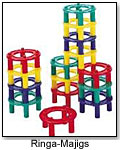 Ringa-Majigs ($14.99, Poof-Slinky, ages 4 & up) is a collection of interlocking holes and pegs that can be configured into towers or tunnels. Zome´s Bubble Kit ($9.95, ages 6 and up) is a two-in-one toy that builds basic three-dimensional shapes which can be dipped in soap to create bubbles. Its DNA Kit ($11.95, ages 6 and up) includes everything a child needs to build a DNA replica. Zcardz ($2.50, ages 6 and up) are an inexpensive builder's delight. Five uniquely themed cards—including dinosaurs, aircraft and fighting machines—in each package transform into a three-dimensional figure when put together.