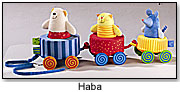 HABA Introduces Infant Toys
HABA (ToyDirectory, ToyShow) has come out with a line of infant toys, including Big Voyage, a three-part soft mobile for pushing, pulling and sorting skills. The figures are delightful cuddlekins which make different sounds. "Wagons" can stack and animals are safe and cuddly to take to bed. Wonder Dice are fabric shapes that are full of surprises. Their textured sizes are made of different materials that encourage touching and exploring. Happy Hugging Family are fabric cubes that each make a different sound, and beg to be touched. Fidelia, a soft cloth rattle, is a blossom wreath that can be detached from the center. Surprise—the stem turns out to double as a butterfly!
Shelcore Toys Unveils New Preschool Products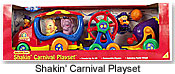 New preschool toys from Shelcore Toys include a seven-piece Shakin' Carnival Playset, which brings the sights and sounds of the fairgrounds directly into the home. Also new are the Shake 'N Build Racer, a block toy that allows toddlers to try out their early problem-solving skills by grabbing, sorting and stacking, and the Sort 'N Shake Dump Truck, a toy that features real truck sounds and action, with four dump and sort shapes in different colors and textures.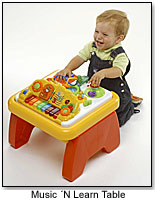 Music ´N Play Fun
The electronic Music ´N Learn Table by Chicco (ToyDirectory) features may activities to help develop baby´s coordination and musical skills, including an electronic piano with large colorful keys, flashing lights and fun melodies that is removable and can be carried everywhere; an activity center with woodland animals which has a matching sounds; and a construction base to create many combinations with the 10 building blocks included.


RC2 Corporation Debuts New Line of Infant Products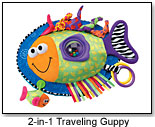 New infant and toddler products from RC2 Corporation include the Lamaze line, which enlightens babies through three key stages of development, using toys that grow with baby. The Lamaze Grow with Baby Collection feature items that are designed to grow with baby through each stage from birth through one year, including Grow with Baby Busy Birdhouse, 2-in-1 Traveling Guppy and the Grow with Baby Discovery Island. The Lamaze Development System fosters physical, emotional and cognitive skills, and includes items such as Music and Me Spinning Mirror, Octivity Time and the Water Wonders Turtle.

Splish Splash, I Was Takin´ A Bath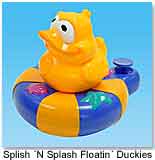 Silverlit Toys (ToyDirectory) is expanding its innovative line of toddler products with their new line of Splish ´N Splash Bath Toys, including everything from silly, squirting cartoon characters to mind-stimulating activity sets. For wee ones there´s the Splish ´N Splash Pals Collection, a series of collectible cartoon-like characters that float and squirt on multicolored tubes, as well as the Splish ´N Splash Floatin´ Duckies, a play set that includes a squeezable mother duck and her three squeaking baby duckies. These are sure to cause a big splash! For the toddler set, Silverlit offers the Splish ´N Splash Fishing Set, a realistic, easy-to-grip magnetized fishing pole, as well as two activity sets-the Splish ´N Splash Tug Boat and the Pelican Bath Set, each with suction cups to attach to a bathtub or tile.