Peg Perego Expands Its Line of Children's Ride-on Vehicles
The sleek, 6-volt Polaris Sportsman 500 by Peg Perego (ToyDirectory), built for children ages two and up with a weight capacity of 65lbs., looks like a real ATV. It sports a simulated engine, handlebars with a simulated headlight and instrument panel, front and rear luggage racks with a fabric zippered bag and a rechargeable battery. A live rear axle drives both wheels so this ATV can operate easily on grass or hard surfaces. The ATV's have a completely enclosed body so that batteries, wiring and switches are out of sight. It also features special hood hinges to prevent pinched fingers and automatic brakes to ensure safe stopping.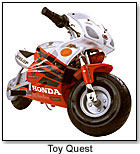 Toy Quest Partners with Honda Motors to Develop Sport Racer
Toy Quest is unveiling its new Honda Minimoto Sport Racer Bike, a personal transportation vehicle designed for the pre-teen demographic. Toy Quest has recently partnered with Honda Motorcycles to develop a high performance, electric powered mini motor vehicle. The Sport Racers features a sleek, realistic design and includes the authentic logos and sponsors of the Honda Racing Team. It comes completely assembled and features real pneumatic tires, front, side and rear safety reflectors, a unique "quick charging system," variable speed control and a complete set of tools. A line of accessories will also be available for both the bike and the rider.