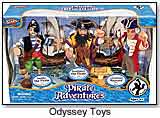 Odyssey Toys Unveils Poseable Play Figures
Odyssey Toys' new Three-Packs feature three of the company's popular pose-able World Stars figures packaged in historical themes, such as Space Heroes, Medieval Knights and American Patriots. One of their best sellers, Pirates Adventures feature Black Beard the Pirate plus 2 additional characters. Each figure has authentic sewn clothing, removable hats, flags, swords, maps and other cool accessories. The Three-Packs also contain biographical information on each character, making collecting fun and educational.
Dragon Models Unleashes a Series of Small-Scale Action Figures

Dragon's models new Timeline 1:6 scale action figures embody the company's characteristic attention to detail. All the main characters from the movie are represented: Andre Marek, Kate Ericson, Chris Johnston, De Kere and Lord Arnaut, complete with clothing and weapons modeled after the actual movie props.
Just released in December 2003, Sepp Keifer and "Anna" come loaded with new equipment, such as Sepp's accurately recreated Feldfernsprecher 33 field telephone and Anna's M43 Gymnastiorka Tunic and Greatcoat. Both figures come with too many accessories to list here, but if you're familiar with Dragon models military figures; you would expect no less.
Also new is a figure in the Operation Iraqi Freedom series that is so loaded with authentic equipment, you half expect to get a debriefing upon purchase. The Walt figure features the USMC Full Spectrum Battle Equipment, designed for the Maritime Special Purpose Force, Marine Expeditionary Units, and Walt—Force Recon. Also included is the Modular Integrated Communications Helmet (MICH).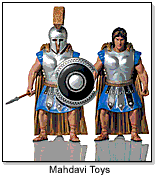 Mahdavi Toys Gets Into the Action
Mahdavi Toys (ToyShow) is scheduled to launch a line of educational action figures called Trojan Legends, based on the heroes of the Trojan War. Kids will enjoy playing with these life-like figures, which come dressed in authentic attire. The figures, which include Achilles, Odysseus, Hector and Aeneas, will be launched in conjunction with the Warner Bros. Major motion picture epic Troy, starring Brad Pitt as Achilles. Additionally, a video game produced by Mahdavi Toys will be launched immediately preceding the release of the movie.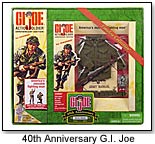 G.I. Joe Brand Introduces Special Edition Figures to Mark 40th Anniversary
2004 marks the 40th anniversary of the G.I. Joe brand, and to celebrate this occasion, Hasbro is releasing a line of special edition figures. The preview collection includes authentic reproductions of the original four G.I. Joe figures launched in 1964, one for each branch of the military. The line will feature the same outfits, packaging and accessory sets as originally released.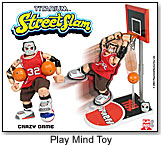 Play Mind Toys´ New Titanium Line is a Slam Dunk
Play Mind Toys/Geospace International is scheduled to launch the next figure line of Titanium action figures in the spring of 2004. This four figure, 6-inch lineup, called Street Slam, features the figures in various "street ball" poses and attire. The Titaniums´ signature 32-point articulation feature allows for countless b-ball dunks and aerial poses, thanks to trick sticks-clear pegs that allow for realistic, hands-free posing on the playground-inspired bases that accompany each figure. Street Slam is comprised of: Crazy Game, Moppa, Gold Rush and Pork Chop. Each tattooed figure is clothed in removable, cloth jerseys.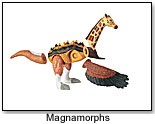 K&M International Builds on Wild Explorers Brand
K&M International introduces the Magna Morphs, a premier line of animal and adventure-related toys as part of its Wild Explorers brand. This innovative line of animals come with magnetic body parts that are interchangeable. Children can test their creativity by morphing different animal parts to invent their own unique species. The Magna Morphs product line includes 15 animals in themes such as Aquatic, African and South American.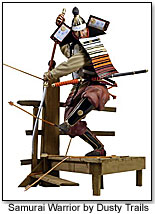 Dusty Trail Toys unveils 2004 line of 6-inch collectible action figures
Ready to debut at February´s Toy Fair, Dusty Trails´ (ToyDirectory, ToyShow) new line carries on the company´s tradition of creating highly detailed historic military and mythic figures. The Samurai Warrior is based on the historical figure "The Arrow Cutter," and there's also Sgt. Stryker, WWII USMC (1945 Okinawa ), an old west US Marshall, 22 British SAS (with picture of Osama Bin Laden in hotel window, or if you prefer, Sadam Hussein or a generic terrorist.), Sgt. Ramirez, 1st MEU, Iraqi Freedom (on the bridge in ), SSG Rollins, 3rd ID, Iraqi Freedom (with Sadam mural).
The Paras line offers detailed parachute soldiers with working, non-tangling parachutes, including a WWII US Paratrooper, WWII British Paratrooper, WWII German Paratrooper, Modern US Navy Seal Airborne, Modern US Army 82nd Airborne, Modern US Army HALO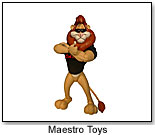 MAESTRO Toys Produces New Line of Action Figures
MAESTRO toys has partnered with D.A.R.E. America (Drug Abuse Resistance Education) to produce a new line of action figures of D.A.R.E. America´s street-smart mascot, DAREN®-the-Lion. The first series consists of two 7"action figures; "Graduation DAREN" complete with Cap and Diploma and "Cool DAREN" wearing sunglasses and a "thumbs-up" to show pride for saying "no" to drugs and violence.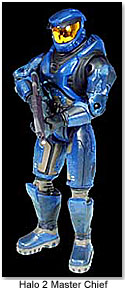 JoyRide Studios Action Figures
New figures based on Halo 2, the beast-selling sci-fi action adventure game, is scheduled to be released by RC2 Corporation (ToyDirectory) in conjunction with the highly anticipated release of the Xbox games Halo 2. The combined release of this successful video game franchise and the highly detailed and fully-articulated exclusive figures offer an opportunity to maximize the retail potential of this popular license.