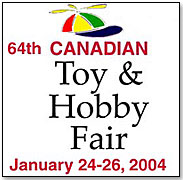 For 64 years it´s been part of the Canadian toy industry calendar, and this year´s Canadian Toy and Hobby Fair should be as well-attended as ever. Show organizers say the Toronto event is bucking a trend, posting increases in attendance and exhibitors.
"Around the world, attendance at toy fairs is somewhat lacking. It was down in Hong Kong. United States attendance was flat," said David Davenport, vice chair of the Canadian Toy Association and president of Hasbro Canada Corp. "Canadian attendance was up again by double digits. We are well ahead at this time of year for having people signed up for the January toy fair. These are not just Canadian exhibitors. There are some from the U.S., and for the first time in a long time, exhibitors from Europe."
Set for January 24-26, 2004 at the Metro Toronto Convention Centre, the show's history reflects the unpredictable nature of the toy industry. Once occupying the entire convention center, the show now fills two halls but has booked up consistently over the last few years.
"For whatever reason, Canada is doing quite well," observes Sheila Edmonson, executive director of the Canadian Toy Association. "We´re still in those two halls, but four years ago those halls were lean and mean. That has turned around. A lot of companies who were taking 100 square feet are now at 400 square feet. Our attendance has grown, too."
Edmonson credits the stability and steady growth to a focus on small and medium companies that use the show to spur growth. That applies to both toy manufacturers and retailers, who are the lifeblood for any toy company.

"We´re seeing some of the specialty stores like Mastermind starting to fill the gaps created by the loss of the large retailers," Edmonson said. "They´re serving a market the mass market doesn´t serve. The independent stores can´t compete with the price of a mass market and a smart independent store won´t try. It´s an area where, as the show manager, I´m looking to develop."
Part of the strategy for cultivating this sector is what show organizers call the "Inventors Corner."
"We offer a five-by-ten booth at a very reasonable price with a carpet and a drop table, and say, 'Bring your product; take it out of the box and show it,'" she says. "We have some who are full members and full displayers now."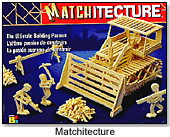 Quebec-based Bojeux Inc. (ToyDirectory) has been at the Canadian Toy and Hobby Show for more than 20 years and has used it to launch, among other products, Tutti-Frutti, a scented modeling clay; and Matchitecture, a construction and modeling product using glue and small matchstick-size batons.
"That´s where you show the best side of your face," said Normand Bramucci director of sales and marketing for the company. "It´s when all the buyers are coming to see what new products are available. The industry is a fashion industry. You always have to have something new."
From the standpoint of major retailers, Davenport believes the toy industry is beginning to recognize Canada as a market unto itself, something that has benefited the Toronto show.
"Usually what happens is smaller companies and even large companies, who view Canada as an adjunct to the U.S. market, would work through agents or wholesalers to get into the Canadian market," Davenport said. "For someone to take the time and money to come to Canada and set up a booth speaks well for the Toronto show."
Edmonson says interest in Canada from mass market retailers has always been steady.
"On the whole, the mass markets come to our show, not in the volume they did in the mid-80s, but they are certainly there," she notes. "It is my belief that it is their job to come and look because somewhere on that show floor could be the next Trivial Pursuit."
And the advantages to making the trip are many, Davenport believes.
"You get away from the interruption of the telephones and emails and, yes, even customers, to go to the show, find out what is there and lock up some deals," Davenport continued. "Then go back home and work with your customers."