RC cars and trucks have come a long way. Today's customizable vehicles can tackle the toughest terrain thanks to articulating suspension and shocks, disc brakes, rugged aluminum chassis and big-block nitro engines—powering vehicles at speeds up to 60 mph! So fasten your seatbelt and let's race through the newest RC cars and trucks on the market.
Team Associated
Released in the fall of 2003, the Monster GT ($839.99) quickly became known as the "bigger, faster, tougher" monster truck. Powered by a .21-size nitro engine with a unique dual-starting system, tuned pipe, disc brakes, and eight oil-filled shocks, it features a rugged aluminum chassis, big universal drive axles, 2-speed forward/reverse transmission, 4 wheel independent A-arm suspension, over 4 inches of ground clearance and huge 6 5/8" diameter all-terrain tires. Its innovative dual-pickup tank keeps fuel flow continuous, even when the truck is upside down. Two painted body styles are available, as well as a limited release American flag design.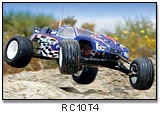 The RC10T4 ($315.99) is Team Associated's state-of-the-art electric racing truck and a ROAR National Champion of fall 2003. It features a longer wheelbase for higher cornering speeds and increased stability. A new suspension design provides maximum front-end clearance and minimizes bump-steer. The T4 also features a heavy-duty design front hinge-pin brace and bumper for increased durability.
XTM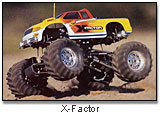 Since its release in the summer of 2003, XTM's first monster truck, the X-Factor ($399.99), has developed what the manufacturer calls "a cult following." A four-link, solid-axle suspension, homegrown XTM 24-7 engine and new XTM R-Box electronic mixer give the X-Factor the power and control it needs to tackle the toughest terrain.
Both hardcore and entry-level racers will appreciate the X-Cellerator ($259.99) truck. It's loaded with features such as a powerful rear exhaust XTM 18 and reliable Hitec Radio system, and is compatible with other company's bodies, wheels and tires, 50 mph out of the box.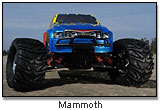 XTM's newest release (December 2003) is the Mammoth ($399.99). Designed with more performance in mind, this nitro-powered monster truck is capable of speeds of 50 mph out of the box (60 mph with optional gearing).
Traxxas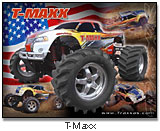 With its innovative design and top speed of 40+ mph, the award-winning T-Maxx ($399.99) has become one of the best selling RC monster trucks on the market. The T-Maxx is ready to race out of the box with 4-wheel drive, auto-shifting and two-speed forward and reverse transmission. A powerful TRX 2.5 racing engine with push-button EZ-Start Electric Starting System delivers 60 percent more power than its predecessor, without adding weight. The WideMaxx Suspension and 3mm thick anodized T6 chassis ensures superior stability when bumping and jumping up and over rocky terrain.
The Nitro 4-Tec ($319.99) tears up the track with speeds over 60 mph thanks to the TRX 2.5 racing engine. It has a 2-speed transmission, full ball bearings, 3-belt drive system, disc brakes and racing tires on 2.0 mesh tuner wheels. The sophisticated, adjustable suspension uses oil-filled Ultra Shocks and bellcrank steering for precise control.
HPI Racing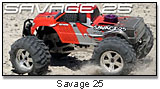 Released in late fall of 2003, the ready-to-race Savage 25 ($429.95) monster truck takes the original Savage truck to the next level with more power and higher speeds. Rumbling under its hood is the new Nitro Star S-25 engine—a .25 cubic inch (4.1cc) big block. To help handle the increased power, HPI has added a heavy-duty three-shoe clutch, which helps launch the truck harder under all conditions. They've also added stiffer shock springs and newly designed ribbed wheel hex hubs.
The Nitro RS4 MT ($339.99) is HPI's first shaft-driven vehicle. Its Nitro Star 15FE engine is fast starting and easy to tune, while its 2mm thick anodized aluminum countersunk chassis can handle even the most extreme terrain.
Hot Bodies
The new Dirt Demon ($469.95) monster truck proves that bigger is better with its oversized .26 engine. Its two-speed/reverse transmission and independent wishbone suspension system allows the Dirt Demon to easily maneuver over and around tough obstacles. Features 7-inch diameter giant truck tires, 3mm-thick aluminum chassis and 4-inch suspension stroke.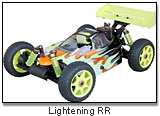 The Lightening RR comes fully assembled with electronics, radio gear and engine pre-installed, making it good for beginners who want a powerful buggy that's ready to race. It also features a .21 racing engine, mounted and glued tires and aluminum racing shocks.
Kyosho
The special edition Mad Force ($399.99 - 1/8 scale, glow powered, 4 wheel drive off-road, monster truck (assembly required), 3 speed chain drives transmission) includes a solid axle shaft drive, ladder-style chassis with 3mm-thick aluminum plates and vented dual disk brakes. Additional features include double shock mounts, O.S. .21 RG-X(P) engine, universal center drive shafts and polished hard side plate and lower deck plates.

The competition-level Ultima ST Evolution ($329.99) stadium racer was released in the fall of 2003 and is lighter, faster and more responsive than its predecessor. New features include adjustable servo saver, vented disk brake, titanium nitride shock shafts, constant velocity drive shafts and race-tuned springs.