"We purposely never have anything electronic or video. We try to encourage kids to interact and to use more social board games." — Toni Pohle, The Wizard´s Chest

How do you find a staff as committed to your store as you are? Who are willing to learn about new products and teach customers how to use them? The answer might be as close as your selling floor: at The Wizard's Chest in Denver, Colo., several devoted employees started out as devoted customers.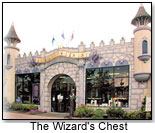 "We have hired the kids who've been hanging out in the store for years," said Toni Pohle, co-owner with her husband Kevin. They manage a staff of 24 full- and part-time workers. "One of the nice things about the Wizard's Chest is that because it's such a great place to work, we have less turnover."
Built to resemble a fairytale castle, the 8000-square-foot store began 23 years ago as a retail outlet for J. R. R. Tolkein fans searching for items to aid fantasy play based on the "Lord of the Rings" trilogy. The store expanded to include costumes, games and toys. Now, it's a local legend.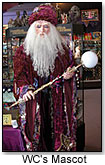 Kevin, whose background is in finance, told TDmonthly Magazine that he decided to purchase the store, "because it's a game store … I love games." The fact that it had a loyal customer base, an owner committed to a smooth transition and more than 13,000 products didn't hurt.
"It's wonderful to have a job you love and to come to work everyday in such a great atmosphere," said Toni, a former corporate manager.
Their most long-term employee is their assistant manager of toys and games, Cliff Jackson, who has been with the store since 1997. He was one of the staff that the Pohles inherited when they took the helm in 2002.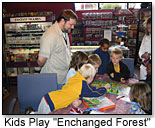 "We had no management turnover when we bought the store," said Kevin. "Both the owners and the management were helping us. We learned all the day-to-day procedures from them."
They've learned the store well enough to be able to quickly sense whether a new item will work at The Wizard's Chest or not. Their theme still tends to run toward whimsical and fantasy, which helps them whittle down their choices.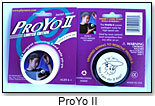 "We purposely never have anything electronic or video," Toni told TDmonthly. "We try to encourage kids to interact and to use more social board games."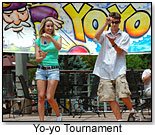 Every Tuesday they sponsor a Game Night, in which a different game is opened for staff and customers to tackle. They also hold Yu-Gi-Oh tournaments on Saturdays, devote Friday nights to Magic: The Gathering tournaments, and sponsor yo-yo and juggling clubs. A new Web site (thewizardschest.com) is attracting attention, as are monthly birthday mailings.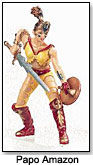 "It's such a fun store and such a major part of the community. We have four generations of kids who've brought back their kids," said Toni.
Listening to customer suggestions and finding out what they need is not just the Pohles' job, but their staff's job, too. That's why the two qualities that Toni named as most important when hiring were "outgoing and friendly."
"A lot of customers come in and they say 'I want a game,' but they don't know what kind until we start prompting them," she explained. "Our staff has to be articulate and know that their primary job is customer service. That's what has set The Wizard's Chest aside from big-box stores [e.g., Toys R Us, Target and Wal-Mart] for 23 years: having knowledgeable, fun sales staff to help customers, who are willing to play with and teach them."