---
Big Lots! Concerns Scrapbooking Community
"They´re coming out with their own product line and even had a voice-over announcement about scrapbooking." — Veronica Hugger, National Scrapbooking Association

Not only have Big Lots! and other discount chains jumped onto the $2.5-billion scrapbooking bandwagon, but Big Lots! has expanded its section area and is continuing to develop its private "Creative" label to incorporate more scrapbooking products. The big-box invasion is partly to blame for the closure of some specialty scrapbooking shops, but there can be an upside to the development, retailers and industry experts told TDmonthly Magazine. Ted Echt, a wholesaler of scrapbooking supplies for the past six years, says that several shops around the country he once serviced have closed because of a weak economy and the big box entrée into scrapbooking. According to Veronica Hugger, president and co-founder of the Texas-based National Scrapbooking Association, who recently visited her local Big Lots!, matters are made worse because "they're coming out with their own product line and even had a voice-over announcement about scrapbooking."

Big Lots! vice president and divisional merchandise manager Crystal Weary confirmed the claim, noting that the company has expanded its scrapbooking section at its stores from 8 to 12 linear feet in the past year. She said they will continue to try to add fashion paper and accessories to their "Creative" label, which they can sell competitively "at prices about 20 to 30 percent off of the rest of the world."



Despite the concerns, when Echt and his wife owned the Crafter's Workshop, a retail store they recently closed because of "burnout," they serviced many customers who had purchased their first supplies at a large chain. "It gets people interested," Echt said, "and into your store."

"It introduces scrapbooking to the mainstream," Hugger had to agree, her organization´s mission being to "expand the passion of scrapbooking to untapped markets." Hugger adds that, as in other industries, specialty stores can offer the individualized customer service, instruction and wide product selection that large chains do not.

Roughly equal in size to the entire children's arts-and-crafts market and still growing, scrapbooking emerged as a national trend in the mid-90s. Its fast and furious growth has made available boatloads of discontinued and overstocked merchandise for stores like Big Lots!, the nation's largest closeout retailer.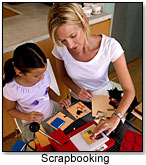 The chain started carrying scrapbook supplies last October, and early this year announced its purchase of $6 million in such materials, which it has been selling for 60 to 80 percent off retail. Products include paper, tools, embellishments, rubber stamps and stickers by high- and lower-end manufacturers. Over the past two years or so, K-mart, Target, Office Depot and some dollar stores have also gotten into the act to some degree, although Big Lots! generally beats their prices.

The large chains have also found some success with more experienced scrapbookers who are "supplementing their arsenal" of supplies, said Reyne Rice, toy trend specialist with the Toy Industry Association. Big Lots! especially "will definitely make a dent" in specialty shop sales, Rice said.

Still, avid scrapbookers are always on the hunt for the next new thing, which can't be found at Big Lots!, Rice and others note. Small retailers also offer classes and workshops (where they discount products students are learning to use) and know regular shoppers on a first-name basis. Many allow scrapbookers to work on their projects during store hours, offering casual instruction or creative tips for free. That depth and breadth of customer care, as well as a greater variety of top-notch product, can be their competitive edge.

Elaine Dobiesz is one of several scrapbook store owners in Southern California who reported no drop in revenue related to Big Box sales. The co-owner of Scrappin' in the Hills, in Anaheim Hills, plans on business as usual. That includes about four classes a week, once-a-week crop parties (so-named because scrapbookers crop, or size, their photos before artfully arranging them in albums), and bi-monthly all-day crops.

"We're just continuing our philosophy of good customer service," said Dobiesz, who counsels fellow local merchants to "just stay focused on what you do best."
Writer's Bio:
Zan Dubin Scott is president of ZDS Communications, a public relations, marketing and writing agency specializing in sustainable business, healthcare, arts and entertainment. Zan was a staff writer at The Los Angeles Times for 10 years and continues to report and write for the newspaper and other publications.
Read more articles by this author
THIS BANNER IS AN AD:
---
---