"Girls still want to be pretty, sweet and natural. Not leather and Vegas." — Sarah Nguyen, Chic Boutique

Barbie's been the classic since 1959. BRATZ declared war in 2001. But there's a quiet revolution going on right under their cute plastic noses, one that involves style, taste and girl self-image: TDmonthly Magazine has found there's a new fashion in fashion dolls, and the #1 spot is up for grabs.

The Madame Alexander Doll Company isn't new; it's been making quality dolls since 1923, and scooped Mattel by putting out the first-ever fashion doll in 1955. Gale Jarvis, president, told TDmonthly Magazine: "Dolls are all about the dream. What you look like, want to look like, what your little girl will look like."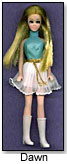 Jarvis feels that the new surge in fashion dolls brought on by BRATZ is a good thing for the whole industry, opening up new opportunities. Barbie underwent flurried innovations after losing her #1 spot to Topper Toys' 6" Dawn dolls in the early 1970s. She rebounded and reigned supreme until BRATZ threw their removable feet into the ring.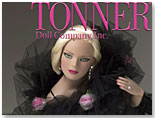 Robert Tonner, CEO and head designer of the Tonner Doll Company (ToyDirectory) (

Watch Video) , who brings his high-fashion background to his dolls, agreed that challenge is good for the industry. "There's plenty of room. In fact, our greatest competition is with ourselves. Can we come up with the next evergreen?"
Tonner finds what Barbie and BRATZ are doing "interesting," but there's so much more. "We are affected by fashion, what they wear to the Oscars, not VH1. Style vs. shock. Elegant and beautiful classics rather than the trend look."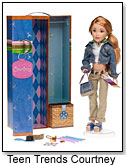 Which brings up the whole BRATZ conundrum. The backlash to the BRATZ look hasn't stopped them from selling, but it has begun a pendulum swing towards alternative styles. Mattel's new 17" Teen Trends emphasize distinct personalities and styles they hope tween girls will identify with — a step away from their derivative "My Scene" and short-lived "Flavas" dolls. (View article: Doll Wars).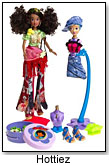 Sarah Nguyen, creator and managing partner of Chic Boutique, designer of the Hottiez dolls (

Watch Video), and someone who's lived the "make your own style" motto, pointed out: "Girls still want to be pretty, sweet and natural. Not leather and Vegas." So she tailored her dolls to be hip, but not too much makeup, not too much skin, a real girl, not too tame, not too trashy. And it's worked.
Chic Boutique's fashion dolls are outselling the major brands in some major arenas. But the twin towers of Mattel and MGA Entertainment, the maker of BRATZ, are formidable. Nguyen explained, "It's difficult to compete with alotalotalotalot of money in TV and marketing. It's TV driven.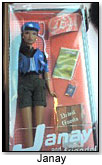 Brainwashing," Nguyen told TDmonthly.

Percy Newsum, founder of Integrity Toys, whose Janay and Friends line targets multi-ethnicities, concurred. Retailers are hesitant to allocate shelf-space away from the "big girls," despite consumer wants. "Buyers will continue to try to fill the void of supplying an ethnic line of dolls sufficient enough that they do not get complaints from consumers that shop at their stores, but will not take the risk of giving dedicated shelf space."
But the girls know. They're finding the dolls. And the reasons?
"Dolls are about nurturing, expression. They teach all sorts of things, fantasy and play values, something girls can aspire to," explained Jarvis.
Nguyen added: "It's about girlfriends and total fashion, all diverse, but with great friendships, supporting each other."
"I think it's important to be 'role models' for girls in both responding and setting trends," expounded Newsum.
MGA has had difficulties expanding outside of BRATZ — none of their other lines have been nearly as successful. In fact, both the heads of Mattel and MGA declined comment on this article.
The tide is shifting. Things are changing. Tonner summed it up best: "Dolls are so open: you can jump from pop-culture to fantasy, classics to future trends. They reflect what's going on."
And what's going on is a whole new fashion.

Read article on Fashion Dolls for the Middle East.
Read an update on the Fashion Dolls Wars in Playzak.