TDmonthly Magazine has been keeping a close eye on Chinese manufacturing and labor ethics. Because the Chinese manufacture 75% of all toys, these issues are particularly important to the toy industry. Therefore, this industry is the advance guard in dealing with them.
With urging from Mattel and the Toy Industry Association since the start of 2004, the International Council of Toy Industries has mandated the ethical codification and auditing of China's manufacturing practices. Referred to as the CARE (Caring, Awareness, Responsible, Ethical) Process, it has, as Jim Walter, senior vice president of quality assurance and compliance for Mattel, says, "put a stake in the ground" — calling on all toy manufacturers to join the date-certain call to arms.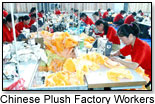 The CARE Process, already joined by over 130 manufacturers, and growing, is the international toy industry´s ethical manufacturing program, with a code of business practices and a set of independent auditing regulations, aimed at ensuring safe and humane workplace environments for toy factory workers worldwide. The initial focus is on China, because the vast majority of the world´s toys are manufactured there.
Each manufacturer in the program sets its own date on which it will discontinue purchasing products from Chinese factories that do not adhere to CARE's code of business practices. Some manufacturers have set dates as early as January 2006.
"For the first time our members' resolve is going to be tested," said Tom Conley, president of TIA. " I'm really confident that we have been, and will continue to be, highly supportive of this ethical manufacturing procedure."
But what is the CARE process bringing to task?
Dan Viederman, executive director of Verité, a non-profit social auditing and research organization, pointed out that the Verité 2004 report on Excessive Overtime in Chinese Supplier Factories showed that it was impossible to prove compliance with wage and overtime laws in over 90 percent of the Chinese factories audited. "In toy factories and other sectors, overtime and wage violations, health and safety problems, restrictions on freedom of association," are all in practice, he said.
Jeff Fiedler, president of the AFL-CIO Food and Allied Service Trades Department, explained that foreign companies are kept ignorant and insulated from these practices by signing contracts with Chinese subcontractors who superficially agree to follow "good policies." But the factory owners have many methods of circumnavigating these contracts without the toy companies knowing. "It's an evidentiary problem. All evidence is in China, and 'Gringo' witnesses won't get near the factories," he noted.
On-site auditing is the only answer.
That is why the toy industry is voluntarily taking to the CARE Process (retailers have also been invited to join). The CARE code of business practices, over time, is expected to become the standard for similar programs in other industries: ICTI and Mattel are currently helping the textile industry to develop its own system.
Walter looks forward to refining the process over time. "It's not perfect, we will be criticized, and I welcome it. It will make the program better, stronger," he said.
The toy industry, because of its end customers (children), holds itself to a higher ethical standard.
"We want people in the toy business who are ethical and who follow the rules," Conley summed up. " That's good for everyone in the industry."