---
RADGames Radicalizes Monopoly
"There was an immediate response in the first 20 minutes of the 2005 Toy Fair." — Bob Wilkins, RADGames

Ever been playing

Monopoly

and wished the game wasn't taking so long? Or perhaps you went bankrupt and wished you could bounce back? Well, the

Super-Add-Ons Version for Monopoly Game Board

(

Watch Video) from

RADGames Inc.

(ToyDirectory) is making those wishes a reality. And, through RADGames' skilled marketing maneuvers, it's been causing a buzz.



"I got the idea when I was 12 years old," explained Bob Wilkins of the game board to be used in conjunction with Monopoly. "Some friends and I played around with some ideas, refined them, and then got a patent for the add-on about 10 years ago." Bob said.

Bob and his wife, Ann, both worked as executives at PC Connection, an online computer retailer, before creating their own New Jersey-based company, RADGames. Ann now works on marketing the game, which was released last month.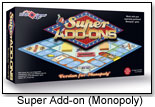 Bob admits to having less of a hand in the development of the game as his wife. "I check in on a nightly basis or weekends to see what's going on, but Anne handles most of the work," Bob said.

"I guess you can call me vice president of sales and marketing," Ann said modestly.

Ann created a stir at the February 2005 Toy Fair. "Every time we talked about it to someone, people thought it was a great idea. There was an immediate response in the first 20 minutes of the 2005 Toy Fair," Bob said. "We were taking orders on the floor and retailers were talking about us being on their hot list."

In marketing the product , Anne relied on the tactics that she has gained for her 12 years of marketing.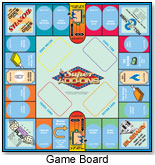 "We introduced the game as gifts. We attended the 2005 Toy Fair, advertised in publications such as this one, and used good old fashioned sales calls and e-mail marketing, and we were pretty successful," Ann explained.

Since the word has gone out about RADGames Super Add-Ons, the company has received two awards. The National Parenting Center gave them the "Fall 2005 Field of Approval Award," and Creative Child Magazine gave RADGames the "2005 Field of Excellence Award" in the family board game category.

Bob attributes a lot of the success of the game to playing the game over and over and refining it and tweaking it so that it is both playable and fun.

"This game has a few twists that can occur; it gives you a chance to avoid properties and it can take a couple of hours off gameplay," Bob said.

By placing the Super Add-Ons board in the middle of the Monopoly board and incorporating the additional property deeds, action cards, and houses and hotels, the game now gives more chances for players to remain in the game, while also changing the roll, move and pay routine that can occur after players have acquired all the property and the game belongs to whoever owns the most. RADGames has created something that allows for anything to happen.
THIS BANNER IS AN AD:
---
---