Joan De Souza, Awesome Kids´ (ToyShow) CEO and company founder, simply got fed up with stepping on her son´s toys. She wanted something moveable, packable and stackable. So, doing what any ordinary mom would do, she started her own company.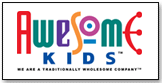 Awesome Kids carries a complete line of themed box toys that come with hand-painted figures, props and a playmat or an interactive CD. The concept is threefold — to provide a toy that evokes children´s imagination through interactive play; is easy to put away, teaches organizational skills; and offers a learning experience that also engages parents.
Awesome Kids started with just six themed boxes in 1991. By improving on a strong initial concept that sells well in niche markets, the company is thriving: They now sell more than 30 themed boxes and a selection of four educational, animated DVDs.
In her own words, De Souza describes what makes Awesome Kids so awesome:
We believe the key to success starts first with coming up with a solid product in the marketplace. Our products are comprehensive experiences. We take a theme and we make it as real as we can for the child. For instance, a product that we just came out with called "Bake Time" is completely functional. The scale is a true weight scale, the utensils are real, and we have included a silicone material that can be placed in the oven.
We´ve gone one step beyond what we previously offered in our box toys. Our original boxes included a playmat on which kids could arrange their pieces. However, in observing how the children play, they tended to use the environment that they were in rather than the playmat. Therefore, we recently reallocated our spending costs to create a lesson-packed CD among a selected number of our boxed sets.
We don´t have a particular best seller. All our products as a whole are doing better than they did last year as people have become more aware of what is included in our boxes. Our products are now being used in schools as a learning tool by teachers throughout the United States.
We also found that our products in general have worked well for kids with Down´s Syndrome. "The Journal of Margaret Feldman," a DVD that teaches friendship and awareness, issues that are specific to the needs of a Down´s Syndrome child, will be available in Fall 2005.
We are not price driven; we believe in delivering a quality product and we think with long-term goals in mind. Our boxes sell at a price point of about $20 to $25 dollars and our DVDs are about $15 each.
As a company, we also are not really trend oriented, but we stand our own ground in the educational toy market. We have taken it to a different level. We believe that parents should participate with their children and work with their kids. When that happens, I think a child learns much more.